This Healthy Junk Food Dupe Will Completely Convert You
Bajnoci Peter/Shutterstock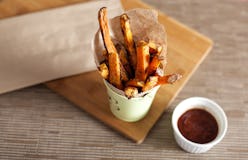 There's no shame in the occasional culinary indulgences, but if you're trying to keep your eating choices largely on the nutritious side, that probably means finding some healthier alternatives to junk foods you crave. And if you can believe it, there are a few dupes out there that are not only better for you than your go to drive-thru or candy aisle faves, but are arguably just as tasty and satisfying.
Probably the biggest reason to ditch junk food from your diet is to avoid excess sugar, high amounts of saturated fats, an excess of sodium, and chemical preservatives — all of which can cause health issues including heart disease, high cholesterol, diabetes, and even cancer. But what if you could get the flavor of some of your favorites without having to worry about those risks? According to lifestyle and nutrition expert Dana Kofsky, who offers her Wellness Styled clients solutions for healthier living, it can be done. And the options are easier to find than you might think.
If you happen to live near a grocery store like Whole Foods, Trader Joe's, or another market that regularly stocks a range of healthy snacks, finding good-for-you options is pretty easy. But for those of you who have had a hard time parting with your junk food faves, take the Kofsky's advice for a few things to stock up on and curb those cravings. Ahead, find five healthy counterparts to the salty and sweet treats you're trying to say goodbye to. And after trying them, you won't be missing a thing.
Dark Chocolate Instead Of A Candy Bar
Most popular candy bars are super high in fat and sugar. By swapping to plain dark chocolate instead, you'll be getting the benefits of wellness food cacao, which is rich in minerals (iron, magnesium, and zinc) and antioxidants and lower in sugar. "Hu Kitchen simple chocolate bars are the perfect treat to eat without conventional sweeteners, soy, or refined sugars," says Kofsky. "You never have to feel guilty for giving into your sweet tooth."
Cassava Flour Tortilla Chips Instead Of Potato Chips
Cassava flour is a great alternative for gluten-free folks, and these chips are also made with avocado oil and just a touch of sea salt, so they're a lot healthier than traditional potato chips, which can be loaded with salt and saturated fats. Kofsky recommends eating these tortilla chips with some fresh guacamole or salsa for a wholesome and flavorful snack.
Dates Instead Of Candy
Most candies are filled with refined sugar, not to mention a ton of artificial colors and flavors. To satisfy a sweet tooth, try organic dates instead. They're high in fiber, magnesium, and potassium, so think of this superfruit as nature's candy.
Coconut Butter Cups Instead Of Peanut Butter Cups
Admittedly, not all peanut butter cups are "unhealthy," but the infamous ones in the orange package happen to be high in refined sugar and preservatives. Kofsky advises swapping them out for some dark chocolate coconut butter ones instead, which have a much cleaner list of ingredients but still provide a tasty treat. "These are just as creamy and sweet without all the additives" she say. "Plus, the coconut sugar is rich in phytonutrients which helps reduce cholesterol and inflammation!"
Baked Sweet Potato Fries Instead Of French Fries
You won't feel the need to pull into the drive-thru for fries if you can supplement with this delicious option instead. "On a nutritional level, sweet potatoes are higher in fiber, calcium, and vitamin A," Kofsky explains. "Plus, choosing to bake them allows you to go easy on the saturated fat." They're also totally simple to make from scratch, using just a little coconut or grapeseed oil and a touch of sea salt.