Sorry, Pumpkin Spice —These Amazing Fall Desserts Are Stealing Your Thunder
Shebeko/Shutterstock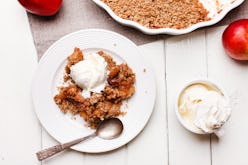 There's a reason why pumpkin treats have earned their top spot in the echelon of the best crowd-pleasing fall desserts: They're festive and cozy and always seem to remind those enjoying them that autumn has officially arrived (hello, sweater weather!). That said, the world becomes decidedly inundated with pumpkin spice everything this time of year and, while it will always be a classic, it definitely loses its novelty quite quickly. Not to mention the fact that there are so many other fall-centric flavors and foods that deserve their day in the sun.
There's likely no better source than a celebrity chef to outline some alternatives to those ubiquitous pumpkin desserts — after all they're pros when it comes to what's seasonal, tasty, and fancy enough to impress anyone you're baking for. A handful of renowned culinary experts — from private celebrity chefs to owners of A-list eateries — weighed in on the sweet treats you can whip up at home, and none of them include pumpkin. So stock up on the lesser-known fall fruits (and veggies!) and try your hand at these desserts next time you're looking to satisfy both your sweet tooth and everyone else's.
Apple Crumble
As the former protege of world-renowned pastry pro Nancy Silverton, Wendell Hooper knows a thing or two about creating delicious desserts. The Hollywood-based chef has also cooked for the likes of Ridley Scott and Herb Ritts, which pretty much cemented his status as a celebrity chef.
As for his suggestion for the perfect fall confection, Hooper is a fan of the classics. "I think an apple crumble is simple and easy and can be modified for gluten-free diets by simply swapping in almond flour," he explains, "Nothing says fall like a sweet crunchy bowl of an old fashioned staple like an apple crumble." If you're planning on following his advice, be mindful about the fruit you pick. Hooper says, "Make sure to use a crisp apple like the Honey Crisp, which retains its sweetness and offers a bit of a bite, as well."
Carrot-Ginger Black Sesame Loaf
As anyone who's stopped by hot Los Angeles eatery Sqirl knows, this is the spot for a celebrity sighting. Chef and owner Jessica Koslow's breakfast and lunch spot regularly draws visits from culinary superstars (Alton Brown) and supermodels (Emily Ratajkowski) alike and her cookbook Everything I Want To Eat is a massive success. That said, whatever she whips up for an autumnal treat is basically guaranteed to be something special.
One of her favorite non-pumpkin fall treats (which can also be found in her book) will also make vegan folks happy. She explains, "I make a Carrot-Ginger Black Sesame Loaf that feels very Halloween-y to me because of the coloring. And the flavors of carrot and ginger make it a perfect fall dessert — that just so happens to be vegan."
Poached Pear Clafoutis
Currently, Tehra Thorp is the chef behind NYC's The Hudson Larder, but she's also cooked for an elite list of those who turn to her for dishes with a home-cooked yet elevated feel. Her favorite fall treat doesn't stray from that formula. She says, "I really like clafoutis — a 'fortified soufflé' that's easier to get right and it's sturdier than a traditional soufflé. And this time of the year we have such great pears and apples." She adds that you can make this dessert even fancier by adding a luxe ingredient, "I'd poach pears in Vin Santo, a late-harvest Italian wine." Sounds like a win-win.
Fall Fruit Galette
Chef Luke Reyes has shown off his culinary expertise on competition shows including Chopped and he's cooked for his fair share of celebrities during his time with the well-known Houston Hospitality restaurant group. And though of late he's been focusing his efforts on the cannabis cooking scene (he's even got his own line of infused olive oil!), he can still appreciate a THC-free fall treat.
He puts a twist on a childhood favorite by adding in an under-appreciated fruit. "My favorite fall desserts tend to be the ones that are most nostalgic for me growing up in New England," Reyes explains. "So I gravitate to things like apple pies or galettes, naturally. But you can make them a little more interesting by adding some seasonal fall fruit from the farmers market like persimmons."