This Fair-Trade Moroccan Ceramic Set Is A Foolproof Gift For Anyone On Your List
@thelittlemarket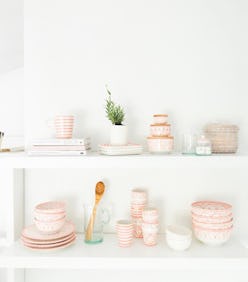 When it comes to gifting, they say it's the thought that counts. So, this year, why not choose presents that are as good to give as they are to receive? Fair trade gifts for the home not only give your space a unique look, but can also make a positive impact on the world. As you begin making your list (and checking it twice), consider gifting decor finds that are unique, handmade, and fair trade. They're guaranteed to warm up any space — not to mention a few hearts.
For those not in the know, the concept of fair trade is simple: It enables workers, usually overseas, to sell their goods for fair wages while working in safe and healthy conditions. "When you shop fair trade, you're shopping for pieces that give back to the lives of the artisans who made them," explains Lauren Conrad, co-founder of The Little Market, a nonprofit that sells fair trade goods. "[It's] essentially helping them to break the cycle of poverty and create a brighter future for themselves and their families."
Hannah Skvarla, the company's CEO and co-founder, adds that buying fair trade supports sustainable and eco-conscious practices, and work environments free of discrimination, child labor, and gender inequality. "I like to think of shopping as voting with your dollar," she says. "Each of us can create change by becoming a conscious consumer. Every time you shop, you have chance to use your dollars for good."
The Little Market founders have seen first-hand the impact that fair trade has on artisans. "We've heard heartwarming stories from the women we work with," says Conrad. "They have shared that a fair wage helps them to provide healthier food and safer drinking water for their families, a better education for their children (who are oftentimes the first generation to graduate from high school), and greater access to skill development and training workshops."
Skvarla explains how The Little Market, and businesses like it, help close the worldwide wage gap. "Because gender discrimination is still such a global problem, we seek out partnerships with women-led artisan groups to give them job opportunities that they may not otherwise have," she says. "We've seen that when women have the opportunity to earn a livable, sustainable income, they become economically empowered and more confident. They are treated with more respect. We aim to support these women with access to dignified jobs so that they can enjoy more of the rights they deserve."
Julie Kenney, celebrity gifting guru and founder of The Gifting Experts and Jewels and Pinstripes, points out that presents with a positive impact are doubly thoughtful, so — when presenting a gift to a loved one — take a moment to explain the meaning behind them. "I would definitely recommend writing in the holiday card that you chose this fair trade gift and explain what it is benefitting," she says.
Simply put, shopping with a purpose does good all around. "When you give someone a fair trade present, you're not only gifting a beautiful handmade piece that they'll enjoy, but you're also supporting the person who made it," Conrad says. "When you receive a fair trade gift, you can feel good knowing that the item you've received has a meaningful story behind it and is completely unique."
So what types of fair trade home decor pieces make for ideal gifts? Kenney suggests candles or baskets filled with trinkets like mugs and ornaments as foolproof crowd-pleasers. Some of her favorite merchandise is from the Pottery Barn and West Elm fair trade lines, plus you can find goods on Etsy, NOVICA, and Uncommon Goods (also check out Raven + Lily and The Citizenry).
To help you hit the ground running, ahead you'll find some fair trade goods handpicked for you by the pros. Get ready to win at gift giving this year.
Julie Kenney's Picks:
Lauren Conrad & Hannah Skvarla's Picks: