Get A Cleaner, Greener Kitchen With These Crucial Products
Bogdan Sonjachnyj/Shutterstock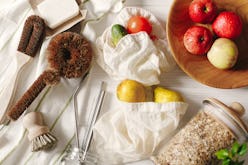 In light of so many environmental concerns, it's expected that a ton of resolutions for the new year will focus on how to live a cleaner, greener life. The good news is, even some of the smallest changes could make a big difference if everyone started to adopt them — whether that be shopping more secondhand items or ditching the plastic water bottles for a reusable one. And if you're looking for new ways to do your part in 2020, there's one room in the home that could probably use a major overhaul: Your kitchen. By swapping in a few game-changing sustainable kitchen products or practices, you can reduce your carbon footprint by scaling back on single-use plastic, minimizing food waste, saving water, and more — not to mention eliminating a ton of toxic chemicals.
With so much more awareness about the toxicity in the industry, many people already understand the importance of updating your beauty routine to one that's more eco-friendly. Beyond that, some of the coolest clothing and accessories brands have also gotten the memo and are making it easier for you to shop sustainably. But besides your makeup bag and your closet, there's another part of your home that could use some cleaning up. From waterless cleaning products to Teflon-free non-stick pans, there are a ton of ways to make your kitchen a less-toxic, and far less wasteful place. Ahead, find 10 products that make living greener so much simpler — plus how to put them into practice.
Water Filter
You'll save a ton of waste by scaling back on single-use plastic water bottles when you invest in a great filter. The Berkey is a favorite of many because of its simple, stainless steel design, and the fact that its carbon filters last longer than so many others.
Reusable Shopping Bags
Any reusable bag is an upgrade, but Baggu's nylon ones are stylish, and fold up neatly so you can tote them in your purse for emergency grocery runs.
Compost Bin
Even if you don't compost yourself, you can reduce waste by stashing food scraps in a compost bin and taking them to a nearby facility that utilizes them for things like community gardens. This bamboo bin includes a filter so smell won't be an issue, but you can also keep your scraps in the freezer in a reusable bag if odor is a concern.
Beeswax Food Wraps
Instead of plastic wrap, try these beeswax coated cloths as a washable, reusable seal for leftovers.
Silicon Food Bags
These reusable silicon bags are smart way to eliminate the need for plastic wrap or bags in the kitchen. They're also perfect for toting your work lunch.
Metal Straws
This set — which includes a cleaning brush — will make it easy to pass up the plastic straws for good.
Reusable Produce Bags
Toss a few of these mesh pouches into your grocery bag next time you head to the market and use them in lieu of plastic produce bags.
Glass Mason Jars
Shopping bulk dry goods is a great way to reduce packaging waste, and these glass storage jars make the perfect vehicle for your rice, beans, grains, and more in your pantry.
Refillable Cleaning Products
Grove Collaborative helps you clean better in two ways: You'll use less plastic with the refillable glass bottle and recycled plastic pouches, and the products themselves are made with earth-friendly ingredients.
Plastic-Free/Non-Toxic Dish Scrubber
Most household sponges are made with polyurethane, a petroleum-based ingredient. For plastic-free cleaning, try a copper scrubber (which can be recycled when you're done) or a bamboo brush. You can even find cellulose sponges (made from wood pulp) that use natural walnut fibers for extra scrubbiness — no poly required.