This $37 Rug Is Made Up Of Recycled Materials — And Perfect For Your Living Room
@pfcandleco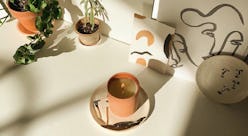 With Earth Day just around the corner, it's a great time to consider your personal carbon footprint. For some, that might mean switching to public transit or carpooling when possible, while for others that translates into the products you shop. And if it's the latter you're looking to re-evaluate, you're in luck. So many brands now offer more eco-friendly solutions to clothing, beauty, and even pieces to spruce up your space, and shopping them doesn't have to mean breaking the bank. In fact, there are a ton both stylish and sustainable home decor pieces under $100, and they might just be the perfect way to celebrate Mother Earth, while giving your pad a little more pizazz.
Whether it's finding pieces made from reclaimed or recycled materials, using natural, non-toxic materials, or created by hand in small batches, there are a few things to look for when you're trying save the planet by shopping more sustainably. In terms of materials, opt for textiles made of organic cotton, linen, hemp, or jute and keep an eye out for plant-based, non-toxic dyes (like indigo).
Manufacturing is also something to consider. Locally made items will always offer a lesser carbon footprint, but when that's not possible, try to shop pieces that are handmade (ideally with ethical and fair trade practices) so less resources (and therefore emissions) are being used. Recycled and up-cycled products are another way to go, as you're saving something that would otherwise be tossed in a landfill.
To get you started on the sustainable path, find 10 items ahead that will freshen up your space while being kind to the environment — and they're all under $100. Think of shopping these products as a way to reward yourself for that beach cleanup, composting, carpooling, or whatever other practice you're adopting in honor of Earth Day.
Made from all natural fibers of raffia and sweet grass and utilizing organic dyes, this decorative tray is the perfect place to stash your odds and ends.
This super-soft and lightweight, Southwestern-style throw blanket is made with GOTS-certified organic cotton.
The perfect home accessory for wine-lovers, this 6-bottle rack was made from repurposed barrels.
Made up of 100% recycled plastic (which keeps it mold and mildew resistant), this colorful rug is the perfect piece to get your patio summer-ready.
Minimalist design fans will love these one-of-a-kind bowls, made using ethically and sustainably sourced recycled Ankole cow horns.
Even big brands like West Elm are offering more and more sustainable options, including this rustic floating shelf, made of reclaimed pine that's been certified by the Forest Stewardship Council.
Accenting with wallpaper is a great way to make any bedroom pop, and with this non-toxic, digitally-printed on eco-friendly paper (not to mention made domestically in Los Angeles) version, you can also do so sustainably.
This natural soy wax candle with cotton which comes in a reusable terracotta container which can be repurposed as a planter or just a cute catch-all. Plus the brand makes all its products locally in Los Angeles.
Pottery Barn is also jumping on the eco-friendly bandwagon with pieces like this pitcher, which is made from recycled Coca-Cola bottles.
Make any coffee table pop with these colorful, up-cycled coasters, created from broken skateboard decks.