Sustainability Is Finally Cool — And These 11 Brands Prove It
Maggie Marilyn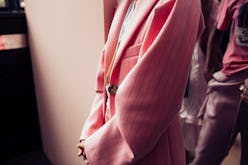 Sustainability is the kind of label you wish didn't have to exist. In an ideal world, everything you consume on the fashion front would be sustainable — from the jeans you wear to the jewelry you accessorize with to the shoes you walk in. Unfortunately, the initiative is one the industry has yet to fully tackle — but there are numerous brands taking giant steps toward eco-friendly practices to help protect and repair the planet while satiating your love for fashion (a win-win situation, one might say). These cool eco-friendly clothing brands have managed to make sustainability a priority without sacrificing great style.
You likely already know some of them: Everlane's recent initiative to rid its supply chain of virgin plastic was a big one. Allbirds merino wool sneakers have been a huge hit in the last few years. And others like Reformation, RE/DONE, and Stella McCartney all come to mind when sustainable and ethical practices are the topic at hand. However, if your wardrobe is in need of a sustainable refresh for 2019 then read on.
New York Fashion Week recently came to a close and several of the shows nodded toward a sustainable spirit that infused the clothing. Collina Strada's runway was narrated by hip-hop artist and activist Xiuhtezcatl Martinez who spoke to the label's new focus on sustainable practices. For fall, the collection is "made of 75 percent deadstock fabrics, recycled ocean plastic beads, and good intentions," the designer said in a press release.
Chromat, a CFDA runner-up and fashion crowd favorite nodded toward sustainability as a primary theme in its runway collection with the models carrying and dragging plastic bottles and waste up and down the catwalk. The label has been using sustainable swim lycra since its inception five years ago and uses up-cycled and dead stock fabrics to create the bold, splashy swimwear its now known for.
Ahead, more eco-friendly designers who are actively making an effort to be conscious of their fashion footprint.
Maggie Marilyn
New Zealand-based brand Maggie Marilyn launched in 2016 with the aim of marrying luxury separates with environmentally-friendly practices. The brand is full of bright colors, splashy silhouettes, and feminine embellishments that work for everything from the office to after-work drinks. "This year we are focusing on innovation within our supply chain by looking at finding ways to invest in a circular based economy for our garments; to take un-sold or used Maggie Marilyn garments and turning them into new yarn and fibres to reduce our virgin-sourced materials within our supply chain," Marilyn tells TZR. "It is our goal to have 30 percent of our fabrics in all new collections to be from recycled MM pieces by the end of 2020."
Boyish Jeans
Typical jeans can take up to 1800 gallons of water to produce just one pair, which is why Boyish uses 1/3 of that amount and recycles their water so nothing is polluted in the process. The result? Higher sustainability and stylish denim (see below).
Girlfriend Collective
Girlfriend set out to create activewear for women who take stock in transparency and care about where their clothes come from. They source their post-consumer water bottles from Taiwan and craft their leggings and bras from different types of plastics. The aesthetic of the brand is clean and minimalistic in pretty color palettes. "There are so many misconceptions about sustainable clothing. For example, a lot of people don't know that almost all synthetic fabrics like polyester and nylon are made from plastic," Co-founder Quang Dinh tells TZR. "If more people knew that, maybe people would be more inclined to support brands making clothes out of recycled materials, and more brands would be inclined to do it. "
JW PEI
In 2018, JW PEI began including all of their vegan leather bags with lining 100 percent made from recycled bottles. "Within five years we plan to replace all major materials (not just the lining) with recycled materials," JW PEI Co-founder Steph Li tells TZR. "Most people think recycled material is inferior but the reverse is true. It just takes much more time and effort to create, which is why it isn't often used by fast fashion brands."
Kala
Brooklyn-based lingerie brand Kala is also participating in sustainable and ethical practices by employing local artisans and ensuring a fair wage. They also use all-natural, biodegradable materials and utilize materials like organic cotton and Tencel. The assortment of bras, underwear, and sleepwear comes in pops of unexpected hues in clean, cool lines. A lovely addition to your top drawer.
Lacausa
If your closet is full of classic staples, then Lacausa is a brand you should consider adding to the rotation. The label offers versatile separates in year-round hues and flattering shapes. Even better, they are committed to ethical and sustainable practices, especially as it pertains to their employees. Every quarter, the brand chooses to work with a different charity, and materials-wise everything is sourced and crafted in Los Angeles with "the highest standards in mind."
Pangaia
Fun fact: The sweatpants below were made out of 28 recycled plastic bottles. Pangaia is a global collective that's working together to create a sustainable wardrobe for customers (that's you). Their first collection was of classic essentials like hoodies, sweatpants, and t-shirts that feel functional, versatile, and subtly cool.
Slow Factory
Slow Factory's artistic range of scarves and jewelry are all eco-friendly and fair trade and their proceeds are donated to humanitarian and environmental causes. If you're looking for something bold and colorful to accessorize your next outfit with, you've found it.
SVNR
Add a touch of whimsy to your outfit with one of SVNR's colorful earrings; they're all crafted from found, re-used, up-cycled, and natural materials. Whether you're buying a pair or a single and mixing and matching with your other favorite statement earrings, these candy-like jewelry pieces will instantly brighten your mood.
Whimsy + Row
Whimsy + Row is an indie label that's great for when you need to add a new staple piece to your everyday uniform. Pretty sweaters in pops of color, wide-leg trousers in flattering fits, and easy dresses you can style with everything in your closet—it runs the gamut. They also happen to use deadstock fabric in an effort to substantially reduce the brand's carbon footprint.