The Sustainable Side Table You'll Want In Your Living Room ASAP
Local + Lejos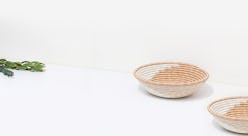 With Earth Day around the corner, it's the perfect time to take stock of your personal sustainable practices and examine new ways to potentially leave less of a carbon footprint. For some, that could mean regularly offering their compost to community gardens or switching to energy-saving bulbs, while, for others, it can be changing their shopping habits. And if you're thing is to be more conscious about the latter, there's good news. More and more brands are offering eco-friendly home decor options that also happen to be totally chic.
Once you've overhauled your closet with sustainable clothing brands and given your beauty routine a green upgrade, next up is your interior design, and loads of brands and retailers — including some you've probably already been shopping at — are responding to people's overwhelming desire to help save the planet by creating and selling pieces that utilize natural fabrics and dyes, are made in small batches by hand, and even made with reclaimed or recycled materials.
As founder and CEO of ethical decor brand Local + Lejos, Sheeva Sairafi is someone whose mind is squarely on shopping more sustainably, which starts with examining what something is made of and how it's made. "Sustainable materials are easily renewable, made with minimal resources, and create a small amount of waste during the production process," she explains. And if you're not sure which materials to look out for, she's got a few suggestions. "Sisal, a plant fiber, is a wonderful sustainable material, that is also biodegradable," she says. "A few other sustainable materials to look for are bamboo, soy, and wool."
Now that you've got a cheat sheet, find eight stylish and eco-friendly additions to your home decor ahead so you can honor Earth Day while sprucing up your space at the same time.
Upgrade your bedding with this stunning, watercolor print duvet cover that's made of TENCEL, a sustainable fabric created from the eucalyptus plant.
Handcrafted in Rwanda by the Kwizera Cooperative, these beautiful woven bowls are made of 100 percent sisal dyed naturally with tea.
This side table made from salvaged wood will be a standout in any room.
Coyuchi is known for its sustainable bedding, and this lightweight, color-blocked quilt is no exception. It's made of GOTS-certified organic cotton, plus it's hand sewn which means less resources were used creating it.
The pop of color in this throw pillow comes from plants. Specifically, the organic cotton was hand-dyed in Mali with natural indigo.
Minimalists will love this hand-braided natural palm rug, made ethically in Oaxaca, Mexico by a family-run co-op.
Block Shop's products are all made ethically and sustainably in Jaipur, so you can feel good about dressing up your dining table with this linen runner, which was hand-dyed with indigo using a mud-resist technique.
Speaking of dining tables, if you're looking for a more sustainable furniture option for yours, check out this carpenter bench-inspired one from Pottery Barn's kin-dried reclaimed pine collection that also happens to utilize fair trade materials.