The Summer Eyeshadow Products That Make People Think I Made An Effort
Imaxtree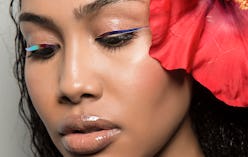 For someone who loves watching countless hours of makeup tutorials on YouTube, reading product reviews like a novel, and stalking the new arrivals page on Sephora, I also value an easy, under-five-minute makeup look. Sure, some mornings I wake up craving a complicated cut-crease using multiple shades, but that's not to say that I don't value a few extra minutes of sleep in the morning. So, come July, I'll gravitate toward summer eye makeup products that make me look pulled together — without having to set an alarm at an ungodly hour.
I'm a firm believer that a strong eye is the most crucial part of your whole makeup look, and using one single shadow that can quickly create a stunning lid can't be beat. However, there are a few factors to consider, including finish and texture. Though I've grown to lean toward liquid-based shadows, I've tested every type on the market.
I'll start by also pointing out that I love glitter... like, really love glitter. I'm the girl you see at the supermarket with the shadow and highlight you can spot all the way from the produce aisle. And out of all the glitter shadows I own, there's one that I get endless compliments on — Glossier Play's Glitter Gelée.
Ever contemplate what life was before you discovered a product? That's exactly how I feel towards this baby. It takes roughly two seconds apply, especially since I simply use my pointer finger and dab a tiny bit directly onto my lids. In an instant, I look so cool and put together. And unlike some sparkly eye products I've tried, this one isn't sticky and uncomfortable — two very important factors for whatever finish or look I'm going for.
To help you understand my love for this glittery gem, ahead my tried-and-true pick, as well as several other worthy options to get you glowing as well.
Liquid
Cream
Sticks
Dry