Why I Love Glossier Play's Colorful New Products, Even Though I'm A Makeup Minimalist
Photo by Anna Buckman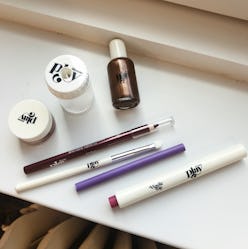 When Glossier made its first mysterious announcement about Glossier Play, it took mere seconds for fans to start freaking out and making guesses as to what an entirely new brand could possibly entail. Thankfully, it didn't take long for the details to be revealed, and the new brand launched mere days later on March 4 with Glossier Play's first colorful makeup products. But of course, the buzzy launch naturally left the world wondering (myself included): Are they actually as bright and beautiful as the pictures make them seem? And will you be able to wear them even if you're not a pro at makeup application?
It goes without saying at this point that Glossier has a cult following. And though the brand has only made products with natural-looking effects thus far, it's still created some makeup hits (Boy Brow was its most-loved product in 2018, after all). But with so many widely loved classics, its new brand had a lot to live up to. From what I've tried so far, though, it does. Glossier Play started with four makeup products: Vinylic Lip, Colorslide, Glitter Gelée, and Niteshine, all of which boast intense color or high shine (or both). And upon first application, they deliver.
I'm a sucker for a pretty lip color, so when The Playground (a $60 set containing one of each of the new makeup products along with the new tools) arrived on our beauty editor's desk, Vinylic Lip in the color "Blow-Up" was the first thing I reached for.
I immediately noticed how pretty the pink was — the product lives up to its promise of color — but I was still able to keep it looking natural with the rest of my low-key makeup look thanks to its buildable formula. It was definitely shiny, too — the high-shine lip lacquer name is no joke — and it complemented my slightly dewy skin exactly how I wanted it to.
I'm usually not one to wear glitter, but the Glitter Gelée looked so pretty in its little pot that I had to try it next. Before I put it on, I was expecting your standard shimmer product, but this was not it. While yes, it is very glittery, it also features multi-dimensional paillettes, which give the product unexpected glamour and a little more fun.
Paired with the coppery shade of "Firewalk," it makes for a product that's bold enough to stand on its own, but not so overpowering that you won't want to wear it with anything else. Thankfully, Glossier Play also introduced The Detailer, a silicone precision multitool, to help you apply it, so you can avoid getting glitter on your fingers and in your nails (which was definitely a concern of mine).
Following the first products, I had high hopes for Colorslide, the technogel eye color which comes in 14 shades and was made to provide either a precise, colorful line, or a smoky effect. My initial application proved both to be true: It glided on easily, felt super smooth, and did not skimp on pigment (I tried "Magic Carpet," which is a slightly shimmery deep red). Once it was on, I tried smudging it a bit, which gave me subtly diffused color (and proved that its staying power is also worth taking note of).
Glossier Play markets its new range of products as "dialed-up beauty extras," and it wasn't playing around. While I only tried three products, each in one shade, out of the entire collection, I can honestly say they won me over in a matter of minutes — something that doesn't happen often for me with colorful makeup, especially since I consider myself a makeup minimalist.
What is it, exactly, that converted me so quickly? I chalk it up to the details. The pigments, while intense, still feel slightly subdued, like they were created to ease into the rest of your skin-first Glossier routine. Plus, everything was simple to use. The lip lacquer was so easy to apply that I was able to do it with basically no light in our dark office bathroom. The Glitter Gelée's application is made foolproof with a buildable formula and a simple tool. And the Colorslide liner is basically made for smudging, but glides right on with tons of color, too.
For me, Glossier Play lives up to the hype — and now, I'm just waiting along with everyone else to see what the brand comes up with next. Until then, you can shop the newly launched products below — and don't be surprised if you discover a newfound love for colorful makeup. It won't be the first time Glossier has made a convert out of its fans.