These Affordable Nautical Decor Pieces Are Chic, Not Cheesy
ben bryant/Shutterstock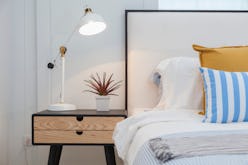 Summer is the quintessential season for nautical home decor, but if you're not ready to part ways with the beachy, coastal vibes just yet, there's no reason to. From wide navy-and-white striped textiles to rope and shell details, the style that always brings vacation feels is actually classic enough to feature year-round — especially when it's done in a subtle and chic way as opposed to campy and over-the-top.
Whether you're still seeking a few outdoor decorative essentials to get your patio or backyard into prime entertaining shape or you just want to add a bit more of a breezy aesthetic to your living room, bedroom, or bathroom, the nautical look could be a great option for those looking to stray from the fall decor trends and keep the summer mood going. One of the simplest ways to do this without being too on-the-nose is by use of a classic nautical stripe on your bedding, towels, or even a throw pillow or two. While this pattern is instantly recognizable for its beachy feel, it's also simple and versatile enough to go with many different types of decor.
Decorative accessories are another way to bring in a coastal vibe. But to make this feel more polished than crafty, look for nautical motifs with a modern twist. For example, silver trays in the shape of shells, or a sculptural knot made of metal. And wall decor is another element that can help make any room in your home feel a bit more beach-y, be it with a framed photo or print of the coastline or playing with printed wallpaper.
If a subtle nautical touch seems like exactly the update your home needs now, you're in luck. Not only are the options abundant, they're also totally affordable. To prove the point, find 10 decorative pieces ahead that will help you nail the chic beach house look — and they're all under $100.
There's just something so classically appealing about a traditional nautical stripe, and this oversized outdoor pillow from One Kings Lane is an easy way to try it out on your patio.
Yes, it's literal, but it's also so incredibly chic. This coral sculpture brings an instantly beachy feel to your coffee table or shelves without being too over-the-top.
Mount this decorative oar to your wall to bring in the nostalgic summer camp vibes. It looks great above a bed or couch in lieu of traditional framed art.
A pretty, aquatic themed watercolor gives a nod to the nautical look without hitting you over the head.
Bring a touch of the beach to your vanity with a dainty, shell-shaped mirror.
For an instant staycation feel in your bedroom, try switching up your bedding to this chambray striped set from Target.
The fact that this decorative knot is made of nickel makes it feel less surf shack and more chic hotel.
When working with a busy wallpaper pattern, like this nautical motif, you can try limiting it to just one small wall to avoid decor overload.
With a pop of red, this nautical striped lamp base feels oh-so French.
This decorative tray set gives a nod to the beach, but since it's made of silver (instead of actual shells), it instantly feels more elevated.