The Target Mirror That'll Make Any Room In Your Home Look Bigger
Photographee.eu/Shutterstock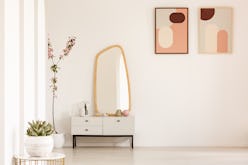 If you're set on improving everything from your dietary habits to your personal relationships in 2019, why not add on one more thing to start the year fresh all around? With some subtle home improvements, you can create a space that's inspiring and conducive to all of your intention setting — even if you're on a budget. In fact, in addition to a ton of little tweaks you can do to spruce things up in your home, there are plenty of mirrors under $100 for every decor style that can make your whole room feel brand new — and more spacious.
While mirrors in certain rooms of the home have a practical use, they can also be an important decorative accent, used much in the same way as wall art prints. Not only that, but they can add style to any space, not just your bedroom or bathroom — although they're always useful there. Because more and more people are starting to accessorize their home with them, retailers are responding by stocking some seriously cool options for mirrors, whether you want them to act as a unique art piece above your living room sofa or a cute spot to check your lipstick as you rush out the front door.
Regardless of your current needs, rest assured that finding the mirror that's perfect for your place doesn't mean overspending. To set an example, read ahead to find 10 mirrors in a range of styles, all for under $100.
This handcrafted teak wood mirror from World Market has an organic shape that would look perfect in the modern minimalist's home.
What makes this elegant, brass-toned oval style even better? The addition of a petite shelf that's perfect for a bud vase, crystals, small framed photo, or any other little decorative objects you want to show off.
What this hanging half circle mirror lacks in size, it more than makes up for in style, witch a subtle geometric motif and a flash of rose gold.
This tiger-shaped, natural-finish wood mirror from Urban Outfitters will definitely make a statement wherever it ends up in your home.
West Elm's Peruvian starbust mirrors are handcrafted by artisans in a centuries old technique with Amazonian timber wood. Hanging it in your place immediately brings in major worldly vibes.
This distressed wood frame mirror is minimalist and chic, and it's a perfect addition to practically any room.
For a touch of glam, this circular mirror with black frame and just a touch of glimmer from distressed brass is the perfect decorative accent.
Target's Opalhouse line is known for its whimsy, and this colorful, geometric, rectangular mirror is no exception. At under $40, the price can't be beat.
This Pier 1 piece isn't your average mirror. Sure you can check your reflection here, but it also acts as a major art piece in your home.
The farmhouse-chic trend has been huge (thanks in no small part to Chip and Joanna Gaines), and this wall mirror nails the vibe perfectly.