This $98 Accent Mirror From Anthropologie's Fall Collection Is The Easiest Way To Elevate A Room
Anthropologie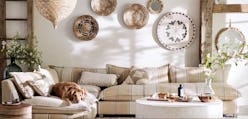 When trying to infuse your distinctive sense of style into your home, it all comes down to the finishing touches. And while everyone thinks about decorative pillows, throws, or coffee table books, the small accent mirrors from Anthropologie's fall collection make a convincing case for themselves.
As much as you want your space to be inviting, comfortable, and refined, above all else it should be an extension of you. And while mirrors are typically purchased for function over fashion, they can actually provide a much-needed dose of personality and polish to a room. You know Anthropologie for its creative apparel and home designs that range from boho to contemporary, so it's no surprise that the retailer is brimming with options for unique accent mirrors to spruce up any wall.
You don't have to spend a fortune either, because several of the styles will run you less than $150 – a small price to pay for a revamped room. Take, for example, the Estella Mirror for $98. Its half-moon shape and contrasting panels of brass and mirrored glass are arguably way more interesting than a piece of wall art to achieve a modern-yet-delicate feel. It'll be equally impactful placed by a window or as part of a gallery wall.
If your style's a bit more bohemian, consider the $88 Marjeta Hanging Mirror for its handcrafted brass, wood, and ceramic accents that give off an artisanal vibe. Hang the mirror above your bed like a dream catcher, or in an entry way for last looks before dashing out the door.
Keep scrolling to check out the varied selection of small accent mirrors that'll make a big impact below.