Zara's Hinting At 2018's Next Big Bedroom Décor Trend With This Dreamy New Collection
Zara Home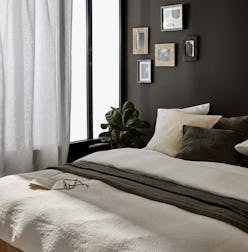 Forget what your parents may have taught you: You don't need to make your bed every morning. A perfectly messy bed covered in pretty, breezy linens is the dreamy 2018 bedroom décor trend still popping up all over the web. And while this may seem like a strange new trend to know given that the weather's turning colder, Zara Home wants you to know it's back — and the retailer has a curated collection of linen pillows, curtains, and more to prove it.
At just $129 for the basic double-sized washed linen duvet cover, this bedding essential in Zara Home's Linen Selection is about to become the secret behind every enviably cozy bedroom pic on Instagram. The minimal duvet is available in white, dark gray, and sunshine yellow, and is listed as quick-to-dry, durable, and breathable. If you prefer to keep a more manicured bed but still want a few wrinkles here and there, this colorblocking cotton and linen set features cotton's crisper lines for $99.
Already own the duvet of your dreams? The collection also features throw pillow covers, blankets, quilts, and curtains to add the messy trend to any space you want. The waffle-knit linen blanket for $139 can be thrown on top of the bedding you already own for stylishly unkempt vibes, and the dark gray won't clash with anything you already own. Give a tired throw pillow a style update with this adorable linen throw cover with oversized button details for $49.90.
Being that linen is typically reserved for the summer months, it's surprising to see such an extensive collection dedicated to the lightweight fabric as winter approaches. But clearly it's a trend to take note of if Zara Home believes in its lasting powers. The brand has dedicated an entire section on its site to its many linen offerings, which you can bet will mean this trend is going to be huge in just a matter of time.
If you're ready to embrace this tousled, breezy trend for the winter, browse the dreamiest linens available on Zara Home below.