This $20 Gift Is Perfect For The Spritz-Lover In Your Life
Maksym Fesenko/Shutterstock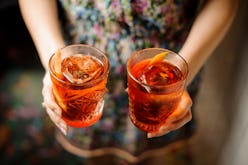 She's already done so much for you — specifically the constant creation of new and creative adult beverages every chance she has — so what are you going to give the at-home mixologist in your life? Besides handing over a bottle of her favorite booze, there are actually some seriously cool and clever gifts for cocktail makers that will only improve upon her already stellar skill set. And as an added bonus, you'll probably get to sample whatever she comes up with when she uses them.
Assuming her home bar (or bar cart, as the case may be) is already stocked with some of the cocktail-making essentials, like different types of liquor and basic glassware and tools that allow her to whip up some of the classics (Old Fashioned, Dirty Martinis, etc), some truly great gift ideas are those things that can help her step her game up even further — think vintage cocktails that deserve a comeback or a dressed-up versions of her usuals — with recipe books, at-home infusion kits, and garnishes that add that perfect finishing touch.
So if you're still shopping for that friend or loved one who takes her drink slinging duties as hostess seriously, read ahead for 10 ideas that will wow any bartending enthusiast — no matter if they're new to the game, or already a pro.