This $6 Pillow Cover Will Give Your Living Room Fall Feels In A Totally Subtle Way
@zarahome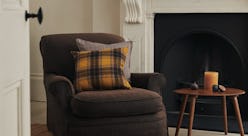 This season is all about creating a warm, welcoming atmosphere. But if you're not in a position to give your home a total overhaul for the season, there are still a ton of ways to bring in the vibes with simple, affordable touches. For example, smell can be such a powerful tool in setting the tone, so look for candles and other home fragrance products that have an autumnal sensibility — whether it's pumpkin spice or something more subtle. Florals are another way to change up the environment without spending a lot. Still, there's another simple and cost effective solution to making your space more conducive to curling up with a book, blanket, and Hot Toddy, and that's with a few fall-centric throw pillows.
Some of the biggest trends for fall have to do with textures and colors — some are the same every year, and others a bit less expected. For example, you probably think about forest green, burnt orange, and rusty red as being some of the most traditional seasonal shades — and they always to the trick — but according to the experts a Pantone, peachy-pink, bright fuchsia, and deep blue are some of-the-moment favorites to try.
In either case, your textiles can also make a major impact. Think lush, sumptuous fabrics that you'd want to cozy up to, like faux fur, velvet, and wool. Just a touch of these on your bed, sofa, or chair makes it instantly more inviting.
You can also play with patterns and motifs without having to make your home look completely cliché. Skip the standard leaf prints in lieu of something less predictable, like fall fruits, folksy florals, or woodsy, pastoral toile. And if you do want to stick with something classic, go for a plaid. You can switch things up by choosing the pattern in a non-traditional color scheme, but keep it cozy with a fabric like flannel which will maintain a seasonal feeling.
To get you started, find 10 options ahead that will instantly transition any room into an autumnal escape — and they're all under $50.