Fall's Biggest Home Decor Color Just Might Surprise You — Here's How To Try It
YKvisual/Shutterstock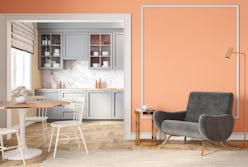 Some aspects of fall are quintessential. There's the layering up within your wardrobe that goes along with the addition of warm, cozy fabrics like cashmere and velvet. And if you're the type who also likes to switch up your decor to feel a bit more seasonal, you could be applying the same transitional principles to your interior spaces, starting with swapping in more traditionally autumnal shades like chocolate, olive, and burnt orange. That said, if you wanna go a bit off-grid this year, there are actually a few fall 2019 decor colors that — while totally unexpected — just might be the most on-trend way to bring your home into the new season, and that's according to the most respected color resource around.
Every year Pantone predicts seasonal color trends that end up finding their way into not just fashion and beauty, but pieces for your home as well. So, just as you might consider peppering less traditionally fall shades like pistachio into your wardrobe, the same can be said of your decor. And if you're short on budget, but still want to try some of the season's hottest colors, there are some totally affordable ways to give them a whirl, like a pillow cover or a faux flower or two that adds a subtle pop.
Ready to start the transition in your own home? Read ahead to learn a bit about four totally unexpected fall colors — according to Pantone's list — as well as ways to try them out for yourself, per Living Spaces Interior Decorator, Shelby Greene.
Peach Pink
Described by Pantone as "warm and flattering," this shade is decidedly softer than some of fall's more typical ones. That said, according to Greene, when used in combination with the season's cozy textures, it feels just right. "Use peach pink on sofas and chairs in a soft velvet material," she says. "This color stimulates interest in a warm, inviting setting, such as a formal dining room or living room."
Fruit Dove
A punchy, "extroverted" pink, Fruit Dove might seem a bit bold for the fall, but Greene offers the perfect way to bring it into your home without making a huge commitment. "This color could be used in a fall floral arrangement as a striking statement table centerpiece," she explains. That said, if you prefer a go-big-or-go-home approach, the design expert has a solution for that as well. "It can even make a great accent wall in a living room setting," she adds.
Orange Tiger
More vibrant than fall's standard pumpkin spice shades, Orange Tiger has a palpable energy, no matter how you use it in your home. "Orange is fearless, and nothing is more fearless than an orange sofa," explains Greene. "Use this color lightly to make singular bold statements such as in upholstery or an accent wall in a dining nook."
Galaxy Blue
Think of Galaxy Blue as somewhere between cobalt and navy, a saturated but somewhat subdued hue that — like its name — conjures the celestial sky. While it may not scream autumn, it does feel warm and inviting which makes it great for year-round decor accents as well as ones that can easily be swapped in for fall. And Greene explains it can also be used to give a fresh look to some of your existing pieces. "Blue is a fantastic color to repurpose old furniture with," she says. "A bold blue French-styled cabinet, paired with a blue velvet sofa, and accent pieces can never be too overwhelming with this thoughtful hue."