The $5 Wall Frame From IKEA That'll Help You Finally Finish That Gallery Wall
Kovtun Anastasiia/Shutterstock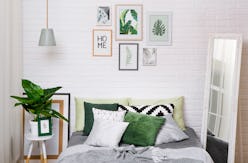 You've seen them all over the Instagram feeds of your favorite designers and influencers: the coveted gallery wall. And while — when done right — this trend can look totally effortless yet eclectic, if you're not a pro decorator, tackling this in your own home can be a daunting task. Being on a budget can also add another layer of intimidation — but lack of funds shouldn't stop you from DIY-ing this super popular technique. With tons of affordable wall frames, it's actually a lot more accessible than you might think.
A well done gallery wall can be any combination of art prints, one-of-a-kind-pieces, or personal photographs and memorabilia. And if you're a budding art collector on a budget, it's a perfect way to display your investments — and no one has to know your secrets (like combing your local flea markets and yard sales, for example) for finding affordable stuff. Even some of the biggest trends in art can be found for a steal if you're shopping prints or photos (as opposed to one-off works), which are much more wallet-friendly.
As far as just where and how to create a gallery wall, design experts have a few tips that can make it easy no matter your skill level. In addition to varying the types of work you're displaying, make sure to mix up the scale. Minimalists might prefer to keep things in a harmonious color palette (all neutrals, for example) whereas maximalists can get really get creative and try out a mix of colors and textures. Another good tip is to think of your gallery wall as the main focal point. It can add drama to an otherwise basic room, or highlight an area you want to feel more personalized and lived-in.
Once you've gathered a collection of pieces worthy of showing off, finding the proper frames for them is another project altogether. But it doesn't have to be a financial strain. By foregoing custom framing in favor of shopping ready-made options, you're already saving a ton of cash. And no matter what you home's decor style is, chances are you can find a fitting frame at one of your favorite affordable home goods stores, like Target, World Market, and of course IKEA, which offers a ton even below the $5 mark. To help you get started, here are 10 frames that vary in size, material, and style that are all under $30 — so that you can achieve your dream gallery wall without blowing your budget.
This floating, white-washed frame from World Market gives a beach-y feel, so it's great for both minimalist and shabby chic homes.
The iron frame juxtaposed with a leather strap offers a chic and unique element to any gallery wall.
Leave it to IKEA to offer an incredibly affordable frame that also happens to be seriously stylish. This collage frame is the perfect balance between modern and vintage style — plus it's more bang for your buck.
Add a touch of rose gold to your wall with this classic option from West Elm.
An acrylic frame is a great way to add a clean, modern feel to any space. Plus it really allows the print or photo to shine on its own.
Want a pop of color? This cruelty-free bone frame dyed with bright indigo would be a perfect fit in a bohemian home.
This wood frame is the perfect balance of rustic and modern.
Industrial lovers will want to scoop up this distressed metal option.
Shiplap is still trending, and this small format allows you to try it out without much commitment.
Mixing a little color and pattern into your gallery wall can keep things interesting. Enter this chevron resin frame from Target that will make yours anything but basic.