How To Build An Art Collection Without Going Broke
Photographee.eu/Shutterstock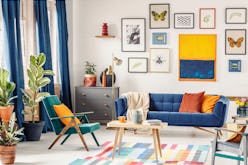 Luxury has a different definition for everyone. For some, a splurge may be having a multi-course meal at the hottest restaurant in town, while for others it's scoring a designer handbag. But when you're watching what you spend, even the occasional luxurious product or practice can feel inaccessible, if not totally impossible. Luckily, not everything that seems like it's limited to the wealthy has to be that way. Case in point, collecting art on a budget is probably a lot easier than you think.
Whether you're looking to create a gallery wall filled with vintage prints, paintings, and photos, or you want to invest in the occasional statement piece, finding art for your home is a surefire way to put personality and the finishing touch on your space. But because so many people assume that art has to be costly, oftentimes, collecting it feels like a pipe dream. And while there is a ton of affordable wall decor you can score from your favorite major retailers, finding pieces by emerging talent or supporting artists you've been admiring might be a lot more your speed. If that's the case, don't count yourself out just yet. With expert advice, you could be well on your way to curating a collection you can be proud of — without breaking the bank in the process.
According to Saatchi Art's Chief Curator Rebecca Wilson, becoming an art collector doesn't have to feel out of reach — and that's why the online art gallery offers tons of options that suit a wide variety of price points. In fact, Saatchi even created a digital book about collecting art to help you get started. And while she acknowledges the importance of creating and sticking to your budget as you shop for art, she also notes that that doesn't have to mean settling for something you don't love. "There are no guarantees when it comes to investing in art so the most important consideration is that you love the work you are buying and will enjoy it for years to come," she says.
But what do you do once you do figure out what you love? As Wilson explains, there are a few easy ways to ensure you don't overspend while still scoring pieces you'll cherish (whether or not you ever expect them to increase in value). Ahead, find her best advice for curating an art collection that you can be proud of, even when you don't have thousands — or hundreds — to spend.
Start With Photography And Limited Editions
Originals by nature are more expensive. But that doesn't mean you still can't afford a fine art piece. Photography and limited edition prints are created in multiples, which brings the cost down significantly. "Photography is a great medium for first-time buyers to focus on," Wilson says. "Often, prices for photographs are lower than for paintings or sculpture, and photography can be an especially striking medium that is endlessly enjoyable to live with."
Shop Online
Long gone are the days where buying art meant only hitting up galleries and auctions. "Buying art online is an efficient and economical way of purchasing art, as you don't have to pay the usual gallery commission of 50 percent," Wilson explains. "You can also take your time and browse through a lot of works easily without having to traipse around multiple galleries that have small inventories before finding something you like." Sites like Saatchi Art, Minted, and Society6 all highlight and benefit working artists but have pieces that start under the $50 mark.
Focus on Emerging Artists
Don't be discouraged by how much you see major works of art going for. Instead, explore those by under-the-radar artists. "The stories about the art world that get covered by the media tend to be about works selling for millions, but focusing on works by emerging artists means that you can acquire stunning works at reasonable prices," Wilson says. In addition to what you save, you'll also have bragging rights about your knowledge and support of the budding art community — and you won't have the same overused prints everyone else does.
Visit Artist-Led Fairs
If you are planning to pick up pieces by up-and-coming artists, there's no better place to start researching them than an art fair. "Attending a local art fair is a great way to discover art, especially when you can meet emerging artists in-person and learn more about their process and inspiration," adds Wilson. "The Other Art Fair has multiple fairs throughout the year in cities including Los Angeles, Brooklyn, Chicago, and London where you can discover emerging art and gain direct access to the artists."
Don't Forget Framing
If you're going to invest in some stunning art, shouldn't it be properly showcased? "Depending on the type of medium you are looking for, you may need to set aside some of your budget for framing," advises Wilson. "Be sure to find out ahead of time whether your artwork comes stretched or framed, or if it can be hung as-is." If you are buying a print or piece in a standard size, you can avoid costly custom framing and pick up an affordable one at any major decor retailer and save a ton of cash.