These Ultra-Covetable Valentine's Day Gifts Won't Cost You More Than $50
And no, they're not all flowers and chocolate.
Mint Images/Mint Images RF/Getty Images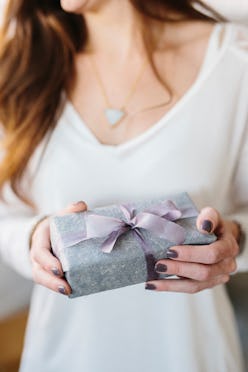 Love should be celebrated in all its many forms: romantic love, familial love, platonic love, self-love. After all, it's 2022 — you definitely don't have to wait around for a partner or significant other to buy you a present on Valentine's Day. That's why the Valentine's Day gifts under $50 curated below are perfect for everyone on your V-Day shopping list (yes, that includes you).
Proving that you don't need to break the bank for a thoughtful (or chic) present, these wallet-friendly buys include beauty must-haves, self-care goodies, accessories, home fragrance, and cheerful WFH essentials.
Treat a pal to a cozy beanie they can pair with their trendiest winter coat, or pick something out to add to your own ever-growing candle stash. Maybe snag a set of skincare minis for your sister, or a luxe luggage tag for your partner that they can use on your next getaway together. And don't forget something special, like a pretty rose gold pen, to brighten up your work bestie's day — even in the age of endless Zoom meetings.
Whether you're looking to score a gift for yourself or someone else, these covetable Valentine's Day gifts under $50 are just perfect. (And, OK, overwhelmingly pink. Hey, I love a good theme.)
TZR Shop is The Zoe Report's shoppable guide to editor-approved buys in fashion, beauty, wellness, and lifestyle. We may receive a portion of sales if you purchase a product through a link in this article.
TZR Shop brings you the editor-approved buys we can't get enough of and think you'll adore, too. Best of all, you can shop all of the products above directly on this page without visiting multiple retailers. Simply click on an item to learn more, choose your size or favorite color (if applicable), and then hit "add to cart." When you're done, you can click over to your cart in the top right corner of your screen to purchase all your stellar selects at once. How easy is that?
Questions about shipping, returns, or your order in general? Click here for more information.
Explore more of TZR Shop (and our fashion, beauty, and lifestyle must-haves) here.