The Best Outerwear Trends Fashion Girls Will Be Wearing This Season
Get ready for candy-colored faux fur and unexpected patterns.
Edward Berthelot/Getty Images Entertainment/Getty Images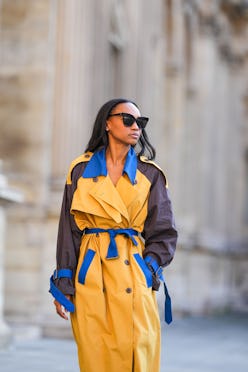 The perfect weather of PSL season is long gone and in its place are the chilly days of winter. But don't worry: To help aid in making the coldest months as comfortable — and chic — as possible, I've tapped into my stylist prowess to bring you the women's outerwear trends you're set to see this winter.
The key to curating an incredible outerwear collection is variety — and these emerging trends have plenty of that: A quilted puffer is ideal for daily errands and functionality, while a gorgeous bright blue trench is the perfect choice for a special dinner you've had marked on the calendar for weeks. But, hey, if you fancy wearing your faux fur to the bodega, you have my full support. After all, if you're anything like me and for the most part dread the cold, dark days of winter, at least this extra layer we add to our ensembles provides a whole new opportunity to dress up.
Ready to shop these up-and-coming women's outerwear trends? Scroll below to see how all the fashion girls are upgrading their coat collections this winter.
TZR Shop is The Zoe Report's shoppable guide to editor-approved buys in fashion, beauty, wellness, and lifestyle. We may receive a portion of sales if you purchase a product through a link in this article.
Outerwear Trend #1: A Pop Of Color
In a sea of NYC's all-black uniform, a pop of color always serves as a head turning moment. The perfect addition to a night out or simply whenever you want to brighten up a dreary day, these options will have you covered (quite literally). Grab your favorite hue and head out the door.
Outerwear Trend #2: Animal Print
Animal print has been crawling all over shoes this fall, and it's set to take over outerwear as well in the coming months. From classic leopard to outrageous python, these coats will appeal to your inner wild side.
Outerwear Trend #3: Candy-Colored Faux Fur
Somewhat of a spin-off of the brightly hued outerwear trend, this one focuses on both color and fabric. The look is all about faux fur that looks, well, faux with candy-colored pieces that are undeniably fun and unique.
Outerwear Trend #4: Quilted & Cozy
Dressing for the winter months is about more than staying stylish — it's about staying warm! Available in long and short styles and in every color imaginable, both your temperature needs and style aesthetic will be met no matter your personal preference with these cozy, quilted pieces.
Outerwear Trend #5: Printed Patterns
For those who love to throw a dash of the unexpected into their style, these trending printed pieces are everything. From plaid to abstract to florals, these outwear pieces put a fun twist on day-to-day style. Plus, with the freedom to dress them up or down, you'll be surprised with just how much wear you'll get out of them throughout the season.
Outerwear Trend #6: Flower Power
The trees may be barren, but your coat will have you at least dreaming of spring. These trendy coats are positively blooming with flower power. And in the dark days of winter, the unexpected floral patterns are like wearing pure sunshine.
Outerwear Trend #7: Metallic Pieces
Back in 2021, metallic outerwear was seen on the Balmain and Chanel runways throughout fashion month. In 2022, the statement-making trend is still going strong. From shades of silver to gold to iridescent, these pieces feel über-powerful.
TZR Shop brings you the editor-approved buys we can't get enough of and think you'll adore, too. Best of all, you can shop all of the products above directly on this page without visiting multiple retailers. Simply click on an item to learn more, choose your size or favorite color (if applicable), and then hit "add to cart." When you're done, you can click over to your cart in the top right corner of your screen to purchase all your stellar selects at once. How easy is that?
Questions about shipping, returns, or your order in general? Click here for more information.
Explore more of TZR Shop (and our fashion, beauty, and lifestyle must-haves) here.
This article was originally published on