The Mexican City Everyone Is Flocking To, Come Spring (It's Not Tulum)
kerochan/Shutterstock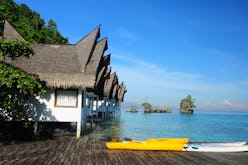 Spring may be right around the corner, but in many parts of the world winter is still in full swing. And if the season has meant an excess of long, cold, gray days for you, you're probably dreaming of a getaway right about now. But while the warm weather may be tempting, some of the best spring vacations aren't necessarily taken at the standard beach spots.
More and more, travelers seem to be favoring experience-based trips (like tiny houses, for example) and that doesn't always mean sipping cocktails poolside. Whether it be a mountain escape or a weekend of glamping, the most popular vacations are those in places that offer plenty of things to see and do. And travel app Airbnb has seen this reflected in users' destination searches. As the company's Consumer Trends Spokesperson Ali Killam explains, "Travelers are bidding adieu to typical beach locales and instead opting to explore more under-the-radar sandy oases, rich cultural centers, and unexplored regions at a slower pace."
If you're looking to get out of town this spring, but are open to thinking outside the box, you might just be inspired by some of the most trending locations on Airbnb. Ahead, find 10 varying spots on the globe that will make your next vacation truly memorable — from a historic stop on Route 66 to a German city that's holding an epic annual street festival, plus plenty of other often-overlooked locales.
Monterrey, Mexico
Move over, Tulum. This Mexican city is poised to be the next cool getaway. "Known for culture, history, and food in Mexico's northeast corner, the industrial hub is experiencing a 678 percent increase in bookings over last year," Killam says.
Carolina, Puerto Rico
This municipality on Puerto Rico's northeast coast has seen a 643 percent increase recently and, in addition to the fact that it's a quick 10-minute trip from the airport, Carolina is also close enough to San Juan for visitors to get in a variety of sightseeing.
Santos, Brazil
Because Carnival takes place the first week of March, Brazil is a popular spring getaway spot and Santos in particular has seen a 432 percent increase in bookings. "Spring break vacationers appear to be extending their trips to Brazil to experience the country's sprawling, immaculate coastline," explains Killam.
San Juan, Puerto Rico
Puerto Rico's capital and largest city has been enjoying a 392 percent jump in searches on Airbnb and, besides the fact that you can still get in some beach time here, there's also the colorful colonial Spanish architecture and scenic walks on the promenade that make a trip here so memorable.
Dapa, Philippines
With non-traditional beach vacations on the rise, this palm-covered municipality on the Siargao Island is currently being searched for about 380 percent more than usual.
St. Thomas, US Virgin Islands
Thanks to its beautiful historic buildings (courtesy of its Danish and German heritage) and plethora of natural ports and bays, St. Thomas is currently trending as a spring vacation spot. Specifically, Airbnb users have been booking trips here 338 percent more.
Vladivostok, Russia
"In Russia's far east corner, the port town dubbed as 'Russia's San Francisco,' Vladivostok, is experiencing a 323 percent increase in bookings this spring travel season," Killam says. "The city serves as the eastern terminus of the Trans-Siberian Railway with many travelers arriving there at the beginning or end of a trip."
Williams, Arizona
"As the Grand Canyon celebrates 100 years since its designation as a National Park, roadtripping travelers are visiting the site in droves to commemorate this historical wonder of the world," Killam offers. "The gateway city to the park, Williams, Arizona, has seen a whopping 315 percent growth in guest arrivals from last year."
Cologne, Germany
Albeit a bit colder than Brazil, this German city got a 164 percent boost in bookings because of its Carnival street festival this time of year, according to Killam,
Guadeloupe
This French island in the Caribbean offers rich Creole culture, lush vegetation, and warm climate, which probably explains why so many more travelers are booking trips here. In fact, Guadeloupe bookings are up 157 from last year.