15 Moody Décor Finds That Embrace The Goth Lite Trend
Eat your heart out, Megan Fox.
Grace Cary/Moment/Getty Images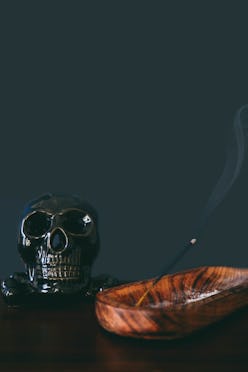 After years of cutesy cottagecore and farmhouse vibes, a new interior design trend has emerged. This one, from an inky pool and bellows of wafting smoke. I'm talking about modern gothic décor, of course, which is equal parts moody, sensual, and chic. (Think, goth lite.)
With celebrities like Kourtney Kardashian and Megan Fox embracing the glam-goth street style trend as of late, it's no wonder this aesthetic is now taking over the home décor space, as well.
"Goth lite décor has become trendier due to the nature of its relaxed, yet bold style," explains interior designer Michelle Harrison-McAllister.
The style is all about seamlessly blending dark and moody tones with ornate accents, antique details, and earthy elements of wood, marble, and iron. "The room embraces you with dark, rich colors that create a relaxed atmosphere perfect for de-stressing," says Harrison-McAllister. "Meanwhile, bold elegance and one-of-a-kind pieces offer iconic and dramatic artistic detail for your home."
The trick is keeping things elegant and chic versus juvenile or tacky. Harrison-McAllister warns to stay away from "obvious" picks, like plastic skull and crossbones straight from the holiday decorations bin, devil art, and excessive chains, which tend to give off a kitschy Halloween vibe. To keep things glamorous and lush, opt for sculptural arch details, baroque-inspired art, carved wood armchairs, and heavy iron accents. From there, you can weave in smaller pieces of modern gothic décor to bring the aesthetic home.
Eager to lean into this elegant style? Below, see 15 goth lite décor finds that Morticia Addams would happily "add to cart" herself.
TZR Shop is The Zoe Report's shoppable guide to editor-approved buys in fashion, beauty, wellness, and lifestyle. We may receive a portion of sales if you purchase a product through a link in this article.
TZR Shop brings you the editor-approved buys we can't get enough of and think you'll adore, too. Best of all, you can shop all of the products above directly on this page without visiting multiple retailers. Simply click on an item to learn more, choose your size or favorite color (if applicable), and then hit "add to cart." When you're done, you can click over to your cart in the top right corner of your screen to purchase all your stellar selects at once. How easy is that?
Questions about shipping, returns, or your order in general? Click here for more information.
Explore more of TZR Shop (and our fashion, beauty, and lifestyle must-haves) here.