This Eclectic NYC Boutique Should Be On Your Must-Visit List For Holiday Shopping
The Six Bells / Instagram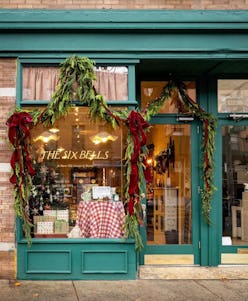 We may receive a portion of sales if you purchase a product through a link in this article.
There are practically endless opportunities for holiday shopping in New York City. But if you're looking to do some good with your dollar this season, consider skipping the highly touristed avenues and major big-box shops for some local home goods stores in NYC instead. Not only is it a way to help the economy in general, it can also help support both the longtime and the burgeoning small businesses and their owners who have endured a challenging past few years.
No idea where to start? Understandable — the city may have a relatively small footprint, but its number of local stores is so high, it's almost unimaginable. However, there are a few that stand out, both because they're great places to find gifts and because they're just cool places to shop in general. Though it's by no means an exhaustive list, TZR has rounded up a few stars — aka our favorites for discovering unique home decor, luxe lifestyle items, and just generally giftable pieces.
In this roundup, you'll find something for everyone you're shopping for, whether you need an unusual vintage item for your trend-setting sister or an incredible piece of art for your design-loving spouse. These boutiques are worth shopping during the holidays and always, so keep scrolling to discover them all (and then bookmark them for later), ahead.
We may receive a portion of sales if you purchase a product through a link in this article.
Where It's Located: 221 Court Street, Brooklyn, NY 11201
Shopping for cottagecore enthusiasts is pretty easy these days, but possibly no place has a better selection of homewares for this person on your list than The Six Bells in Brooklyn. That might seem a little odd considering it's located in NYC, but the store, which claims it's "emotionally in the countryside," is full of charming, rustic finds that look straight out of an old English cottage. Head here and prepare to be transported.
Where It's Located: 191 Malcolm X Blvd, New York, NY 10026
NiLu is a gift store founded in 2015 and located in the heart of Harlem. The shop was started as a way to provide a platform for independent makers and to create a welcoming space for the community. It sells products both in-store and online, with items like accessories, gifts, and home goods from brands including Harlem Candle Co., Sheila Bridges, and more. "We're passionate about cultivating a collective of inspiring makers for true lovers of the culture — in a space that celebrates us, advocates for us, and welcomes all who want to do the same," reads its website.
Where It's Located: 192 Amity Street, Brooklyn, NY 11201
Based in Brooklyn, Lolo is a store by Lauren Williams featuring goods for the home and body. The shop's focus is on "hand-made and thoughtfully designed pieces by emerging artists and designers," with most of its products by majority women-owned businesses and/or makers. In general, it's just a fun place to shop and explore, and is definitely a destination for a funky and unique curation you're unlikely to find elsewhere.
Where It's Located: 119 Atlantic Avenue, Brooklyn, NY 11201
Salter House calls itself "an expression of our domestic life; a place to nurture and explore the domestic space through the decorative and useful objects that inhabit it." It's a beautiful description for a beautiful store, which is located in Brooklyn and offers a selection of sustainably made housewares and clothing, many of which feature a homey, vintage-inspired aesthetic.
Where It's Located: 400 Atlantic Avenue, Brooklyn, NY 11217
The Michele Varian shop in Brooklyn is what the brand itself refers to as an "unexpected oasis of curious, provocative, and beautiful things." Its floor features both home goods and jewelry, including owner Michele Varian's own textile, lighting, decor, and furniture designs as well as products from more than 100 other home accessory and furniture designers and more than 70 fine jewelry designers. Give it a visit if you're looking for unusual, colorful, and truly unique gifts.
Where It's Located: 319 Graham Avenue, Brooklyn, NY 11211
Every insider knows the magic that is Home Union in Brooklyn. Co-founded by Daniel King and Meghan Lavery in 2016, the store is a treasure-filled oasis of vintage furniture and homewares. There's no better place to shop for those trendy, Instagram-perfect finds from the past, such as a Vintage Black Marble Metafora Coffee Table by Lella and Massimo Vignelli or a 1980s Burgundy Peter Danko Body Form Chair. Just keep in mind that its offerings tend to be on the pricier side, so this place is probably best to shop if you're looking for something seriously special.
Where It's Located: 683 Driggs Avenue, Brooklyn, NY 11211
Mociun is a fine jewelry brand founded by Caitlin Mociun. Along with its made-in-NY jewelry, the Brooklyn store also offers a curation of home goods designed by both established and emerging brands. It's great for finds that are equal parts playful, luxe, and chic, like the Tutu Flute by Ichendorf Milano or the Arabesque Vessel by Serena Confalonieri.
Where It's Located: 6 East Second Street, New York, NY 10003
John Derian has multiple outposts, but don't miss the original location on Second Street (which actually includes more than one store). There, the home decor brand stocks its famous decoupage, textiles, furniture, art, and more — all in the signature eclectic, bohemian, and vintage-inspired style. None of the brand's items come cheap, but rest assured — each one has a magic that's worth the price.
Where It's Located: 372 Atlantic Avenue, Brooklyn, NY 11217
If you're searching for some "gifty" finds for a lot of people on your list, The Primary Essentials is a good place to start your shopping. The Brooklyn boutique was founded in 2013 as "a place to provide an edited mix of special objects for the home and gift," and houses lots of design-forward, minimalist pieces made by independent designers and artisans. Plus, its offerings span several categories, so there's a varied selection of textiles, office accessories, tabletop, and more, depending on who you're buying for.
Where It's Located: 143 Front Street, Brooklyn, NY 11201
Front General Store in Brooklyn has been called an institution, and for good reason. The DUMBO location been long acclaimed for its extensive selection of old American clothing (the store was inspired by the concept of an old general store or trading post in the Southwest), though it offers much more, including home decor and jewelry. It's known as one of those places you can find true gems; in other words, this is one you don't want to skip.
Where It's Located: 214 Sullivan Street, 2D, New York, NY 10012
Trying to impress someone special this holiday season? Don't miss Love House, a design showroom in Greenwich Village in Manhattan that houses a luxe edit of collectible vintage and contemporary design from designers like Eny Lee Parker, Caroline Zimbalist, and more. Yes, it's a by-appointment-only space, but with its incredible selection of unusual furniture, art, and decor, it's surely worth taking the time.
Where It's Located: 225 W 57th St, New York, NY 10019
Beverly's is a pop-up homewares shop that was founded by stylist Beverly Nguyen in April of 2021. The "offbeat take on the classic general store," as Vogue describes it, got its start on the Lower East Side of Manhattan, and has since moved on to Nordstrom Home where it opened a dedicated Beverly's shop installation. "It's something of an extension of me, and all the things outside of styling that I've always been into, traveling and books and art and entertaining," Nguyen told the publication of the store's original concept. "It's a one-stop shop."
Where It's Located: 401-403 Tompkins Avenue, Brooklyn, NY 11216
Interior designer and Brooklyn native Achuziam Maha-Sanchez started Peace & Riot, a lifestyle store in Bed-Stuy that takes inspiration from her African and Caribbean heritage. The shop carries gifts and home decor, making it an easy place to stop in if you're in a rush but still want to find something special. "We try our best to source home and gift items that our shoppers may not know they need," Maha-Sanchez previously told Essence.