Expedia's 2024 Travel Trends Will Make You Want To Book A Flight ASAP
@expedia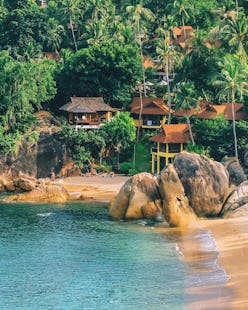 While the buzz of the holiday season may make 2024 seem like a still-far off point at the moment, let's be clear: the new year nigh. This means you should probably be solidifying your travel plans as, if we learned anything from 2023, top hotels and flights book fast these days. And for those who've had their fill of destinations that dominated social media feeds the past 12 months — it seems like everyone was in Italy, right? — knowing the locales that will fuel passports in the coming year can help you get a running start on planning your next getaway.
The thing is, tapping into travel trends is truly an inside job. You need the help and reliable research of true blue industry experts. Travel booking platform Expedia just released its latest trend report, Unpack '24, which offers wanderlusters a comprehensive guide to the patterns that will drive jet-setters in the upcoming year. And, while some findings from the in-depth survey (which included a sample of about 20,000 travelers) are on the more predictable side (White Lotus-inspired getaways, for example) some are a bit out of left field (booze-free trips are officially a thing!).
Ahead, we're delivering the CliffsNotes on Expedia's latest travel trend report so you can book that trip to Thailand or Romania before everyone else does.
Entertainment-Inspired Destinations
The aforementioned Italy boom that swept the travel world last year and this year can in large part be credited to the meteoric success of Season 2 of The White Lotus, which was filmed in Sicily. The stunning coastal terrain set off a collective yearning to live out one's own made-for-TV experience. Now, it's become a full-blown movement. According to Expedia, travel inspired by locales in top TV and film will be taking over many a bucket list in 2024, as more than half of the individuals surveyed claimed to have "researched or booked a trip to a destination after seeing it on a TV show or movie." According to the study, some top countries/regions predicted to see a boom next year include Thailand (where Season 3 of The White Lotus is being filmed as we speak), Romania (inspired by Season 2 of Wednesday), the Scottish Highlands (the primary location of Outlander), and London (thanks to the ever-present power of Bridgerton, which will be debuting its third season).
Tour-Mania
It's a good day when two women are leading the two most momentous entertainment events of the year (and possibly the decade). Yes, the pop culture impact of Taylor Swift's Eras and Beyonce's Renaissance tours is now spilling into the travel sector as we see "tour tourism" on the rise. In Unpack '24, a whopping 70% of those surveyed said "they are more likely to travel to a concert outside their own town, with over 40% saying they'd travel for a concert as an excuse to visit a new place." A cool new locale and a live show to boot? Sounds like a win-win.
Booze-Free Travel
With some 34% of Americans committing to drinking less alcohol in 2023, it's clear the sober curious trend has officially evolved to a full-blown movement. And while location-specific booze and carefree imbibing are often major components in most vacations, the pendulum seems to be swinging in the opposite direction for 2024. Detox retreats and "dry tripping" is the new thing in travel, according to Expedia, with half of the survey participants expressing interest in hotels that offer "easily accessible alcohol-free beverage options." You can definitely look forward to a rise in stand-alone mocktail menus wherever you go next year.
"Any Excuse" Trips
With some 75% of adults reporting to see an increase in stress levels in 2023, it seems we're looking for any reason to getaway and reset. And when we say "any reason" we mean it. In fact, Expedia reports some 25% of travelers are offering up any and all excuses to jet-set, and the free-for-all will continue in 2024. So what do some of these excuses entail? Think about more widely accepted trends like babymoons, divorce parties, and milestone birthdays — and then add a few more niche (read: random) ones like puppymoons, first-date anniversaries, new job or retirement celebrations, which the report says will be hitting OOO signatures more frequently in 2024. (Work-related trips in particular are said to be a major "catalyst" for travel next year.)
The Art Of Duplication
For those who want to avoid the cliché destinations that flood with tourists every spring and summer (Paris, Greece, and of course Italy), you'll be pleased to know that "dupe travel" is not only acceptable for the new year, but very much in. Exploring the "next best thing" to a hot spot destination is trending for 2024, according to Expedia, with places like Taipei (instead of Seoul), Paros (instead of Santorini), Liverpool (instead of London), and Memphis (instead of Nashville) experiencing an uptick in search traffic.
"Vibe" Stays
If it seems like the word "vibe" has taken over the global vernacular, you'd be right — but it's also influencing travel. Instead of luxury amenities and high thread counts on their bedding, more and more travelers are concerned with the overall atmospheric appeal of a hotel. According to Unpack '24, "guest reviews mentioning the word 'vibe' have increased an average of 1,090% YoY,2 and nine out of 10 travelers say the vibe of a hotel is important when booking." For those who have yet to work the word into their vocabulary, the term here refers to the overarching element or theme of an establishment that impacts everything from decor and lighting to music and food. For instance, Expedia says, when vibe searching, many travelers are on the hunt for specific hotels with '"Modern Vibe" and "Industrial Vibe" to "Retro Vibe" or "Margaritaville Vibe."'
Outdoor Amenities
Yes, spas and indoor pools will always hold a special place in our hearts and travel plans, but now travelers are prioritizing outdoor activities for their relaxing getaways. According to Expedia, buzzy extracurriculars like the pickleball and cold and hot plunges are being requested as well as more obscure amenities like fruit trees and vegetable patches, outdoor barbecues, and saunas. "Nearly 30% say they would choose a vacation home with outdoor amenities, so they'd never have to leave the property," reads the report.
AI Assistance
While AI's world domination has been slow to hit the travel space (Expedia reports only 6% of travelers used it to plan their trips in 2023), that will likely change in 2024. "Survey data reveals that half of travelers are interested in using generative AI to plan their next trip, and 1 in 3 say it's very useful when making travel plans," says the Unpack '24 report.