The 2024 Travel Destinations Experts Predict Everyone Will Flock To
Carol Yepes/Moment/Getty Images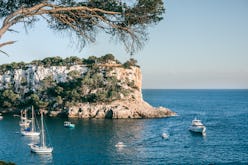 International trips have been in high demand over the past couple of years, as evidenced by the record number of people applying for passports. But the emerging travel trend for 2024 isn't just about going the distance — it's all about exploring a variety of countries and climates often in a single, ambitious trip, according to Sophie-Anne Burton, the global travel curation manager of Origin, a luxury travel company that creates completely individual, personalized trips.
"Now that travelers have their sea legs back, they're eager to take some of those bigger long-haul journeys that span continents," she says.
Whether they're mini "around-the-world" types of journeys or multi-continent destinations (like visiting Sri Lanka with a stop in Oman along the way), more adventurous and more elaborate travel is trending, Burton says. Travelers are eager to explore a variety of countries and climates, often in a single trip.
As such, Burton has seen increased interest in trips like a desert-to-jungle adventure that, say, begins in the Atacama Desert in northern Chile and winds down in the rainforest of Iguazu National Park in northern Argentina.
As for destinations? While some trending regions are familiar with tourists, the It destinations within these parts of the world feel fresh, like a sunny Spanish island that's now easier for Americans to reach by air and a historic wine region in Mexico with new luxury hotel arrivals.
Ahead, these nine destinations will be big in 2024, according to travel experts.
Mallorca, Spain
Located east of mainland Spain and the largest of the Balearic Islands, Mallorca is having a moment. United's new non-stop route between Newark and Palma de Mallorca is a convenient link and Sir Richard Branson has picked the island for the latest luxury property in his Virgin Limited Edition collection. Son Bunyola Hotel debuted on a stunning UNESCO heritage site in the Tramuntana Mountains over the summer. "The coastal landscape offers some of the best cycling in the world and it's become a place for the active traveler to enjoy, from pickleball to hiking and swimming and beyond," says Vincent Padioleau, the hotel's general manager.
The best part of hiking in Mallorca is the medieval villages you come across and the panoramic views, says Sarah Casewit, director of travel for Origin. "My favorite hike is to Cala Boquer, which takes you through a valley to a turquoise cala, where goats sunbathe and perhaps nibble at your picnic when you decide to take a dip," she says.
Northern Morocco
By planning travel to Morocco in 2024, travelers can be a part of the country's recovery story after a September earthquake struck the country's High Atlas Mountains, claiming lives and destroying cultural sites. "Travel supports individuals at a hyper-local level, from artisans and craftspeople in the medinas to family-run restaurants, guides, drivers and employees at a myriad of hotels," says Tom Marchant, co-founder of Black Tomato, a luxury travel company. Tangier, Marchant says, is an artistic city brimming with museums, art galleries, high-profile concerts, vernissages and art auctions.
Healdsburg, California
A chic Sonoma County destination, Healdsburg has two Michelin-starred restaurants including SingleThread, a three-star restaurant whose alums have been opening up a slate of fantastic eateries and bars in this city of 11,000. Favored as the next It location by high-end hoteliers, the Montage Healdsburg opened a couple of years ago and is located among grape vines. Next up, Appellation, a culinary-focused hotel co-founded by celeb-chef Charlie Palmer, is debuting in 2024. "Healdsburg is a destination world-renowned for fine wine and food," says Ed Skapinok, chief commercial officer of Appellation. "Yet, it has maintained its small town feel with deep roots in agriculture and a hospitable, welcoming way."
Shikoku, Japan
Japan remains popular with travelers, but few venture beyond hot spots like Tokyo, Osaka, and Kyoto, says Brady Binstadt, CEO of GeoEx, which specializes in high-end and off-the-beaten-path trips. His advice: Venture off to the island of Shikoku, which has rural beaches, mountains carpeted in cedar and pine, and a riverside onsen reachable only by cable car. "In all of Japan, for me, Shikoku is the place where the country's special spirit and heart still most deeply thrive," Binstadt says.
Pantanal, Brazil
Brazil's Pantanal is the largest tropical wetland in the world, says Laura Burdett-Munns, the managing director of Journeysmiths, a boutique tour operator. It's home to a huge diversity of wildlife, most notably jaguar, she says. Jaguar are elusive cats, and historically have been a threat to the farming economy. "But we are starting to see the rewilding of areas of this watery wilderness just as we saw in many of Africa's safari regions between the '70s and '90s," says Burdett-Munns. Visitors to Caiman Ecological Refuge can expect fantastic sightings, but book this trip far in advance because lodges have limited availability.
New Orleans, Louisiana
"The dining scene is exploding with new options from all around the world, the Second Lines and musicians are back in full swing, and the festivals continue to grow — a local and tourist favorite, Jazz Fest, has even added an extra day in 2024 to meet the demand," says AnaMarie Alejandre, an advisor with Chase Travel.
Luxury hotels are making their mark on the Big Easy, with the arrival of Four Season New Orleans and Nobu New Orleans coming in 2024. The growing museum scene is also worth talking about from Vue Orleans immersive tech diving into the city's rich culture and the expansion of the National WWII Museum, which is opening a new wing called the Liberation Pavilion with rare artifacts and a recreation of the annex where Anne Frank's family hid from the Nazis.
Panama City, Panama
Panama City's historic core Casco Viejo is experiencing a revitalization with new restaurants, bars, coffee shops and galleries, drumming up interest in the area, says David Kianni, the general manager of Sofitel Legend Casco Viejo Panama. Sofitel in 2023 brought its brand of French luxury to the neighborhood, a UNESCO World Heritage site, opening at the storied location of a former social club once visited by Queen Elizabeth II and Albert Einstein. The capital city, he says, is the perfect place to explore colorful historic architecture and the feats of engineering around the Panama Canal, or venture to secluded beaches known for crystal-clear waters and powdery sands.
Paris, France
Paris is a perennial favorite. But in 2024, the City of Light will become especially buzzy as it hosts the 2024 Summer Olympics, says Liam Dunch, a Europe product manager with luxury travel company Abercrombie & Kent. Next year will also mark 135 years since the completion of the Eiffel Tower, he points out. For those who have multi-city itineraries, dispatching to Normandy, next year will mark the 80th anniversary of the D-Day landings, which is realistically the last major anniversary at which survivors may still be present, Dunch points out. Abercrombie & Kent runs a Tailor Made France: Paris & Normandy customizable tour that includes stops in Versailles and Mont Saint-Michel, a Gothic-style abbey on an island.
Mexico
Beyond the all-inclusives of Cabo and Cancun, travelers are venturing to other destinations within the country like Oaxaca, which has an incredible food scene, mezcal distillery tours, and design-forward hotels like Pug Seal, points out Nicole Cueto, a Fora travel advisor.
Another Mexico destination garnering attention is the Valle de Guadalupe, which has been growing grapes for five centuries and has more than 100 wineries along its cacti-studded Ruta del Vino. "As we look ahead to 2024, Valle de Guadalupe is poised to rival Napa Valley with its diverse incredible Mexican wineries and picture-perfect settings," says Ho Ren Yung, senior vice president, head of brand with Banyan Tree Group which is opening a collection of villas in Mexico's vineyards in early 2024.