Designers Are On A Quest To Define Pickleball-Core
And the results are super chic.
Staud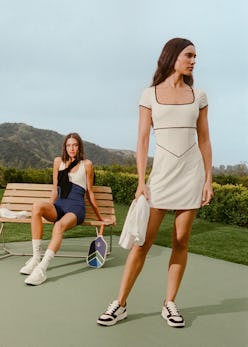 It was in the midst of the pandemic when Staud founder and designer Sarah Staudinger was invited by a group of friends to hit the pickleball court for the first time. "Having never picked up a paddle in my life, I was instantly hooked," she said. "It was a great way to spend time with each other and get exercise and have fun." The on-trend activity was also, it turns out, filled with fashion possibilities: think crisp and cool tennis wear, but with more opportunity for style-driven experimentation by way of playful patches and funky graphic prints.
Staudinger's new hobby served as inspiration for her to launch Staud Court this past June, a limited line meant to work for both time spent playing pickleball, and life afterward. "[It] came from a gap in the market of chic court attire that can take you from a game to lunch," Staudinger explains. Her collection is one of several to pop up as of late — a direct result of the game's rapid resurgence. Originally founded in 1967, the sport exploded in 2020 from 4.2 million to 8.9 million players in the U.S., according to a report by the Sports and Fitness Industry Association. Much of this can be credited to its uncomplicated rules and social distancing-friendly setup: Instead of requiring a team of a dozen or a net bolted into the ground, with just four players and a pop-up net, you can play on any 20-foot by 44-foot slab of concrete. The smaller court and teams of one or two also mean less running around, which makes it popular for all ages.
Staud's new collection, which includes dresses, skirts, and sweaters, along with accessories like sneakers and bags, is classic and streamlined, in sporty colors like Kelly green, navy, and white. Its air of preppy athleticism is right in line with fashion's current mood: Country club-inspired athleisure has experienced a resurgence over the past few years, most notably via tenniscore, but also interest in other classic recreations like badminton and golf. Pickleball is a new and untapped territory, with both nationally ranked professionals and Hampton's weekend warriors taking part. Designers and retailers are beginning to fill the gap in the market around exactly what "pickleball fashion" will be, as silly as the name might sound.
For brands that specialize in athletic wear, like Wilson, Lululemon, and Athleta, designs already meant for tennis or golf are easily adaptable for pickleball. As such, options for the sport are not necessarily technically innovative, but can easily be repackaged and branded for a fresh audience. But, contemporary and luxury labels looking to capitalize on the growing interest are spurring the evolution of the sport's style.
"Lots of Moda Operandi's team was picking up the sport, with courts easily accessible across Manhattan," says April Hennig, the company's chief merchant. "We thought, 'How can we make the game a bit chicer?'"
As part of their Club Moda Summer capsule, the retailer tapped a range of designers to create recreational pieces inspired by the New England co-ed scene. "The pickleball edit" includes pieces from Sergio Hudson, The Row, and Miu Miu. Not every piece may have been created with pickleball in mind, but for the team at Moda, they aesthetically fit the bill. "While many of the pieces are not truly technical, they are inspired by a courtside aesthetic and make for a far cooler athleisure alternative for running around town than leggings," says Hennig.
Staudinger, too, put great thought into how details might set her pickleball creations apart and found herself focusing on delightfully fun touches. "One of my favorite pieces is the embroidered cardigan, we even put the mythical dog 'Pickles' on it," says Staudinger, referencing the founder's pet, who was reportedly named after the game (despite rumors of the reverse). Staudinger's aim was attire that doesn't take itself too seriously, while still honing in on the technical needs of the sport's players.
Of course, if there's a single brand that has become synonymous with pickleball, it's Recess, which specializes in bold paddles. While the defining aesthetic of the activity has yet to be ironed out, the most important tool — the small plastic paddle (more similar to a ping pong paddle than a tennis racket) is central to gameplay.
Both Staud and Moda Operandi, along with other traditionally preppy fashion labels like J.Crew and Lilly Pulitzer, have tapped Recess to create custom designs that live within their own collections. "Some of our favorite brands are starting to create pickleball capsule collections and are definitely super receptive to the sport," says Maggie Brown, Recess' co-founder. "They see how approachable and fun the sport is and want to be a part however possible."
As the sport continues to grow, will it evolve to have its own defined aesthetic beyond preppy, country club fashion? "The growing number of public pickleball courts make for the ideal stage," suggests Hennig. It's ultimately up to the players to determine what it is they want "pickleball-core" to be.