I'm Attending 5 Weddings In Very Different Locales — Here's What I'm Wearing
Another day, another dress.
@patbo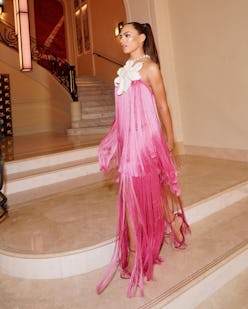 We may receive a portion of sales if you purchase a product through a link in this article.
After several years of postponements, wedding season is officially back — and with a vengeance. I can personally attest to this gusto as I have no less than five weddings in 2023 alone, and I've only attended two thus far. And while the nuptials are pretty spread out timing wise (at least one month apart), they are all in different locations, requiring different dress codes in terms of proper wedding guest attire.
For instance, my first event of the year was a spring mountain ceremony in which I was asked to serve as flower girl (my first time, at the ripe age of 37). High up in California's San Bernardino Mountain region, the steeper terrain and frosty evenings required more strategic layering than one would need at, say, a warm beach wedding — which I am also attending at the end of the year when I head to Cancun, Mexico for a pal's tropical affair.
This summer included a charming garden wedding, that — had all gone according to plan — would've been a sunny, outdoor event. However, as luck would have it, Los Angeles was hit with a very rare hurricane, which forced the party indoors. However, considering the temperatures were still hot and balmy, I stuck to my garden fairy-inspired look, come rain or shine.
These weddings are just scratching the surface of what's to come for the rest of 2023. Luckily, I've had my dress lineup locked down since the top of the year to ensure I'm prepared for anything, hurricanes and all. Check out my outfit plan below for all five weddings and the locales I have that I will be hitting through December.
Mountain Flower
As I mentioned before, the first nuptials on my calendar for 2023 were unique in that I had the honor of serving as flower girl. I took this appointment very seriously, and made sure I followed the bride's dress code. Luckily, her laid-back instructions simply required a pink, floral theme, which is very on-brand for me. Oddly enough, I didn't even need to shop for a new frock. I pulled my 20-year-old senior prom dress out of retirement, dusted it off, and donned it with lace-up flats as I walked down the aisle throwing petals all around. Now, even in the spring, the mountains of LA can get quite cold, especially come sundown, so I opted for a thicker, tweed blazer to layer over my dress, although I could've gone with something even more substantial. If you find yourself in a similar situation, I recommend a faux fur coat or thick wool topper to stay cozy.
Garden Girl
My latest wedding guest appointment was in the lush coastal plain of Camarillo, a quiet town just an hour or so north of Los Angeles. The ceremony was set to take place in the garden of a country club, until the phenomenon that was Hurricane Hilary hit the city that fateful weekend. I had been looking forward to wearing my dainty sheer maxi dress from For Love & Lemons for months, so I persisted in sloshing through the showers in my sunny yellow statement-maker. Once I was indoors, I swapped my rain boots for simple nude sandals and kept my accessories more neutral and understated to let the dress shine.
The Big City
My next formal affair will take place in mid-October and find me mid-city, calling for a more glammed-up look. For this, I'm calling upon Rebecca Vallance, whose crystal encrusted gowns are truly the stuff of dreams. I'll be wearing my signature color, attending the even in a peachy pink strapless dress with flirty bow detailing up front as well as a saucy slit. Keeping with the elegant theme, I'll opt for shiny silver accessories and a practical yet sophisticated wool coat in case it gets cold (I learned my lesson in the mountains).
Vineyard Views
Come November, I'll head up north to Los Olivos, a picturesque town nestled in the Santa Ynez Valley known for its flourishing vineyards. A vineyard wedding is interesting in that it calls for formal attire that can also be easily and comfortably moved in. The terrain includes grass, dirt, and the like, so anything too tight or constraining will make you miserable. For this event, I've chosen a Kika Vargas creation. One of my favorite designers, I love how her pieces are elevated, inventive, and playful all at once. I currently have my eye on a red, apron-style midi dress with a full, bell-shaped skirt. Although some may advise against heels in grassy territory, I will brave the elements and start the day with an elegant black strappy sandal ... and possibly change into comfy ballet flats once the dancing starts.
Beach Vibes
My final stop on the wedding train is in Mexico for a resort wedding on the beaches of Cancun. Now, to be clear, sandy nuptials can run the gamut from laid-back in linen to sophisticated in silk. However, as someone who likes to dress up, I'm opting for the latter. In fact, this event has provided me the excuse to finally buy the PatBo pink fringe gown I've been eyeing all year. The oversized floral detail and pearl neckline make the dress apropos for a tropical setting, especially when paired with more neutral footwear and dainty, yet glistening accessories.