The Humble Varsity Jacket Is Getting The High Fashion Treatment
Layer up, letterman style.
Jeremy Moeller/Getty Images Entertainment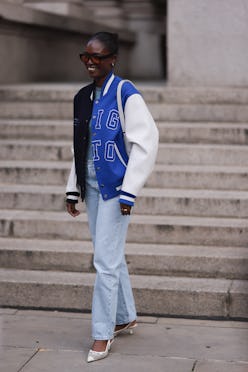 We may receive a portion of sales if you purchase a product through a link in this article.
I distinctly remember the day I got rid of my high school varsity jacket. I was a shiny new college graduate in her first New York City apartment, and I felt so far removed from my younger self and her teenage wardrobe. It simply didn't make sense to hang onto such a bulky item — who knew, years later, as the varsity jacket trend peaked, I'd be itching for just such a piece?
A style that traces back to baseball athletes at Harvard University in the 19th century, letterman outerwear is hardly one of nostalgiacore's more random revivals. Streetwear brands have been riffing on the design for decades, and more recently, luxury labels have taken interest as well: There were colorful iterations at Louis Vuitton's Fall 2022 menswear show and perfectly slouchy silhouettes on Tommy Hilfiger's Fall/Winter 2022 catwalk. Meanwhile, Coach created the covetable leather patchwork options for its Resort 2023 collection. Factor in Gen Z's fondness for "preppy academia" aesthetics, and a rising interest in baggy bombers, and the varsity jacket is perfectly lined up to be an "it girl" essential.
The design's popularity has grown off the runways, too — and often, it's vintage styles Gen Z seeks out over new iterations. Steve Dool, brand director at Depop, says that phrases like "preppy sportswear" had a major increase in searches on the app toward the end of 2022, with searches for "varsity jackets" seeing a 39% increase.
Tommy Hilfiger Spring/Summer 2023Victor VIRGILE/Gamma-Rapho/Getty Images
Outside the Louis Vuitton show in October 2022.Jeremy Moeller/Getty Images Entertainment
"We're seeing the Depop community lean into a 'retrosport' aesthetic, sourcing unique, vintage sportswear for elevated, athletic looks," Dool shares. "Varsity jackets have come in and out of style at various points over the years, but brands like Ralph Lauren, Kith, and Aimé Leon Dore are making them popular again among people who are evolving the classic streetwear touchstones into a prep hybrid style."
Klarna, a shopping app that allows users to space out payments over time, has noticed a flurry of demand for varsity jackets as well — although, according to the app, some colors are getting far more attention than others. Over the past three months, it has seen orders of varsity jackets increase by 151%, cropped styles by 162%. In highest demand are purple varsity jackets, for which purchases have ballooned by a whopping 593% in the same three-month span. (I regret to inform you that the jacket I threw away so many years ago was, in fact, purple.) The runner-up hue? Green, with an 85% increase in buyers, while the least popular shade is white, which has only seen a bump of 39% in sales.
While a bevy of contemporary brands are sure to put out co-ed cool outerwear over the next few months, there are some labels that have prioritized the look long before its most recent comeback. The Brooklyn Circus, for one, is known for its meticulously crafted varsity jackets. One might even recall a certain gold and wine iteration released in 2010 that rose to Tumblr fame — the Gold Rush, still available on the BKc site.
Edward Berthelot/Getty Images Entertainment
The Brooklyn Circus "Gold Rush" jacket.Brooklyn Circus
Edward Berthelot/Getty Images Entertainment
Golden Goose, while better known for its pre-distressed sneakers than its ready-to-wear, also makes a fantastic varsity jacket. As part of the brand's Golden Collection — its version of a "a timeless wardrobe"— the style felt like an obvious choice. "We love to look back at vintage varsity wear, creating college-inspired pieces like letterman jackets and college cardigans, working on classics [and] creating new classics," shares Silvio Campara, the company's CEO.
Timeless as they may be, though, letterman toppers inarguably have of-the-moment appeal. "We saw the rise of prep-influenced styles over the past few years, and the varsity jacket is the newest iteration of this trend," notes Arielle Siboni, the fashion director at Bloomingdales. "Up until now it has been predominantly adopted by Gen Z, but recently, we have been seeing the trend gain popularity across a wider range of ages and customers."
Siboni suggests the style's massive popularity can be credited, at least in part, to its wonderful versatility. In this new era of dressing, when pretty much anything goes, the letterman jacket can be as femme as a fur coat or as edgy as a leather trench — it's all in how you mix and match it with the rest of your wardrobe.
"Celine always has a varsity jacket on their Fall runway, and I love how Hedi styles it: back to a skirt and boots to make this oversized staple a bit more feminine," she says. "I also think it's great paired back to wide leg jeans for a laid-back and cool look, which is perfect for the minimalist cycle we are currently in."
However you plan to wear yours, a varsity jacket is a worthy investment in your outerwear collection — one that will surely see you through many more seasons to come. Shop a selection of TZR-approved options below. (Pro tip: Some of the very best finds are in the men's section, so don't let labels limit your search.)