These Throwback Celebrity Sneaker Moments Are Inspiring My Spring Wardrobe
Princess Di always gets it right.
Bauer-Griffin/GC Images/Getty Images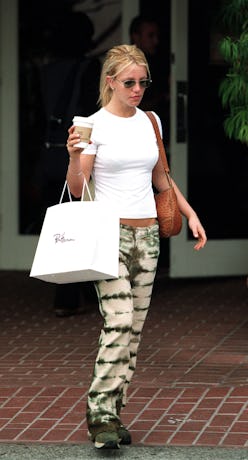 We may receive a portion of sales if you purchase a product through a link in this article.
As a diehard fan of the fall and winter months, I am ashamed to admit that, at this point, I'm so over my boots. My lug-sole and riding styles are certainly chic and have served me well, but I've exhausted every possible way to wear them, and I'm ready for a change. While the still-chilly weather doesn't exactly warrant sandals just yet (it's very rainy in Los Angeles at the moment), sneakers are a worthy option for my early spring wardrobe. And, as I prep my sporty outfits for the new season, I'm literally looking to the stars for inspiration. Yes, lately, I've been calling upon throwback vintage celebrity sneaker looks to curate my wardrobe for the months ahead.
Now, to be clear, there's definitely a plethora of current A-list inspo to consider, as stars like Hailey Bieber, Rihanna, and Bella Hadid champion sneaker outfits like no other. However, my heart for nostalgia always pulls me back in time to the OG style icons who walked so today's It girls could run.
Take, for instance, one Naomi Campbell. While not exactly known for her casual attire, even as far back as the '90s, the supermodel had a way of dressing up an everyday sneaker with such sophistication and easy elegance. And, one mustn't discount the queen of sporty footwear, Britney Spears. It's safe to say a majority of the pop star's early aughts street style moments included some form of running shoe, which she often paired with her signature low-slung trousers and baby tees.
Ahh, just thinking about such style pioneers and their easy breezy take on sporty trainers gets the wheels in my brain turning, conjuring up fresh ways to emulate such effortlessness. Ahead, I've gathered four of my favorite throwback sneaker moments that I'll be reviving this spring. Get ready: I dug deep for some of these (here's looking at you, Audrey Hepburn).
Princess Diana
Princess Diana's love of trainers has been heavily chronicled. And while many focus on her more casual approach to sneakers — like incorporating chunkier styles with tube socks, bike shorts, and an oversized sweatshirt or tee — I've been more partial to the late royal's more formal take. Like daughter-in-law Kate Middleton, Diana was a fan of Superga sneakers and leveraged the timeless, sleek silhouette to complement the also classic jeans and blazer combo. My spring season will likely be rife with appointments, business lunches, and the like, so her easy formula is one I'll likely reach for again and again.
Naomi Campbell
Truthfully, I don't think there are many signature looks or outfits of Campbell's that I can do justice, but this one might be within reach due to the sheer simplicity of the look. The model's three-item combination would work nicely for festival season as well as my next tropical vacation in that it's chic, comfort-forward, and lightweight enough to withstand humid or desert climates (although my chances of keeping an all-white outfit clean are slim at best).
Audrey Hepburn
I've viewed Audrey Hepburn as a personal style muse since I was a kid. Lately, I've been gravitating toward her iconic retro looks from the '60s in particular, which leaned heavily on ballet flats and daintier sneakers like Keds. In fact, the Old Hollywood starlet was a big fan of the brand's classic Champion Originals, which she wore both on and off-screen. Thoroughly inspired, I recently picked up the very same pair in a bright cherry red shade and plan on channeling my inner Hepburn by pairing them with soft sweaters and cigarette pants.
Britney Spears
Like so many teenagers raised in the early aughts, Spears heavily influenced my wardrobe, introducing me to low-rise denim, whimsical crop tops, and butterfly clips. She also taught me how to style running shoes for everyday, as she was often seen shopping and running errands in LA in some form of sneaker. Even 20 years later, her approachable formula still hits — I love the idea of grounding a silky pair of printed trousers and cool-girl handbag with casual, functional runners.