These '90s Supermodel Outfits Will Make You So Nostalgic
We need a varsity jacket, STAT.
Ron Galella Collection via Getty Images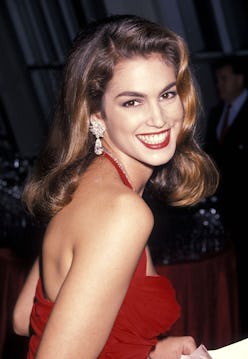 When we say the word "supermodel," who comes to mind first? Well, if names like Naomi Campbell, Cindy Crawford, Linda Evangelista, and Christy Turlington roll off the tip of your tongue, you've hit the nail on the head. These ladies exemplified the term, which first became popular during the 1980s as models became celebrities in their own right. By the '90s, these women and several more — like Kate Moss and Claudia Schiffer — came to dominate not only the catwalks, but also spaces like beauty, home (Crawford has her own furniture line!), and entertainment.
In fact, Evangelista, Turlington, Crawford, and Campbell's legacies are so legendary that Apple TV+ is releasing a docuseries The Super Models on Sept. 20 to highlight these four stars. The show will cover how the foursome rose to fame, and the way in which they redefined what it means to be a model. It will also feature exclusive interviews with them, too, giving you a better glimpse into their lives. Ahead of the big release, TZR went back in time (a.k.a. we dug through the Getty photo archives) to uncover the best '90s outfits for each person. Everyone had a different vibe — Campbell's fierce walk was reflected in her personal style choices; she wasn't afraid to experiment with color and texture. Meanwhile, Crawford's Americana beauty influenced her fashion sense, as she stayed true to wearing classics like blue jeans and miniskirts.
We don't want to give all the fashion details away, though! So scroll ahead to reminisce over Campbell, Evangelista, Turlington, and Crawford's top looks from the '90s.
Naomi Campbell
While attending an event in New York City in 1990, Campbell wore a romantic all-white outfit. Take it from the supermodel: you can never be overly accessorized — yes, a string of pearls, tights, floral headpiece accents, and bracelet can work well together.
Campbell went for a Bratz Doll-esque look with this Vivienne Westwood ensemble at the 1993 Lloyds Fashion Awards show.
Campbell and Kate Moss were arm-in-arm while wearing silver sequin mini dresses to the Versace Diamonds Forever celebration in 1999.
Of course Campbell has the most chic jet-setting pieces (this photo was taken in 1998), including not one, but three different Louis Vuitton carryalls.
What we love about Campbell's simple and sleek 1998 outfit is that all the silhouettes, from the silky skirt to the fitted jacket, still feel relevant today.
Cindy Crawford
Crawford nailed the NYC model off-duty style in 1996 wearing black leather pants, a black crop top, and black booties.
You've probably seen a hundred different versions of this blazer and miniskirt outfit on your Pinterest board, but the one to definitely try this fall is Crawford's timeless look from 1990.
Here's your next fall outfit idea: this '90s outfit from Crawford. Channel it by teaming a varsity jacket and miniskirt together.
Serving true '80s realness, the model paired a PVC black leather jacket with a black mini dress while attending "The Love Ball," a benefit for the Design Industries Foundation for AIDS (DIFFA), in 1989.
Like Campbell, Crawford has also mastered the effortless airport outfit. In 1991, she landed in JFK while wearing a classic Matrix-cool coat, top, and blue jeans.
Linda Evangelista
Evangelista is known as the "chameleon" of the supermodel group as she could rock any hair style. In 1991, she picked a burnt-orange jacket with a sequin romper to match her ginger locks.
If there's one insect motif that's always comes back in fashion, it's the butterfly. In 1993, Evangelista wore it in choker form with a see-through lace gown to the 12th Annual Council of Fashion Designers in America Awards.
It seems like every supermodel in the '90s had blue jeans — here, Linda paired her with a simple tan wool coat, fringe scarf, and black Prada Nylon bag. Take her look as a reminder to get yourself some true blues this season.
Leave it to Evangelista to take a classic pantsuit and give it a celebrity-chic vibe. The cropped blazer and trousers look, complete with a headband feels so '90s.
After walking the runway for the Versace Fall/Winter 1994 show, Evangelista changed into a rather glam off-duty outfit: a silver sequin dress and pink heels.
Christy Turlington
In 1990, at an AIDS research benefit, Turlington ditched the dresses for this dazzling gold matching set.
Turlington's maxi skirt and boots combo from 1993 will inspire your next fall look. The look is perfect for minimalists who want to add a bit of color into their wardrobe.
If you're a Turlington stan, recreate her trés chic Chanel two-piece look from 1991 for Halloween — it's a fashion girl-approved costume.
Never doubt the power of a simple slinky maroon dress, it looks just as elegant on Turlington in 1996 as it would on anyone today.
Turlington knows the power of a good blazer, and her off-white jacket styled with trousers circa 1998 embodied '90s minimalism.