These Summer Jewelry Trends Make Shopping For Accessories Fun Again
Have you heard of "naked" bracelets?
@relleryofficial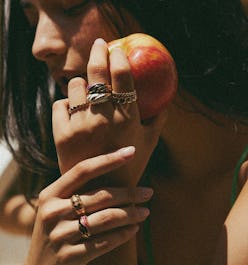 We may receive a portion of sales if you purchase a product through a link in this article.
Summer accessories aren't limited to open-toed sandals or a straw hat at the beach — the jewelry you choose to wear plays an important role, too. The warmer weather calls for swapping out your heavy chain links — a death wish when worn in the hot sun — with a whispery thin necklace or your everyday chunky hoops for a more playful floral motif earring. (We love these Simone Rocha daisy studs.) In fact, 2023's summer jewelry trends touch on the fact that everyone has peeled off their layers and wants to embrace wearing a more vibrant color palette. Indeed, pieces that highlight the collarbone, candy-toned bracelets, and anklets are amongst the most popular items for the season, according to the fashion experts TZR spoke with. After all, it's hard to style a pearl anklet underneath snow boots.
Continue ahead to dive into the exact pieces jewelry designers and tastemakers are giving their personal stamps of approval on. From fresh takes on classic materials like silver to a viral TikTok trend that's well suited for right now, these are the items to add into your accessories collection. This way, your jewelry box will be aptly prepared with the right selection of baubles to wear once the heat waves arrive.
Updated Pearls
At this point, pearls are a seasonless, ubiquitous gemstone. What's worth calling out, however, are the unique updates designers have dreamt up for this season. "There's never been more ways to wear pearls, but we're particularly excited about the unexpected addition of architectural and silver details," Sriya Karumanchi, director of marketing & communications at Catbird, tells TZR. She adds that two designers from the brand who've mastered this aesthetic for the label's recent collections include Aeri Go and Martine Ali.
Naked Jewelry
The toasty temperatures make thick, heavy metal jewelry a no-no, but there are other ways to incorporate this texture into your outfit. "Our social team is seeing 'naked jewelry' trending on TikTok; a nod to barely there necklaces that can be layered up and still feel subtle and light against summer skin," Karumanchi notes. On the same wavelength, delicate bracelets and anklets can also achieve the 'naked' look, doubly so if they're zapped on like second skin.
Candy Colors
There's something about the summer months that invites an all-out embrace of technicolor palettes. "Even New Yorkers put their all-black looks away when the weather gets warmer. The celebratory air seems to make everyone ready to pile on fun colors," Stone and Strand founder Nadine Kahane says. "Candy-colored jewels are the perfect accent to summer whites or even bold colorful ensembles. I'm planning on packing them for weekends at the beach and a trip to Italy, too."
Tennis Bracelets
A jewelry trend with impressive staying power, tennis bracelets are back in the spotlight for the foreseeable future. "We're reimagining iconic tennis bracelets in slimmer silhouettes for a new take on luxury pieces that can be worn every day," Karumanchi says. Wear yours stacked with other favorites like a chainlink bracelet or watch.
Stacked Hoops
While some jewelry pieces make a statement with their silhouette (chokers, cocktail rings, or chandelier earrings, to name a few), others catch your eye through their styling versatility. "So many of our customers today have more than just a single set of piercings, and we love seeing the way they layer on multi-hoops on each ear," Kahane says. "It seems cliché, but nothing says summer like a slicked back ponytail or low bun with [a medley of hoops] framing your face."
Collar Display
From dramatic pendants to sleek chokers, a necklace's length can completely alter your look. "Summer is the season to show a bit of skin, and I love necklaces that highlight the collarbone," Kahane says. "They polish up an unbuttoned shirt while peeking out from underneath [your top]. And when it's warm out, they add a nice curve to balance out strapless tops."
Silver Metal
Though gold has been the metal du jour for the last several years, silver has decidedly made a comeback in recent seasons. Chanel, Proenza Schouler, and Tory Burch all included this cool tone in their Spring/Summer 2023 collections. Ease into the trend with a simple pair of hoops or go for a statement necklace for a summer soirée.