The Beginner's Guide To Buying A Luxury Watch
How and where to find your perfect timepiece.
@dimepiece.co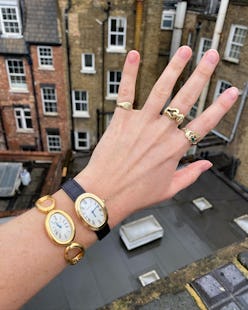 Figuring out how and where to purchase a luxury watch can be an overwhelming endeavor, especially if it's your first time doing so. After all, spending a lot of money on any sort of big ticket item, let alone one with so many mechanical nuances, is intimidating. But the process can also be quite fun, whether you're a seasoned collector or total beginner — because you needn't be an expert to appreciate the quality, craftsmanship, and value of a "Swiss made" watch. (For those not in the know, nearly every legacy chronograph brand has this esteemed stamp of approval, which adheres to world-renowned standards of quality, detail, and performance that have been developed over centuries.)
Knowing where to start your search is half the battle. Brand, size, shape — these are all factors you can start focusing on during your research. And the more you read up, the more you will learn just what makes the best top tier watches so unique. Ready to take the plunge? TZR has tapped a few industry experts to breakdown exactly how to navigate the high end watch industry, step by step, from what to look for in a top-notch piece to picking just the right style for you.
Know Your "Why"
Our experts unanimously agree on one thing: Price and resale value shouldn't dictate your purchase. "To me, the [best way] to buy a Swiss watch is not to look at it as an investment," Thierry Prissert, president of Breitling North America, tells TZR. "It's great to be able to know that if you buy a luxury item that it will retain value over the years, but I don't think that should be the main factor in making your decision." Instead, Prissert believes in following your instincts. "Buy a watch because of the emotion and because of the aspiration that you have to have it," he says.
Brynn Wallner, founder of women's luxury watch site Dimepiece, agrees. "While there are people who buy watches as investments or collectibles, what I've found is that a lot of the women I speak to buy them to wear them and then to pass them down," she notes. "You can obviously pass down a bag or a cool Chanel jacket you got in the '80s, but there's something special about a watch that's built to last."
Other things to consider? Style and the practicality. "You want to have something on your wrist that not only tells time, but also expresses your way of living," Prissert explains. "One of my pleasures, [even] when I was not in the watch industry, was to wake up in the morning and get dressed, go to work, but then maybe open my little case with three or four watches and decide which one I was going to wear that day."
Make A Plan
As with any major purchase in life, you don't want to jump into spending upwards of four digits on a watch without fully exploring your choices. It's definitely a process, but one that's sure to set you up for a purchase you'll feel good about wearing — and potentially passing down — over the years.
Set A Budget
Don't start shopping around until you know how much you're comfortable spending. "Figure out what your budget is and be really honest with yourself and stick with it," Wallner says. "I would say, for instance, if it's the Cartier you want but you don't have $3,500 yet to spend, then just hold out and save for it." Saving up for something special over time, she points out, is better than throwing any amount of money at a design you ultimately might not want to wear.
Do Your Homework
"Most research starts online, especially with the younger generation, as you don't receive a catalog at home and go through the pages," Prissert says, noting that many legacy brand websites, luxury e-retailers, and authorized dealers allow you to see their selections digitally. You can peruse, discover, and perhaps find some timepieces that speak to you before trying anything on.
It also helps to have a friend who'll help you with your search. "I suggest getting a 'watch buddy,' somebody who knows a little bit about watches," Wallner explains. "This can be your friend who you went to college with, or your uncle, or anybody [with knowledge on the subject]. You can do your own research, but it's helpful to have somebody who has an idea of what to look for." It can be extremely useful, she points put, to bounce questions or ideas off this person.
Perhaps said "watch buddy" is also a source of inspiration. "Look for people [you admire], like family members or someone in your surroundings, that have something amazing on their wrist that always attracts your eyes," Prissert says. "That's how it started with me: I saw my dad wearing a nice Swiss watch. It made me feel that one day when I grew up and I made a little money, I would buy one, too."
Consider All The Options
Choosing something that fits your lifestyle and everyday needs is also an important step in the process of finding your first watch. "For all of the people that are interested in coming to our world of the Swiss watch industry, I would say buy something for what you like and what works for your way of life," Prissert says. "If you are a banker or a lawyer, maybe you want a more conservative watch you can wear with a suit all the time. If you are a journalist who travels the world, you may prefer a casual, easy style to wear with everyday styles — something a little more sturdy, a little less fragile and complicated."
Perhaps a luxury watch is out of budget for you, but you still are looking for something to fill the void. "What I will say is if you don't own a watch and you want a watch, but you don't have the Cartier budget, look to fashion watches," Wallner says. "You can get a luxury watch someday, but in the meantime, don't turn your nose up at what Gucci or Missoni has to offer. All these brands have relatively affordable prices. And if you want something designer, that's a good way to do it."
And if brand name is also out of the question? Wallner recommends Breda as a price-conscious placeholder. "You can buy a Breda watch for $200, and while it's definitely not Cartier, it's something to be put on your wrist to look at and manifest. Compared to most watches, it's very affordable. So then you can save up for the one that you actually want, even if that takes a long time"
Try IRL
Perhaps you have always been drawn to a certain brand or design but have never actually tried anything on. Size, shape, metals, and materials all might look extremely different when you get it on your own wrist, so it is important to test as many as possible to find your one. "I would say my No. 1 tip is to try on as many watches as you can, even if you're not in the market," Wallner says. "You might not have $5,000 in the bank that you have to spend on a watch right now, but if you are interested in them, and you want to know what they look like on, just try as many as you can."
There are a number of ways to achieve this goal, even before stepping into traditional retail spaces. "Go into Sotheby's when they have an auction preview, because that's open to the public. You can just walk in there and try on watches if you want," Wallner says. "It could be as simple as going to dinner with your friend who you haven't seen in a while and asking to try the cute Rolex she's wearing."
Take The Plunge
You've set your budget, done your due diligence, and are ready to pull the plug. But knowing which watch you want to buy is only part of the process. Now you need to strategize on whether to buy your watch new or secondhand. There's no right choice between the two — and plenty of pros and cons for either choice.
Traditional Retail
Buying from a luxury brand, whether at a physical store or via e-commerce, is the most straightforward way to purchase your dream timepiece. It also means you can 100% count on receiving a legitimate item, straight from the source. "I think if you are talking to any brand in the Swiss watch world or in the watch world [in general, they would say] it is very important to buy through our authorized channel," Prissert says. "Buying directly from us or an authorized dealer is much safer for your purchase and gives you peace of mind on your investment."
Authorized retailers, such as Watches of Switzerland and Wempe, are fantastic alternatives, especially for those who don't have access to a wide variety of sources to shop in-person. If there's one particular piece you have your eye on, however, most e-commerce sites can direct you to the nearest storefront that carries it. "Usually what people do is research the product they like on the website, then they simply put in their ZIP code, and we tell them where the closest authorized dealer or authorized boutique is," Prissert explains. "Our dealers also are able to share the storytelling and present the line to you like we do in our boutique."
Other benefits of dealing directly with a brand or major retailer? "[With secondhand], you can't track; you don't know where the watch comes from sometimes," Prissert points out. "Most of the time, those people are very reputable and the watch really comes from a customer that sells it back, but you can also have a fake or product movement issue, with no warranty." This could pose a costly problem should your purchase need a repair.
Then, of course, there's sense of occasion that comes with buying from a big brand. "For my first watch, I could have bought it pre-owned or on the TheRealReal for half the price, but frankly I wanted the pomp and circumstance of buying a watch from Cartier," Wallner explains. "When I bought my watch, they sent me to a private room and gave me macarons and Cartier champagne, and I felt like a princess. And I think that's why the brand has succeeded in staying so desired for so long."
The Secondhand Route
There are also plenty of pros to going for a pre-owned piece at trusted secondhand sources such as Fashionphile, The Real Real, Rebag, and Chrono24. First and foremost, you can side-step issues with long lines, waitlists, and style unavailability. "If you want to buy a watch brand new from one of the more popular brands like Rolex, Patek Phillipe, or Audemars Piguet, you can't buy those new," Wallner says, explaining that these label are so highly in demand that they'll sell out of stock before it hits the sales floor. "You go into a boutique that sells Rolex and there are no Rolexes for you to buy, so even if you do have $10,000 to spend on a Submariner [style], you can't buy that new."
"Oftentimes when people get their first bonus, there's a very special watch that they always wanted to have," Angela Dotson, senior vice president of client and new market development at Fashionphile, explains. "A lot of times they walk into that retailer and it's not available — they're sold out. So where can they get that watch? Well, they can come into a Fashionphile, and we have that watch."
You can also find amazing discontinued options on the resale scene. "There's a lot more styles to choose from," Wallner says. "For example, the Rolex Lady Datejust that I got from Rebag is a 26 millimeter watch, so it's small, and it's the two-one model, and it's got the champagne dial. And guess what? Rolex doesn't carry this watch anymore. But because it was available in the pre-owned market, I was able to get it." Moreover, many of these online retailers now have storefronts and showrooms, like Fashionphile's New York City location, allowing the customer to see, try on, and play with various styles, ending with the instant gratification of purchasing something you love.
Admittedly, it's much tougher to guarantee total authenticity in the secondhand space. However, many leaders in the resale watch space are funding in-house watch teams to ensure validity. "When you go to an authorized dealer, it's the lowest risk, and there's no chance of getting a damaged watch," Samuel Genson, the senior watchmaker at Fashionphile, says. "But that's why we've invested so much money in technology, knowledge, and personnel that we can accurately assess these pieces and determine what is authentic and what is not. What we want most is that sense of trust, that if you're buying something through Fashionphile, it's going to be legit." In short: It's important to start you secondhand search by researching the seller's vetting process.
Genson also suggests looking for an option that comes with documentation and original packaging. "I would say try to get box and papers (which should include the card), and it's better if there is a warranty, but not everything has a warranty," Genson says. "Not every watch is going to have a box and papers. That doesn't mean it's not authentic or a piece of junk, but that's one thing that is good to look for. And you want to make sure that the price reflects the lack of a box or lack of papers."
You'll also want to know the company's return policy ahead of time — and have a plan to use that grace period to your advantage. "If you're buying a watch that's pre-owned, say a Rolex Datejust or a Rolex Lady Datejust, and the return policy is 14 days, use that time to go into your local watch dealer or watch repair center (or if you live in New York, Watches of Switzerland can look at a Rolex for you)," suggests Wallner. "They'll tell you if it's authentic and in good condition — and if you find that it's not in good condition, then you can just return it."