These Meaningful Jewelry Brands Make Modern Day Heirlooms
HIE Heirlooms of Hawaai'i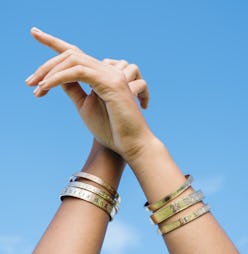 We may receive a portion of sales if you purchase a product through a link in this article.
You can hear Meleana Estes and Noël Shaw entering a room before you see them. Not because the lifelong friends and Hawaiian natives speak at a particularly high octave or live in loud stilettos, but rather because their wrists are awash with traditional gold Hawaiian bracelets. Inscribed with family names, cultural designs, and sentimental phrases, their bangles are a mix of heirloom jewelry passed down from generation to generation, and bracelets purchased for them by loved ones during pivotal moments in their lives. The jingle they make is melodic and distinct, and if you spend enough time on the islands, you'll start to hear it everywhere.
"Noel and I grew up noticing the bracelets worn by the women in our families, and coveting certain ones belonging to our aunts, tūtūs (grandmothers), and mothers," says Estes. "I looked forward to my sixteenth birthday knowing that I would be gifted the bracelet my tūtū had made for my mom with my name on it when I was born." The bangle is one of several that Estes rarely takes off, similarly to Shaw, who has only removed the vintage piece once belonging to her great-great-great grandmother a handful of times since receiving it shortly after her college graduation. "It has become a bit of a good luck charm," she says.
Originated by Hawaii's last monarch, Queen Liliʻuokalani, the tradition of crafting and handing down gold bangles is one Estes and Shaw are perpetuating with the launch of their brand, HIE Heirlooms of Hawaai'i. The line is among several that have recently emerged in the fine jewelry space, offering customizable modern heirlooms.
"I think what people find so fascinating about heirlooms is the history that comes along with them," says Elana Zajdman, who founded made-to-order jewelry brand Estelle Galerie in 2022. "Whether the piece has been passed down in a family for generations or purchased from a flea market, there's an incredible mystery to them." The potential for a piece to one day hold that same charm and mystique, she says, is drawing more and more people towards keepsake pieces. "They're timeless and will thus be a great investment to have forever."
Ahead, a closer look at HIE, Estelle Galerie, and three other emerging brands whose work is imbued with special meaning.
"We had our children the same year," Shaw says of herself and Estes starting their families, "and when they were turning eight, we realized that neither of us had purchased or were given heirloom bracelets in their honor." As the two began dreaming up designs, pulling references from bracelets worn by the women in their families, and researching potential artisans, they found the process daunting; few avenues led to the specific look they were aiming for. "Traditionally, families tended to have one maker or one shop that they always purchased from," Estes says, adding that local jewelers often had a signature font or design elements that they were known for. "Many of the artisans who made my family's bracelets have since passed, and it was hard to find similar styles." So, Estes and Shaw decided to design their own instead — a venture that ultimately evolved into HIE.
"Our collection is comprised of style elements that were passed onto us," says Shaw, referencing the 10 bracelets HIE has launched with. Among them are the Amelia Ana, which features an etched design and black enamel engraving; the diamond-bedecked Aloha Nui; and the HIE Signature Bangle, engraved with Queen Liliʻuokalani's beloved pua kalaunu (the crown flower) and the national flower of England, the Tudor rose. The customizable bracelets are available in solid 14K, 18K or rose gold, and can be shopped online or at Ron Herman in Waikiki.
After a decade working as a jewelry and accessories editor at top fashion magazines, Elana Zajdman drew upon her experience to launch Estelle Galerie. Specializing in a mix of vintage finds and bespoke pieces made in limited quantities, the brand is named after Zajdman's grandmother (a longtime jewelry collector) and produced in New York City by a small, family-owned bench jeweler.
"I go to flea markets all over the world, largely in Europe, where I find most of my vintage treasures," Zajdman says. "The majority of the pieces we design in-house are solid brass and plated in 18k gold, but if a client wants to do a solid gold or silver version of a piece we offer — or an entirely custom design — we can absolutely create something special for them." Estelle Galerie was recently commissioned to create custom wedding bands for a bride and groom, which Zajdman is crafting alongside a collection that includes a hand-carved lapis ring and a mechanical pencil pendant in 18K gold. "It's less about having this feel like a business and more about creating something as special and unique for the person who's wearing it," Zajdman says of her approach. "I see jewelry as a work of art."
Metal so polished you can use it as a mirror; near-flawless diamonds cut to perfection; pieces with the most ideal amount of heft — all three of these things are among hallmarks of Valery Brinda, coined after its founder and designed in collaboration with Kia Schwaninger. Veterans of the luxury jewelry industry who met while working at Harry Winston (Brinda as director of production development and Schwaninger as director of design) the two began collaborating on their own designs in 2020, having left their full-time corporate positions to pursue personal projects and spend more time at home with their young children.
"Our Chapter XII Bracelet in 18K yellow gold and diamonds started it all," says Brinda of the collection's hero piece, which is modeled after the ID bracelets mothers and their newborns are given to wear in the hospital. Marked by a rectangular plaque and cascading mesh chain, the bracelet can be engraved with a name or custom message. Additional offerings include the Argyle Collection, inspired by the arches of the Brooklyn Bridge, and the Lyric Diamond Note Bracelet, which can be customized so that diamonds are arranged to reflect the notes of a song. "Our eye is on today as much as it's on the future," Brinda says of the brand's approach. "So that 100 years from now our pieces will still look classic and be as desirable as they feel now."
The story behind Kinn's inception is not a happy one. In 2015 Jennie Yoon's parents were robbed of their family's heirloom jewelry, including all of her grandmother's antique pieces, when their home was broken into. Yoon, who started her career in human resources and later helped build Casetify, wanted to recreate some of what was stolen, and began exploring the Jewelry District in downtown L.A. Her search for reasonably priced fine jewelry with heirloom potential yielded very little — and so Kinn was born.
Today, the brand is known for pieces such as the Solis Ribbed Ring I — a nod to a similar pleated style Yoon's mother wore while immigrating from South Korea to the U.S. — engravable lockets, and the Dear Kaia Nameplate Necklace III, available in Korean, Chinese, and Japanese characters. "So many of our pieces were inspired by pictures of my and my friends' grandparents or parents wearing classic pieces of jewelry," Yoon says. "We've taken the aesthetic of the 'old' and incorporated modern elements through texture, stone cuts, and colors." Additionally, Kinn works with clients to repurpose heirloom jewelry they already own. "Consumers nowadays would much rather invest in a piece that will last them a lifetime than purchase a low-priced and low-quality piece that will turn color, irritate their skin, and/or break," Yoon says, adding that "repurposing heirloom jewelry is a more affordable way to recreate a piece into something modern. And at the same time, it's a way to reclaim value into the piece."
With a design resume that includes roles at Alexander McQueen, Lorraine Schwartz, and Marina Bulgari, Central Saint Martins and gemological Institute of America alum Sarah Ysabel Narici is now expressing her interest in the tension between history and the future with Dyne. "I care a lot about silhouettes, and I love clean lines that work devoid of any detail," she says of minimal maximalist aesthetic. "Once that is achieved, I then add details, such as stone setting or carvings." This is all evident in Dyne's highly customizable LOVERGLYPH© rings. Each one features a mix of ancient and contemporary symbols that are meaningful to the wearer, and either etched into the ring or fashioned with gemstones.
"It's a true collaboration with the client," Narici says of her one-of-a-kind pieces, which are priced on a case by case basis. "The symbols are personal to each client; they tell me stories about their lives, and my job is to interpret them into graphic forms. Nobody's two pieces can ever be the same — we are creating personal time capsules." Often featuring Colombian emeralds, Paraiba tourmalines, spinels and garnets, the heirlooms, Narici says, reflect eternal meaning. Every precious object should have that universal beauty, shared among the generations," she adds. "And then it needs that shiny futuristic element, an exciting glimpse of what is yet to come."