11 Bag Trends To Carry You Through Next Season
Coming in hot for Spring 2024.
Victor VIRGILE/Gamma-Rapho/Getty Images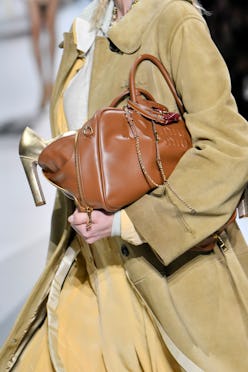 We're in an interesting moment in fashion when there are so many dichotomies — see micro minis vs. voluminous ball skirts, clunky-cool brogues against dainty Mary Janes, and baggy low slung jeans contra trimly tailored straight leg silhouettes. And because there are no hard and fast rules about style, it's a perfect time to find what suits you and your own particular sensibilities. So why not start with your handbag?
This past fashion month has offered plenty of Spring/Summer 2024 trends to guide you: Houses likes Prada and Coach are offering absolutely giant totes that make a statement, while mini purses are back at Versace and the new Gucci, now helmed by Sabato De Sarno. And in the realm of evening options, we're seeing the return of the evening clutch, done beautifully in satin at Altuzarra and fun gilded statement pieces from the likes of Khaite and Schiaparelli.
Meanwhile, there's a sense of simplicity with soft, knit-inspired carryalls at Loewe. Bottega Veneta extended that idea to basket bags, perhaps as a nod to the late Jane Birkin, which were also seen at Balmain. But whether you're in the market for a good bucket silhouette or something bold and red, next season has a little something for everyone.
Keep scrolling for 11 reigning runway looks to choose from.
Knit Wit
Bottega Veneta Spring/Summer 2024Victor Boyko/Getty Images
Loewe Peter White/Getty Images
There seems to be no middle ground between the ultra-slouchy and intricately structured for Spring/Summer 2024, and these sweater-like bags that mold around the body offer peak softness. Bottega Veneta translated its intrecciato weave to something lighter than leather, Loewe paired its slouchy bag with oversized easy jeans and knits, and indie favorite Lauren Manoogian stuck to her brand's DNA with designs that match her other cloud-like pieces.
Travellin' Bags
Miu MiuJULIEN DE ROSA/AFP/Getty Images
Louis VuittonDominique Charriau/WireImage/Getty Images
There's been much talk of the exact meaning of quiet luxury, but the idea behind it is simply this: sharing your overall vibe in a subtle way. At Miu Miu, Louis Vuitton and Balenciaga, the idea was that these luxe bags are already lived in. Overstuffed, full of stickers, adorned with trinkets in the manner of the late, great Jane Birkin's Birkin, they're meant for hitting the road and not taking your big name carryalls too seriously.
Gold Dust Woman
SchiaparelliEstrop/Getty Images
BluemarineMarco Mantovani/Getty Images
And then there's luxury that's not so quiet after all. Sometimes it's about carrying around your gilded pieces with pride. Schiaparelli showed sculptural golden numbers, and Khaite's approach feels like carrying around a particularly lovely gold brick. And over at Bluemarine, the handbag vibe was all about gilded butterflies.
Basket Case
BalmainVictor VIRGILE/Gamma-Rapho/Getty Images
Bottega VenetaGABRIEL BOUYS/AFP/Getty Images
Speaking of Ms. Birkin, it seems designers had the icon in mind when baskets took a turn down the catwalk. Maria McManus showed easy tailoring with interestingly shaped basket bags, Bottega Veneta went with a pared back literal approach, and Balmain's creations were filled with faux flowers for a truly romantic nod.
Totes Serious
CoachVictor VIRGILE/Gamma-Rapho/Getty Images
Victoria BeckhamWWD/Getty Images
PradaDaniele Venturelli/WireImage/Getty Images
Next season, it seems, will be a lesson in choosing your extreme. If you're the go-big-or-go-home type, you're in luck with giant totes from Coach, who paired one with a smaller bag as well. Victoria Beckham, on the other hand, went with a softer piece, while Prada offered a giant studded holdall.
XL Clutches
The AtticoWWD/Getty Images
Jil SanderArnold Jerocki/Getty Images
Who needs a shoulder strap when you have a clutch that's basically a weekender bag? Soft, supple under-your-arm candy made its way onto The Attico's first runway show in stark white, in a sort of textured black material at Tibi, and via an embossed ostrich silhouette at Jil Sander. Just tuck one in the crook of your elbow and go.
The Right Angles
Acne StudiosVictor VIRGILE/Gamma-Rapho/Getty Images
ChanelVictor VIRGILE/Gamma-Rapho/Getty Images
Maybe we all need to add a little more structure into our lives. But even if you aren't getting on a good remote work schedule, you can add a straight-edged element to your life via the geometric handbags on the runways of Acne Studios, Max Mara, and Chanel.
A Drop in the Bucket
Miu MiuVictor VIRGILE/Gamma-Rapho/Getty Images
ChloéWWD/WWD/Getty Images
Stella McCartneyPeter White/Getty Images Entertainment/Getty Images
In the realm of utilitarianism, things hardly gets more functional than a good bucket bag. Carry it all, (and then some) with a style from Miu Miu, a cinched version by Chloé — with studs — or the woven offerings found at Stella McCartney.
Good Evening
Tom FordVictor VIRGILE/Gamma-Rapho/Getty Images
AltuzarraWWD/Getty Images
FerragamoJacopo Raule/Getty Images Entertainment/Getty Images
Isn't she lovely? There's something so dignified about the evening clutch, like you're pairing it with your grandma's pearls and the perfect dinner date companion. Tom Ford's take was embossed and gilded, and Altuzarra matched a little bag to a satin dress. Over at Ferragamo, the portfolio shapes are designed to slide from day to night with ease.
Crimson Peak
Isabel MarantStephane Cardinale - Corbis/Getty Images
HermèsVictor VIRGILE/Gamma-Rapho/Getty Images
Fashion's love affair with red is showing no sign of slowing. But the best thing about the fetching rouge bags at Proenza Schouler, Isabel Marant and Hermès is that they were each paired with coordinating looks. In short? Girls who love this bold color don't hide their feelings.
Make it Mini
Ralph Lauren WWD/Getty Images
GucciDaniele Venturelli/Getty Images
VersacePietro D'Aprano/Getty Images
Not the giant tote type? Bring just your debit card, a lipstick, and a less-is-more approach to life with mini bags as seen at Ralph Lauren, Gucci, and Versace.
She's A Lady
Tory BurchSlaven Vlasic/Getty Images
FendiVictor VIRGILE/Gamma-Rapho/Getty Images
GivenchyPascal Le Segretain/Getty Images
A top-handle lady bag is the height of sophistication. Tory Burch paired her white take with an all-white outfit for a streamlined effect; Fendi reimagined its signature bag in orange; Givenchy kept its interpretation simple with the little-black-dress of bags.