2-Minute Outfit Tricks For Spring, Because Who Has Time For Complicated?
Jeremy Moeller/Getty Images Entertainment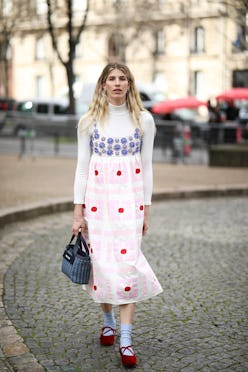 For some lucky shoppers, a new season means the opportunity to invest in an entirely new wardrobe. But, for others it's all about finding creative ways to style what they already own. Likely, you sit somewhere squarely in the middle. You're looking to pick out a few key pieces for the months ahead, but you are also ripe for a little inspiration to help you look at those same sweaters, skirts, and sneakers in a whole new way. Sometimes, it just takes a few simple outfit tips for spring to help you feel inspired to style your tried-and-trusted staples.
If the sentences above ring true, you'll want to read on because below, you can find 27 of these simple styling tricks that you can apply to your ensembles starting tomorrow (or tonight if you're especially eager). For work, break up your usual suiting and mix and match prints that you might not typically pair together. On the weekends, swap out your simple, sleek accessories for brighter picks that will instantly lift your mood. Often times, fashion can feel complicated and you're left standing in front of a pile of clothes ready to just throw in the towel (or maybe T-shirt is a more fitting choice). But, no more! Read on for an easy refresh that just might shave minutes off your morning routine.
This article was originally published on