Y2K Fashion Has Scarred Me, But I'll Revisit This One Dress Trend
@marahoffman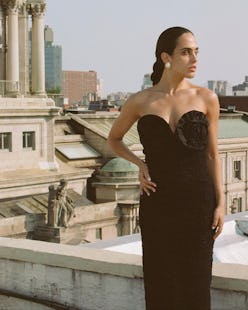 We may receive a portion of sales if you purchase a product through a link in this article.
As someone who came of age at the height of the Y2K era, I'm still recovering from living through the decade's biggest fashion trends the first time around. Low-rise jeans? Sure, if you're willing to hoist up your pants all day. Velour track suits? Definitely comfortable, but they pill easily. Baby tees? Cute, but probably not office-appropriate. However, when fashion rules are self-imposed, there are always exceptions. For me, rosette dresses are the one clothing trend I'm revisiting from my youth this summer.
Seen on all of the decade's fictional fashion icons, like Carrie Bradshaw from Sex and the City, as well as real-life trendsetters like Paris Hilton and Jennifer Lopez, no dress style or silhouette was spared from rosettes in the early 2000s. And while the look never fully went away, it's inescapable in 2023. The look popped up on a number of Spring/Summer 2023 runways at Paris Fashion Week and has been worn by celebs like Zendaya on the red carpet. The look is also flooding Instagram, thanks to viral brands like Magda Butrym who have made floral appliqués its signature.
Because I spend so much time on the internet for work, I'm not easily influenced. However, after seeing so many unique takes on the trend, I'm convinced it's one I'm not completely aged out of trying. From casual summer frocks to cocktail options, the following are my 10 favorite rosette dresses to wear in 2023.