These Spring/Summer 2024 Shoe Trends Are A Step Above The Rest
Your wish list starts here.
Victor VIRGILE/Gamma-Rapho/Getty Images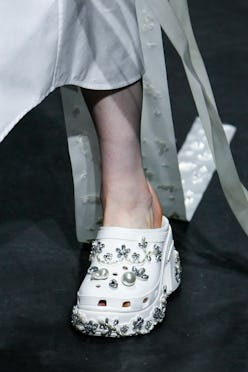 Changes were afoot for the Spring/Summer 2024 fashion month, with new designers at Gucci and Tom Ford, and swan songs for Gabriela Hearst at Chloé and Sarah Burton at Alexander McQueen. If there's any industry that can embrace newness though, it's the business of what people wear. To wit, every style capital — New York, London, Milan, and Paris — served up some of the best new shoe trends we've seen in awhile, with options running the gamut from gladiator sandals to statement, shiny, over-the-knee boots. (Spring weather can be rather manic, after all.)
The devil was in the details at Fendi, where pumps came with delicate anklets, as well as Simone Rocha and 3.1 Phillip Lim, both of whom included beautiful embellishment on more utility-minded shoes. Meanwhile Chanel also delivered ladylike flourishes via sweet bow-bedecked flats. On the other end of the spectrum, there were boyish preppy school shoes at Miu Miu and Prada, and streamlined sneakers on the runways of Valentino and Bottega Veneta. And for anyone looking for the ideal date night heel, Mugler and Luar have you covered with sultry and extra-strappy styles.
See these key designs ahead, where we've compiled the biggest footwear themes of the season.
Anklet Included
The AtticoDaniele Venturelli/WireImage/Getty Images
Isabel MarantStephane Cardinale - Corbis/Getty Images
FendiPietro D'Aprano/Getty Images Entertainment/Getty Images
It may seem like a small thing, but a delicate band of silver or gold on the ankle lends just the right touch of sophistication — just look to the pumps and sandals at The Attico, Isabel Marant, and Fendi for proof. Why add your own accessories when your shoes come prepared?
All That Glitters
Simone RochaVictor VIRGILE/Gamma-Rapho/Getty Images
Loewe Victor VIRGILE/Gamma-Rapho/Getty Images
3.1 Phillip LimVictor VIRGILE/Gamma-Rapho/Getty Images
While we've been living in the world of so-called quiet luxury for months (with no signs of the trend slowing down), there's been a subset of designers just dying to make a statement. Simone Rocha and 3.1 Phillip Lim showed utility-minded shoes with enough pearls and crystals to please any and all magpies, while Loewe paired its ankle-length cape sweaters with glittering round-toe flats.
Something Satin
PradaDaniele Venturelli/WireImage/Getty Images
GivenchyEstrop/Getty Images
AltuzarraWWD/Getty Images
Satin shoes may have gotten a bit of a bad reputation during the dyed-to-match era. But fashion houses are turning it all around, with satin pumps looking especially lovely with ladylike separates at Prada, Givenchy, and Altuzarra.
All Wrapped Up
MuglerKristy Sparow/Getty Images
Bottega VenetaWWD/Getty Images
A great heeled sandal is a must in any shoe arsenal and a surprising twist on the look quite literally came from shoes that snake up the ankle. The perpetually cool Mugler, Luar — who is newish standout on the scene — and reigning accessory king Bottega Veneta each showed their own striking takes on the silhouette.
School Shoes
Miu MiuVictor VIRGILE/Gamma-Rapho/Getty Images
Victoria BeckhamWWD/Getty Images
PradaVictor VIRGILE/Gamma-Rapho/Getty Images
The words "school shoes" don't always elicit the most enthusiastic response. But somewhat chunky, preppy-in-the-best way shoes that would look perfectly at home at your favorite New England boarding school feel right on time from Miu Miu, Victoria Beckham, and Prada.
And We All Shine On
FerragamoArnold Jerocki/Getty Images
Acne StudiosPeter White/Getty Images
Tom FordJustin Shin/Getty Images
In the category of sleek and just a little bit sexy, we're seeing patent leather to-the-knee and over-the-knee boots make their way onto the catwalks. Ferragamo and Acne Studios embraced the look in color, in green and red respectively. Tom Ford, in turn, went back to black in something flat and shiny.
Hot Socks
Christopher Esber Justin Shin/Getty Images
GivenchyPascal Le Segretain/Getty Images
Jil SanderJustin Shin/Getty Images
Whether the socks are attached or separate, there was no ignoring the persistent pairing of hosiery and sandals. Christopher Esber debuted a sheer little ankle boot on his first Parisian runway; Givenchy showed diaphanous dresses with knee-high sheers and heeled sandals, with the look echoed at Jil Sander.
Gladiator Girls
Tory BurchVictor VIRGILE/Gamma-Rapho/Getty Images
HermèsVictor VIRGILE/Gamma-Rapho/Getty Images
Michael KorsVictor VIRGILE/Gamma-Rapho/Getty Images
The flat sandal for spring is shaping up to be a sleekly updated gladiator. With simple, not overwrought options at Tory Burch, Hermès, and Michael Kors, these shoes feel less like a trend and more like your new everyday go-to.
Tied with a Bow
VersacePietro D'Aprano/Getty Images
ChanelVictor VIRGILE/Gamma-Rapho/Getty Images
For every boyish brogue we saw on the spring catwalks, there seems to be a pretty bow to balance it all out. In line with its house codes, Chanel put some on some glimmering ballerinas. Versace showed the accent on some silver square-toe flats, and Erdem's version made the biggest statement, nearly dragging on the floor.
Minimal Kicks
ValentinoVictor VIRGILE/Gamma-Rapho/Getty Images
DiorVictor Boyko/Getty Images
Gucci Estrop/Getty Images
While fashion sneakers have long been a money-maker for big brands, they've mainly been of the statement-making, verging-on-cartoonish variety. Spring's trainers show no such affliction. Gucci, Bottega Veneta, and Valentino each had models walk in their own versions of pristine white sporty lace-ups with very little to show in the arena of bells and whistles.