London Fashion Week's Biggest Spring 2024 Trends Leave Nothing On The Table
TZR/ Getty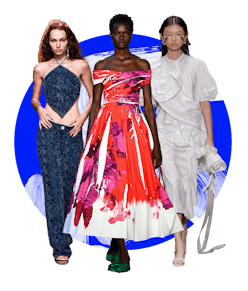 If there was any indication that London Fashion Week had thrilling things in store this September, it happened before the shows even began: Mega-celebrities of all stripes — (a very pregnant) Sienna Miller! Jodie Turner-Smith! Yara Shahidi! — gathered in Big Ben Friday night for the second iteration of the massive Vogue World production, complete with a red carpet and celebrity-packed performance. But if the event set the bar high for the many presentations to follow, designers have certainly risen to occasion. For the last four days, the city has been filled with inventive style ideas and compelling trends for the forthcoming Spring/Summer 2024 season.
Some stand out looks, of course, are a natural continuation of what's been happening in the industry for awhile. Take the elegantly draped white dresses at Tove and JW Anderson; the look feels like a natural continuation from the crisp and clean LWD movement seen throughout NYFW. Traces of the ongoing Y2K Renaissance were also all over the catwalks (ahem, halter tops and hip slung pants), although after a few years of hot aughts homages, the silhouettes are starting to feel more like modern interpretations than straight up recreations. Burberry, for instance, had handkerchief hem dresses aplenty, but moody color schemes and zipper details brought the former teen queen favorite into the now.
A few surprises and delights? Erdem's quilted and color-saturated line-up, heavily featuring jewel tone designs — sheer, delicate lace slip skirts, bouncy ballgowns, oversized leather jackets — as well as Simone Rocha's clever use of romantic roses, many of which were encased in layers of fluffy tulle. And while Molly Goddard continued to put her focus in on big, balletic shapes, she evolved her full and flouncy signatures with a the addition of smart darting details and strategic layering.
See how these key runway moments and more played into the biggest themes of the week below.
Paging Audrey
Richard QuinnVictor VIRGILE/Gamma-Rapho/Getty Images
16ArlingtonWWD/Getty Images
Huishan Zhang WWD/Getty Images
A fit-and-flare shape is never not going to work wonderfully for a fancy affair, but it feels particularly relevant right now thanks to a rising wave of Roman Holiday-worthy cuts. The update? Less expected colors and materials (see 16Arlington and Huishan Zhang) and big, bold patterns (Richard Quinn).
Paint The Town
FebenVictor VIRGILE/Gamma-Rapho/Getty Images
RoksandaLia Toby/BFC/Getty Images
ErdemGareth Cattermole/BFC/Getty Images
The freeform brushstroke prints from brands like Feben, Roksanda, and Erdem somehow felt elegant and a little bit eccentric — the perfect costume choice, perhaps, for Charlotte York's next art world dinner on ...And Just Like That?
Carte Blanche
ToveVictor VIRGILE/Gamma-Rapho/Getty Images
Eudon Choi Victor VIRGILE/Gamma-Rapho/Getty Images
Simone RochaVictor VIRGILE/Gamma-Rapho/Getty Images
Bright white for warm weather is hardly groundbreaking news. But when you throw mega rosette accents into the equation — see: Simone Rocha — the effect is extra striking. Meanwhile simple and beautifully cut classics from brands like Tove and Eudon Choi are sure to find regular action in the closets of Sofia Richie's myriad "quiet luxury" disciples.
Think Big
Roksanda Jack Hall/WireImage/Getty Images
JW Anderson Victor VIRGILE/Gamma-Rapho/Getty Images
Matty Bovan WWD/WWD/Getty Images
It's hardly London Fashion Week if a few labels don't go ahead and get a little weird. Designers Matty Bovan, JW Anderson, and Roksanda Ilinčić certainly have the making of stretched out, oversize, and outlandish flourishes down to a fine science — and a wearable art, should you have the right occasion (and a big enough doorway) for it.
Pouf Pieces
Susan Fang Joe Maher/BFC/Getty Images
Molly Goddard Gareth Cattermole/BFC/Getty Images
Yuhan WangCharles McQuillan/BFC/Getty Images
Big frothy tulle is being edged out by cute little micro ruffles, which offer the illusion of volume without so much bulk. Consider a sweet mini skirt adorned with the detail à la Yuhan Wang, or 2023's answer to a petticoat inspired by Molly Goddard. Or, should you want to go all in on the texture, opt for one of Susan Fang's fantastical cotton candy-esque dresses.
Get Low
David Koma WWD/Getty Images
Chet LoFuture Publishing/Getty Images
Will this be the season that hip bone-baring waistbands finally return to the mainstream? The British creatives are making a strong case for it. Sure, the over-30 set may never want to touch thong-exposing bootcut jeans again, but the relaxed pants and skirts at KNWLS, David Koma, and Chet Lo are a less daunting — not to mention, cooler — prospect.
Hanky Panky
Masha PopovaStuart Wilson/BFC/Getty Images
Di Petsa Victor VIRGILE/Gamma-Rapho/Getty Images
Be it by way of scarf-like going out top or a swishy, asymmetrical bottom of a skirt, handkerchief hems were on full display at emerging and established brands alike. Keep the look modern by opting for a matching set (Di Pesta) or surprising print and/or color choice (Masha Popova and Burberry).
Best Of The Scrunch
Supriya LeleWWD/Getty Images
Emilia WicksteadWWD/Getty Images
ToveVictor VIRGILE/Gamma-Rapho/Getty Images
There's a wonderful ease to the cinched-up and ruched silhouettes that slunk out this week. With its built-in crinkles, Supriya Lee's shiny lime number would be ideal for a party where you are bound to get a little rumpled regardless; and the gathered long gowns at Emilia Wickstead and Tove are begging for a black tie affair — try playing to the effortless mood with streamlined satin flats.