Paris Street Style Is Back — And It's More Epic Than You Remember
Prepare for an epic ending.
Jonathan Paciullo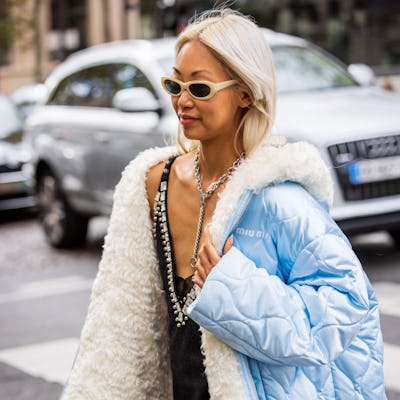 In many ways, you likely live by the phrase "save the best for last." You know, that sweet bowl of ice cream you scoop up after dinner, singing (fine, screaming) along with your favorite artist as they close out the concert with their most popular song, and getting goosebumps at the ending of your go-to movie (two words: The Notebook). It turns out, many would argue the fashion month calendar follows this same notion. After three hectic weeks, the last (and undoubtedly, the most anticipated) stop has arrived: a nine-day long marathon in France. Surprise, surprise — the Paris Spring/Summer 2022 street style is further confirming the notion by displaying some of the best looks from the month so far.
This past summer, the industry's top influencers (think: Géraldine Boublil, Leonie Hanne, and Courtney Trop) attended the Fall 2021 Haute Couture Week in Paris and gave a sneak peek of what to expect in the city for this fashion month. As it turns out, the two-month wait was well worth it. This group of stylish women (plus, many more) headed back to the City of Lights for another round of collections — but this time around, in addition to iconic fashion houses, they'll also be dressing in pieces from some newer designers showing, like Coperni and Ottolinger. On top of these trendsetters, expect plenty of celebrities to be sitting front row at PFW this season and bringing their own enviable take on street style too.
Below, take a glimpse at the Paris Fashion Week Spring/Summer 2022 street style. The gallery will continue to be updated as the shows go until October 5.
Paris Fashion Week Spring/Summer 2022 Street Style: Day 9
Try just fastening the middle button for a fun styling trick.
Chloé Harrouche arrived at Chanel sporting a full look from the brand — complete with logo embroidered jeans.
Proof that you can wear your suits outside the office, too. Just add a graphic tee to the set and you're good to go.
Jenny Walton wore a one-of-a-kind number to the Miu Miu show.
Gabriella Karefa-Johnson opted for Isabel Marant's cult-favorite zebra print shirt jacket.
Maria Bernad and Courtney Trop really outdid themselves for the Miu Miu show.
According to Tamu McPherson, statement collars are going to be big again this fall.
This attendee brought her Telfar bag out for a day full of events.
Can you think of a cozier jacket? That's debatable.
Ellie Delphine was just one attendee who decided on this colorful jacket from Lactose.
Gossip Girl's Evan Mock attended the Lacoste show in a colorful sweater.
This young show-goer killed it with her look for Lacoste.
Yes, you need Blanca Miró Scrimieri's Y/Project scarf in your cold-weather accessories collection.
Emma Chamberlain decided on a full-denim Louis Vuitton look and bag to the brand's show.
The Cut's EIC Lindsay Peoples Wagner wore an argyle sweater and Bottega Veneta clutch.
A quick round of applause for these Louis Vuitton boots.
This attendee was clearly very ecstatic to be going to the Louis Vuitton show.
Paris Fashion Week Spring/Summer 2022 Street Style: Day 8
Someone give this attendee an award for her voluminous puff sleeves.
This show-goer gave a Chanel mini dress a spin around Paris.
Vivid blue and highlighter yellow? Yes, please.
This season, consider trading in your wool suiting for something a tad more sparkly.
Erika Boldrin gave a ladylike midi skirt and heels a relaxed feel by adding a bomber jacket to the outfit.
Rajni Jacques dressed up her jeans with a sleek duster and her go-to Ugg & Eckhaus Latta clogs.
Demi Moore wore a netted cutout jumpsuit to the Stella McCartney show.
Ella Emhoff's off-duty look consisted of mixed plaid suiting.
Chunky boots were out to play in the City of Lights.
Christine Centenera wore a fitted denim jacket and skinny black trousers.
Evidence that you can mix just about any print together and it'll work.
Paris Fashion Week Spring/Summer 2022 Street Style: Day 7
Lindsay Peoples Wagner matched her bright Bottega Veneta clutch with her blouse.
Add a pastel suit to your fall arsenal for a fresh take on office workwear.
You'll probably want to snag an oversized puffer vest now.
This attendee kicked the check print craze up a notch.
Why not coordinate tops with your friend?
Proof that sneakers are not only comfortable, but they're also incredibly stylish.
Paris Fashion Week Spring/Summer 2022 Street Style: Day 6
Not an ideal raincoat, but it'll do.
Vanessa Hong made a bold statement with her leather fringe trousers.
Shake things up and try accessorizing with a silk scarf tied around your shoulders, as shown by Tiffany Reid.
Tamu McPherson displayed how to wear Bermuda shorts in the fall — according to the influencer, just add a long leather jacket into the mix.
Here's some print mixing inspiration to bookmark for fall, courtesy of Susie Lau.
If you're a sucker for stripes, consider marrying two different prints.
Add white boots to a Canadian tuxedo ensemble to make it feel especially modern.
Erika Boldrin sported a classic look in Paris.
Paris Fashion Week Spring/Summer 2022 Street Style: Day 5
Shiona Turini looked ever-so-polished in an elevated blue set.
A furry-lined jacket and straight-leg jeans make for an easy, yet chic fall getup.
According to street style stars, it's now appropriate to wear your house slippers outdoors.
A statement mini skirt is a great way to stand out, but not overly so.
Combat boots give a luxe dress and edgy feel.
Gala Gonzalez made a strong case for a mini skirt and loafers pairing.
Looks like tiger print is going to be on-trend this season.
Unsurprisingly, Grece Ghanem arrived at the shows looking so chic in her rich turquoise and purple color scheme.
Paris Fashion Week Spring/Summer 2022 Street Style: Day 4
Here's a fun styling trick: Match the colors of your outfit with your earrings.
Caroline Issa coupled a floral matching set with a polka dot blouse.
Oversized separates and sleek strappy heels are always a good idea.
A sparkly Coperni bag was spotted outside the label's show.
Embrace the arrival of sweater weather with a vibrant style.
Tiffany Hsu wore an Attico blazer as a dress. Then, the Fashion Buying Director accessorized with green heels from the brand and a Chanel bag.
Gabriella Karefa-Johnson styled a DMX graphic tee with a plaid mini skirt and Mary Janes.
Lois Opoku added a hint of color to her plaid ensemble via an orange Ferragamo bag.
Give a black and white ensemble some excitement with neon sunnies and boots.
Maria Bernad went with a dreamy cotton candy-looking outfit for the Coperni show.
One way to try out the animal print trend this fall is with a snake print mini skirt.
A navy suit will always be incredibly chic.
Yes, primary colors can be a surprisingly elevated color scheme.
Rajni Jacques mastered the art of unexpected print mixing.
Add an animal print top to a simple blazer and jeans ensemble.
Ellie Delphine knows a thing or two about playing with bold hues.
Model Paloma Esesser went with a Chopova Lowena skirt and Adidas sneakers for her off-duty look.
Aleali May is on board with the primary color trend at fashion week.
Jessica Willis and Lindsay Peoples Wagner are clearly very happy to be back to an in-person fashion month.
Julia Gall, Style Director at Marie Claire, looked oh-so-cozy in a fuzzy floral cardigan.
Found: Your next Saturday night going-out ensemble.
According to Shiona Turini, it's time to start wearing red, hot pink, and turquoise all together.
There's no way not to feel a bit of giddiness from looking at this joyful outfit.
Paris Fashion Week Spring/Summer 2022 Street Style: Day 3
Tiffany Hsu co-signed the cargo denim trend.
This show-goer wore a bright green snake print jacket and Telfar bag.
Yes, you do need a pair of slime green boots this fall.
Courtney Trop brought a lot of sunshine to Paris with her vivid yellow leather ensemble by Courrèges.
Spruce up your denim with a printed top and statement necklaces.
Blanca Miró Scrimieri arrived at Courrèges wearing a leather mini dress and leather jacket from the label.
Chloé Harrouche kept things simple with a polished white set and oversized tote bag.
Shiona Turini wore a Proenza Schouler top, Christopher John Rogers skirt, Telfar bag, and Jimmy Choo heels.
Try wrapping the laces of your heels around your trousers.
Furry bucket hats are making a comeback in Paris.
Annabel Rosendahl went with a yellow top from Cecilie Bahnsen.
Sophia Roe opted for a top from The Frankie Shop, trousers from The Garment, and a Chanel bag.
The fashion set is not holding back when it comes to styling green pieces.
Bettina Looney teamed an embellished blazer with Jeanerica denim.
Oumayma Elboumeshouli sported a Cecilie Bahnsen dress and a Coperni bag.
Rajni Jacques strolled around Paris in a pair of chunky over-the-knee boots.
A+ for Pernille Teisbaek's glitzy accessory game.
Marta Cygan wore an eye-catching Acne Studios look to the show.
Stephanie Broek made her Acne Studios trench an off-the-shoulder style.
Aimee Song wore a head-to-toe purple getup by Acne Studios.
Maria Bernad matched her eyeshadow to her Acne Studios dress.
Paris Fashion Week Spring/Summer 2022 Street Style: Day 2
A baby blue top and silver pendant is the combination you didn't know you needed to try, until now.
As always, Alice Barbier and Js Roques coordinated outfits in a creative and cool way.
Ground a quirky printed ensemble with a polished trench coat.
Bottega Veneta's beloved Jodie Leather Hobo Bag made its way to the streets.
Sai De Silva wore a Dior ensemble to the brand's show.
Tiffany Reid displayed the perfect way to wear multiple animal prints via her Tom Ford top, Jimmy Choo bag, and Jacquemus skirt.
Get in on the mini-skirt trend with a metallic style.
Lisa Aiken pulled out a lace dress from Prada's Fall 2008 collection.
Nina Urgell Cloquell wore a cool cutout dress by Ottolinger for the label's show.
Vanessa Hong arrived wearing a Fyo͞ocher top and Paco Rabanne bag.
This attendee is showing just how stylish camo can be.
Paris Fashion Week Spring/Summer 2022 Street Style: Day 1
Street style star Susie Lau left Milan for Paris and arrived wearing a cool denim jumpsuit and Hermès bag.
Here's your cue to try out an edgy leather trench coat this fall.
This show-goer paired her gold Maison Margiela flats with wide-leg jeans.
BDG's Vice President of Fashion, Tiffany Reid, landed in Paris sporting a purple Tibi jacket.
If you're new to the print-mixing game and not sure where to start, try marrying a striped top with checkered trousers.
Looks like the fashion set is still making a strong case for wearing your bra over your blouse.
This attendee pulled out a statement puffer jacket a bit early but nailed the look with the matching printed pants.
How many patterns are too many in one piece? Well, according to this show-goer, the more, the merrier.
If you can believe it, pairing together brown and black didn't always have the fashion crowd's stamp of approval. But, the attendee above proves the duo can be quite chic.
Find a friend who is just as obsessed with quirky prints as you are.
This fashion girl displayed the perfect outfit recipe for minimalists: A classic white blazer and cool combat boots.
Statement pants are expected to be one of the dominating trends this fall, so snag a striking pair like this show-goer's plaid iteration from Jacquemus.