This '90s Accessory Is Winter's Next Big Instagram Trend
@accidentalinfluencer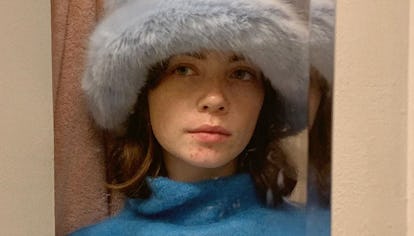 Bucket hats have returned as a headwear staple both in summer tie-dye and fall-ready plaid. But it's taken time for a wintery iteration to enter the zeitgeist, but it's here at last. The furry bucket hat trend is now popping up all over Instagram. It's attention-grabbing look might be intimidating, especially since current favorite iterations are not only fuzzy, but brightly colored. But, the look is surprisingly easy to style with the right inspiration (you need only look at the plethora of options from Fendi's Fall/Winter 2020 men's show to see the hat's versatility). "Bucket hats were such a huge staple of the summer 2019 look, so it's only natural to translate that trend for winter," explains Hannah Baxter, an influencer and senior beauty editor at Coveteur, who's a fan of the trend.
On Instagram, under-the-radar labels are helping to propel the return of the '90s-era accessory, namely emerging designer Emma Brewin. "Customers are buying more consciously, allowing smaller brands to be really supported and appreciated," Brewin tells TZR on the rise of her Influencer-beloved hat. "We still make every hat from start to finish in-house and source all of our fabrics, labels and packing from UK based suppliers and everything is made to order so we don't have any end of season waste." The brand's oversized, ultra-fluffy hats are already endorsed by trendsetting twins Reese and Molly Blutstein, and are already sold on Net-a-Porter, so expect to see more appearances in the months to come.
For those wondering how best to incorporate the look, take Baxter's advice: "Personally, I see them as a more comfortable alternative to beanies, which tend to flatten my wavy hair and bangs. Plus the '90s revival is still going strong, so why shouldn't it apply to hats, too?"
Below, find 11 furry bucket hat outfits that will *probably* influence you to try the trend out yourself.
Furry Bucket Hat Outfit + Bright Bag + Leopard Boots
Make your accessories the standout elements of an everyday look. Opt for a bright colored bag and animal print boots to pair with your furry bucket hat.
Furry Bucket Hat + Statement Sweater
A statement sweater and jeans are a classic winter combination. Take things up a notch by finishing the look with a brimmed hat, a more sophisticated option than a beanie.
Furry Bucket Hat + Shearling-Lined Coat
A classic pilot's jacket gets an instant dose of fun nostalgia with the addition of a bright hat.
Furry Bucket Hat + Neutral Knit
If the wilder iterations of this trend aren't for you, pair your hat with a simple, neutral sweater. Consider keeping your jewelry minimal and finish off the look with loafers and a leather tote for a classic ensemble.
Furry Bucket Hat + Polished Blazer
A furry bucket hat is undeniably playful, but you can easily elevate it by pairing the accessory with a polished blazer.
Furry Bucket Hat + Sweatshirt
For a cosy weekend look that's next to no effort, style with your favorite sweatshirt.
Furry Bucket Hat + Polished Jacket
"I love anything cow print these days," Baxter notes. "I particularly like to wear this one with a vintage oversized camel coat that can read formal with the wrong styling. The hat keeps the look feeling youthful and fresh."
Furry Bucket Hat + Patent Pieces
Winter is the ideal time to play with texture, so consider styling your bucket hat with sleek patent or leather pieces.
Furry Bucket Hat + Color-Coordinated Top
Consider matching your hat to your apparel for a cohesive, monochromatic look. Try out a fresh pastel to boost your mood, even on the cloudiest winter days.
Furry Bucket Hat + Wool Coat
For chilly days when you need extra polish, choose a shearling hat in a neutral hue, like beige. It'll be less flashy than a bold color, so it's a subtle way to try out the trend.
Furry Bucket Hat Outfit: Black Furry Jacket + Furry Bucket Hat
Go full on furry by pairing your fluffy bucket hat to an equally cozy jacket. The texture and volume play well together, especially when you stick to one color palette.