The 15 Biggest Paris Fashion Week Fall/Winter 2022 Trends
The best from fashion month's last leg.
Christian Dior, Dries Van Noten, Saint Laurent.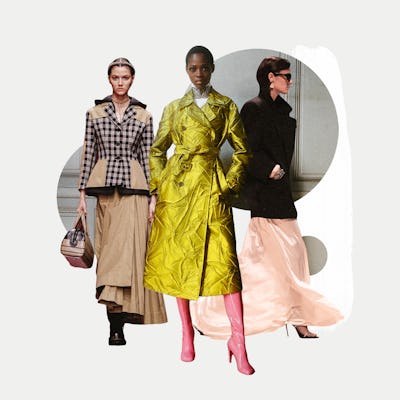 The final leg of fashion month has concluded, and the biggest Paris Fall/Winter 2022 trends have revealed themselves. Indelible drama is not uncommon in the city of lights, and the new season points to distinctly fresh takes on boldness. First up, armor-inspired wares as seen on the Christian Dior, Balmain, Rochas, and Paco Rabanne runways. Consider it a Regencycore renaissance of sorts wherein prim and delicate details remain, but with a defensiveness inspired by battle-ready chain mail and hard-shell metal plates. A nouveau Gilded Age similarly emerged as the season's new take on metallics freshly juxtaposed with sporty accents like windbreakers, slouchy jeans, and skater sneakers. Plus, Art Deco opulence — a theme witnessed throughout New York, London, and Milan — including flapper-esque fringe and beading.
Perhaps most unexpectedly, a futuristic thread weaved throughout all three enchanting aesthetics, and others outlined ahead. Designers pointed to an intergalactic and metaverse tomorrow through space-age-inspired motifs and technological touches for traversing the unknown. However, the intention isn't necessarily a head-to-toe futurism look, at least not yet. Instead, the concept combines layering pieces like jackets and accessories from shoes to jewelry with regular wares, like Balmain, Christina Dior, and Louis Vuitton showcased.
More traditionally speaking, the French are also masters of classics, continually refreshing wardrobe staples with a contemporary zeal. Like, denim. Expect the baggy bottoms trend to continue in the cool-weather months ahead, including raver-inspired distressing styled alongside oversize tailoring and corseted waistlines for contrast. Then, of course, coats made a strong statement on the Parisian runways, including ultra-cozy plush fabrics and uniquely quilted puffers to envelop yourself in, as well as smartly tailored dusters both for daytime and evening. As for fall and winter blouses, dresses, and jackets, shapes are tending ultra-feminine with soft curves proving their prominence on shoulders, sleeves, and skirts.
And as the three legs of fashion month established ahead of Paris, the Y2K fashion reign is far from over. Indeed, midriff-baring tops, pants, and skirts, cutout bodycon dresses, and skin-baring silhouettes mischievously nodded to the Aughts in the French fashion capital. At the same time, a rogue take on schoolgirl uniforms and country club court style revealed a prepster staple redux to pleated skirts, varsity sweaters, and shirting. And of course, what would a cold-weather wardrobe be without traces of checks and plaid? Expect exaggerated windowpane, buffalo, and houndstooth motifs cladding coats, blazers, and trousers in the season ahead. For mega impact, take a cue from the Off-White runway wherein large-scale checks were sharply styled head-to-toe, further establishing the skirt over pants trend first spotted in New York.
Keep reading for a more detailed breakdown of the 15 biggest Paris fashion week trends — trust, you'll want to bookmark these for your next season shopping.
School Girls Gone Rogue
Designers like Miu Miu, Marine Serre, and Rokh, among others, showcased an angsty prepster mood as the new wave of the buzzy country club aesthetic. Think midriff and leg-baring miniskirts and tops, punk accents, and varsity-inspired athleisure staples juxtaposed with smartly tailored blazers and knits.
Nouveau Gilded Age
Louis Vuitton. Victor VIRGILE/Gamma-Rapho/Getty Images
Next season's take on metallics takes inspiration from the Gilded Age but reimagined through day-to-style styling cues. The formula: high-octane pieces like a feather-trimmed sequin coat or beaded fringe pants downplayed with practical pieces like slouchy jeans, a sporty windbreaker, or sneakers for contemporary cool.
Suit Yourself
Twists on tailoring prevailed in all four cities throughout fashion month, but skirt suits proved a distinctly Parisian take, with an air of nostalgia spanning the decades from a Mad Men-era '60s to a late '80s Working Girl. Mini silhouettes, more specifically, are the It look, ranging from classically trimmed tweed to sleek and sculptural shapes.
Deco'd Out
Themes of a 1920's flapper era shined through in New York, London, Milan, and finally, Paris, but with a decidedly 2020's twist in all four cities. Designers like Miu Miu, Givenchy, and Sacai modernized the deco-inspired opulence with rebellious layers of leather, latex, and tailoring, though never in a way that shrouds the shimmer-and-shine glamour.
Biker Babe
Ludovic De Saint-Sernin. Estrop/Getty Images
Coperni. Victor VIRGILE/Gamma-Rapho/Getty Images
Leather is a fixture in every fall and winter wardrobe, and designers delivered on new takes for the 2022 season. New York showed sleek tailored sets, and Milan exhibited S&M silhouettes. But in Paris, a biker babe vibe came through via sensual dresses and rider-ready separates, including tops and bottoms.
Bare Minimum
Coperni. Francois Durand/Getty Images
Skin continues to be in with a Y2K flare for fall — the New York, London, Milan, and Paris collections all proved it. If you haven't already, prepare to embrace bodycon shapes, courageous cutouts, dropped waists, and mini hemlines aplenty — perhaps not daily, but for night-out style.
Dust(er) Collector
Fall marks the dawn of coat season, and one timeless silhouette to ground your assortment should unquestionably be a tailored duster. New York kicked off the full-length outerwear trend, with leather, metallic-flecked, and textured renditions at Khaite, Bevza, and Altuzarra. Valentino and Nina Ricci closed the loop in Paris, with lively and pastel shades for day and night. Plus, an impeccably cut black floor-skimmer from Courrèges, suited to casual and elegant outfits alike.
Cozy Coats
Coperni. Victor VIRGILE/Gamma-Rapho/Getty Images
As the Paris runways would indicate, no Fall/Winter 2022 outerwear collection is complete without an exceptionally plush style to envelop yourself in on the coldest days. Go for teddy-bear-like shearling, similar to Chloé's cocoon-like silhouette. Or, cozy up in colorful faux-fur, like Coperni and Stella McCartney both showed in their collections.
Puff Piece
Rick Owens. Peter White/Getty Images
Puffer coats are no longer a pragmatic-only winter piece as designers continue to churn out statement-making iterations. The 2022 season is no different, as impactful quilted designs presented themselves, from beautifully printed versions to deconstructed and intricate detailed silhouettes.
Racy Lace
If you thought bodycon stretch dresses were the only thing on deck in the sexy department, think again. A racier take on lace proved a prominent Paris trend, from Valentino's romantic albeit risqué's sheer blouse to lingerie-revealing dresses and jumpsuits, seen at Lanvin and Saint Laurent, respectively.
Cool Catsuit
Hermès. Estrop/Getty Images
While the jumpsuit is a universally beloved wardrobe staple, the catsuit is mainly embraced by those who tend boldest. This trend began bubbling up last season but firmly established itself as a key Fall/Winter 202 look. The good news? Versions about for all tastes, like Stella McCartney's ribbed knit all-in-one to Hermès' and Christian Dior's luxe leather and embellished futuristic versions.
All Knighter
In place of ultra-pretty puff sleeves and pearls, designers like Christian Dior, Paco Rabanne, and Rochas delivered a Regencycore redux for Fall/Winter 2022, wherein armor-inspired fashion reigns supreme. Think chainmail and metal-plate-inspired dresses, tops, trousers, and skirts.
Curves In All The Right Places
Femininity is far from over in the season ahead. As seen in Dries Van Noten, Courrèges, and Rochas' collections, romantic curves will be a signature detail to seek out for fall and winter, including softly draped blouses with billowing sleeves and rounded shoulders or seams on jackets and suits.
Checked Out
As witnessed in designer collections like Nanuhska, Ami, and Off-White, timeless checks see a refresh for Fall/Winter 2022, from dramatically draped capes and layered tailoring in largescale plaid prints to oversize and impeccably cut houndstooth outerwear.
Baggy Lady
As '90s and '00s fashion continues to command the trend circuit, slouchy bottoms with a rebellious tone are essential next season, including baggy jeans with unruly elements like tattered edges, patchwork, and cargo pockets. Oversize blazers and corseted tops are key for polished juxtaposition when styling yours.
This article was originally published on