The Street Style Looks From Milan Fashion Week Fall/Winter 2021 You Won't Want To Miss
Italian girls know a thing or two about mixing prints.
Darrel Hunter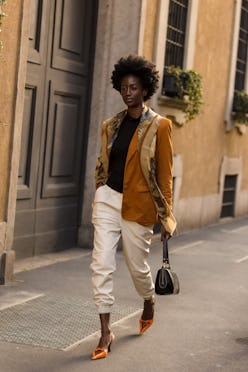 This fashion month, the chatter of attendees before and after the shows outside of Spring Studios in New York was replaced with the sound of shovels and salt trucks. As for London, the calendar was much more limited compared to seasons past, as were the streets. However, things are livening up now that the festivities are kicking off in Italy. In fact, the Milan Fashion Week Fall/Winter 2021 Street Style perhaps makes up for the quiet past few weeks.
If you follow street style closely season after season, you know that Milan has its own unique flair, usually consisting of funky prints coupled with bright hues. And, this season was no different. Day one presented an array of eye-catching ensembles from trendsetters (see: influencer Tamu McPherson who arrived in a bright blue plaid Jacquemus jacket with yellow trousers and a neon green Bottega Veneta bag). Luckily, key designers like Fendi, Prada, Moschino, and Valentino are still on the docket this season, which means the streets of Italy will be buzzing with can't-miss ensembles.
The endless snow and gloom might have you feeling a lack of creativity, but, get ready to be inspired once again. Ahead, find all the best street style looks shot by photographer Darrel Hunter from Milan Fashion Week Fall/Winter 2021. And keep checking back for more outfits as the week goes on.
MFW Fall/Winter 2021 Street Style Day 5
Style a mini skirt with a leather trench for a transitional ensemble that feels so cool.
Whether you're actually into comic books or not, there's no denying the print is fun to wear.
A pinstripe blazer will always be in style. Throw one over an athleisure outfit for an instant boost.
On those unpredictable weather days, opt for a patent jacket that can serve as a raincoat.
Might as well match your mask to your handbag.
Who knew a snake ring could be so chic?
Velcro sneakers offset a bright pink ladylike dress.
Influencer Tamu McPherson has mastered the art of layering. Here she's wearing JW Anderson's must-have mules and carrying a Bottega Veneta clutch.
Bored with your go-to jeans? Consider a cool patchwork style.
MFW Fall/Winter 2021 Street Style Day 4
Make a crisp white button-up feel different by layering a contrasting black top underneath it.
Clash prints through a jacket and handbag.
Yes, rainboots can appear chic. Just style them with luxe separates.
Fringe looks cool and is fun to walk around in.
Finish off your look with a heel in the same hue as your jacket for the perfect amount of matching.
Layer on sporty jackets for an athletic look.
Elle Woods would approve of this all-pink ensemble.
MFW Fall/Winter 2021 Street Style Day 3
Dress for summer a bit early this year by incorporating bright shades like orange and yellow throughout your outfit.
Chunky gold jewelry instantly takes any ensemble to the next level.
A grey crewneck and sparkly trousers are the outfit combo you never knew you needed to try (until now).
A platform sneaker gives you the height of a kitten heel, without the pain.
If you're traveling to the shows on a bike or scooter, a helmet is a must-have accessory.
For a more relaxed take on a suit, try a jacket and trousers in different patterns.
Looking for a new WFH uniform? Try polished on the top with a blazer and dainty jewelry and on the bottom, go for your athletic pieces.
A statement jacket is all you need to liven up a jeans and boot combo.
Velvet doesn't have to be overly fancy. Style a bottom in the material with chunky sneakers for a pared-back approach.
Add a pop of color to a neutral trench coat outfit through a handbag.
MFW Fall/Winter 2021 Street Style Day 2
Balance out a high-cut bodysuit with casual sweats and a fun patterned scarf.
If you forget what it feels like to not wear slippers, ease into real shoes with a pair of luxe furry slide-on loafers.
Keep things casual on the bottom with relaxed trousers and slide-on sandals, but for the top half of your look, go for an exciting camo hat and a brown leather jacket.
If you're in need of inspiration for styling your go-to black jeans, pair your sporty Nike high tops with a designer bag and versatile olive jacket.
Further evidence that the knit hat trend is going to be everywhere this spring.
An adorable cloud sweater adds a whimsical touch to any look.
Add color to an all-black ensemble via a printed jacket.
This show-goer styled her oversized Telfar bag with luxe basics like a fur-lined leather jacket and polished loafers.
The trousers tucked into boots trend is still alive in Milan, as proven by a showgoer in Prada's poplar lug-sole boots.
Match a bucket hat to a furry jacket for a cohesive look.
When the spring weather (finally) arrives, ditch your puffer jackets for a leather blazer.
MFW Fall/Winter 2021 Street Style Day 1
Eager to wear your sparkly shirt from New Year's Eve once again? Give it another spin with relaxed khaki trousers.
Give a polished suiting getup a sporty twist by styling it with a t-shirt and throwing a cool baseball cap on.
Try belting an oversized jacket to make it look more like a dress.
Don't stop at just a corduroy jacket — try a coordinating lieutenant hat, too.
Tamu Mcpherson proved that Italian style is alive and bolder than ever.
Fur (or faux fur) gives the perfect amount of texture to a denim and boot combo.
If you're not ready to pull out your heels or loafers quite yet, complete an elevated look with a classic sneaker, like Adidas' Superstars.
When it's a tad too chilly to wear a dress on its own, layer your favorite jeans under it.
A skinny kitten heel boot perfectly balances out loose flared jeans.
Instead of a matching suit, try a separate jacket and bottom in slightly different shades.
A vibrant red dress doesn't need much accessorizing, so all you need is a chic bootie to finish off the look.
A structured blazer on top of a voluminous dress can make everything appear a bit more put together.
Once the sun appears again, show a bit of leg. When styled with multiple layers on top, a high slit doesn't seem overly revealing.
Don't write pets off as an accessory, but they sure do look cute when they happen to coordinate with your go-to ensemble.
This article was originally published on