30 June Outfit Ideas To Get You In A Summer Mindset
@abimarvel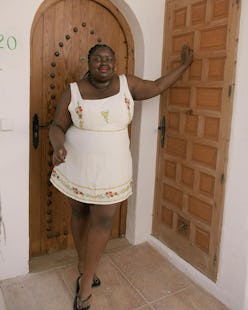 We may receive a portion of sales if you purchase a product through a link in this article.
When was the last time you made a summer bucket list? Maybe 10 years ago? Perhaps even 20? Sure, it may seem like a juvenile activity, but there's no reason why you can't create one as an adult, too. Take a trip to Coney Island, learn how to surf, explore new hiking trails — go ahead, add 'em all to the docket because you deserve to do the absolute most this upcoming season. Of course, you'll also want to come up with some easy, reliable June outfit ideas to wear as you check off the activities on your agenda one by one. After all, there's no time to waste stressing over what to put on when you can be outside enjoying the glorious sunshine.
To help kick off your sartorial journey, TZR has gathered 30 cute looks to try this June. Below, you'll find that some outfits are primed for dressy summer soirées, such as a relative's beach wedding or your best friend's birthday outing. Meanwhile, others are better suited for Friday afternoons after you shut your laptop and head to the local park (at least, that's where you'll catch this TZR editor over the next few months). And as always, you can shop each style, too. Happy start of summer, fellow fashion lovers.
Silky Smooth
Chances are you have at least one wedding this summer. If you're still on the hunt for an outfit, consider a timeless slip. Post-ceremony, you can wear the number with sneakers instead of heels.
Casual & Cool
Listen to your dermatologist: Sunscreen is a non-negotiable for summer. For extra precaution, throw a cute baseball hat on as you are lounging by the pool.
Bring The Heat
The red color trend is still picking up speed this summer. For those who have yet to tap into the look, a maxi skirt is a fantastic start.
One-Piece Wonder
Whether you're hitting a Soul Cycle class or have a bajillion errands to cross off your to-do list, an athleisure jumpsuit is a foolproof outfit choice for all these activities.
Fancy Footwear
Younger you would lose it over these cherry red Mary Janes. If you're feeling nostalgic, pair the shoes with a Y2K-inspired piece, like cool cargo pants.
Cinch It
A fun belt can transform every look, so consider adding an of-the-moment iteration to your accessories collection.
Summer Whites
A can't-go-wrong summer outfit consists of a neutral sleeveless top plus a matching maxi skirt. (Just steer clear of food and drinks that can possibly stain your cute attire.)
A+ Accent
Pearl necklaces are the look du jour these days (see: the Met Gala red carpet), and it's easy to see why. The luxe style makes any — and we mean any — outfit look put together.
Hit Knit
You can wear a striped sweater year-round, but rather than a toasty wool style, opt for a lightweight version in the perennial pattern for summer.
Green Queen
Whenever you need an instant mood boost, a vibrant handbag is the way to go.
A Bright Idea
Elle Woods would definitely approve of this hot pink blazer (especially for all those law classes). Bonus points if you rock a trouser in the same flirty hue, too.
Jorts Season
There's nothing worse than strolling around the city in a pair of jeans on a hot summer day. Denim Bermuda shorts, however, are a good alternative.
Flower Power
Trade in your trusty gold necklace for a cult-favorite Anthurium Charm from Loewe. And make sure to share a pic on IG because this is a look you'll definitely want to document.
Matchy Matchy
A two-piece set is the secret to looking cute with zero effort required.
Beach Bound
Make June the month you experiment with fun hats. A straw silhouette is a great place to start if you are heading to the shore.
Dive On In
A long-sleeve swimsuit might sound, well, toasty, but if you're going to the beach this month, you'll be happy you brought it as you're stepping into the semi-chilly water.
It's Party Time
If you don't feel like wearing dresses, a pair of sparkly pants will serve you well this month, as you likely have plenty of events that call for a glitzy look.
Get Pumped
Denim heels may not be your first shoe choice, but the design is surprisingly super chic.
To A Tee
On days when you want to look cute and feel comfy, reach for a fun graphic t-shirt.
Luxe & Laid-Back
Designer sporty sandals, like Chanel or Prada's versions, don't skimp on style. Wear yours with a classic tee and jeans mash-up.
Turn Up The Volume
Fact: A white puff-sleeve blouse is a summer mainstay. For an evening out, team the staple with a flowy skirt and strappy pumps.
Jean Scene
Not quite sure if the Saturday night vibe skews more casual or dressy? Opt for leather denim, like AGOLDE's cult-favorite look — problem solved.
Shore Thing
Invest in a cover-up that can be worn off the beach, too, such as a crochet or eyelet style.
Head Over Heels
Orange pumps may not be suitable for everyday wear, but they'll make a bold statement at weddings or work events.
So Slouchy
Tibi's social media-famous Quinn jeans will give your trusty denim a run for its money. Pair the bottoms with a simple tee or dressy blouse.
24/7 Swim
There's no need to change out of your swimwear after the sun goes down. Throw a blazer over the look, and you're ready for oceanfront cocktails.
Dress To Impress
Floral dresses are synonymous with summer. Should your collection need a refresh, start your shopping with a fun flutter-sleeve iteration.
Sheer Perfection
Hit the party circuit this month in a sultry see-through top. The look is ubiquitous as of late, and there are no signs of that changing soon.
Print Paradise
Easy to style, a quirky short-sleeve shirt takes the guesswork out of getting ready in the mornings.
All-Day PJs
Cute, cozy, casual — what's not to love about boxer shorts? Plus, they're an excellent WFH bottoms.