The 2023 Met Gala Is Putting Statement Pearls Back On The Map
They're a Lagerfeld signature, for sure.
Dimitrios Kambouris/Getty Images Entertainment/Getty Images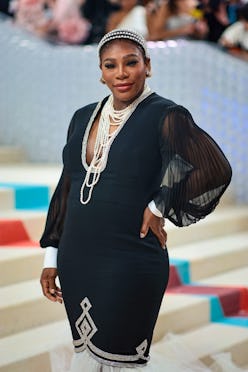 As the theme of the 2023 Met Gala is the prolific work of Karl Lagerfeld, it comes as little surprise that the late designer's calling cards are all over its red carpet, including feathery silhouettes, dandy-esque dressing, and floral appliqués galore. But perhaps one of the most obvious nods to the fashion luminary's work may be this evening's overwhelming presence of the pearl trend.
Some celebrities arrived with just a hint of a delicate jewelry look — see the gleaming white straps of Salma Hyeck's va-voom red gown — while others, like Kim Kardashian, were completely dripping in luminous strings. Then there was Karlie Kloss, who announced her second pregnancy to the world by debuting her growing bump draped in '90s-inspired pearl belt.
Lagerfeld is well known for his frequent use of the opalescent detail during his 36-year tenure at Chanel, but here's a lesser-talked about fact: It was actually a house signature inherited from its founder, Coco Chanel. But where she was known for her elegantly layered long strands of beads, Lagerfeld took the idea and turned it on its head by deconstructing necklace to adorn everything from bouclé jackets to luxe handbags. His masterful use of pearls in beautifully unexpected ways ushered in a new era at the historic French brand, and it's been at the top of its game ever since.
Luckily for us hungry fashion fans, tonight's A-listers were equally inventive in their takes on the lustrous accent — see the best looks below.
Kim Kardashian
Perhaps the only thing that outshone the reality star this evening was the presence of her daughter North in a photograph taken outside the Ritz-Carlton hotel (one of many dynamic duos spotted tonight).
Lizzo
Beyond her beaded embellishment, the singer also nodded to Lagerfeld with a bold black and white color scheme.
Karlie Kloss
Congrats, Karlie! The model subtly announced baby number two by accentuating her midsection with precious pearls.
Ava Max
Lagerfeld was also beloved for his extraordinary romantic wedding dresses, so the singer's pearl-encrusted gown here feels doubly fitting for tonight's occasion.
Salma Hayek
While the actor only has a hint of necklace-like strings on the sleeves of her curve-enhacing look, the addition makes all the difference.
Serena Williams
We are also sending our very best to the tennis star and entrepreneur, who shared the news of her second pregnancy as well while adorned with dainty pearl jewelry.
Phoebe Bridgers
The singer put such a cool, moody stamp on the accent by opting for a black chiffon base with white pearl trimming.