Haute Couture Week's Biggest Trends Were All About An Audacious Sense Of Style
Peter White/Getty Images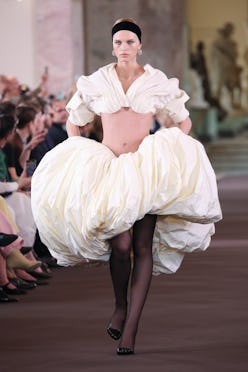 Haute Couture Week is on in Paris. This means that all over the city, designers are setting up shop to showcase their most intricate (read: expensive) designs and Fall/Winter 2023 trend predictions. Chanel's Haute Couture show took place on the cobblestones along the Seine, while Dior hosted its presentation in the Musée Rodin garden. Not one to be out done in location, first-timer Thom Browne took over Palais Garnier, an opera house, to debut a collection of signature gray suiting pieces.
The dramatic settings, of course, only amplified anticipation for the clothes. After all, couture collections are the result of labor-intensive craftsmanship from luxury ateliers. Most of the brand's customers are VIP clientele, looking for custom pieces or one-of-a-kind designs to hang in their expansive closets until the right occasion calls for it — like a red carpet event or charity gala. But, even for the shopper who may find buying the clothes to be out of reach (or impractical), Haute Couture often provides a larger source of insight into the creative motivations of designers. These collections — done with bigger budgets and access to the world's best craftspeople — are meant to delight and inspire.
While quiet luxury has dominated the conversation around high-end fashion over the last few seasons, here you'll see plenty of dramatic creations — from bold rosettes that look as if they've been plucked fresh from the bush to dramatic armor-inspired looks meant to protect the wearer from whatever modern dangers may be on the horizon. These are not your average everyday outfits.
Ahead, explore a selection of upcoming trends worth noting straight from the runways.
Stop & Smell The Roses
Floral motifs are nothing new, but for fall/winter, the garden blooms eternal. Embroidered and printed roses emerged, splashed across elegant gowns most notably at Armani Privé, Chanel, and Giambattista Valli. Additionally, 3-D rosettes are an important piece of the trend, with textured designs sprouting on the looks at Armani Privé in particular.
Suit Of Armor
Jean Paul GaultierPascal Le Segretain/Getty Images
Alexandre VauthierWWD/Getty Images
Clothing meant to serve as a sort of armor appears throughout the couture collections — there's the literal translation (see Balenciaga's Joan Of Arc-inspired look), and the more suggestive take from Alexandre Vauthier. While these full-body looks might not translate to an outfit for a Hinge date or your commute on the subway, the sentiment of dressing as a form of protection is worth carrying into everyday life.
Dune-Core
While the second film in Denis Villeneuve's Dune series won't be out until November, designers seemed to have the deserts of Arrakis on the mind. Futuristic, floaty dresses and dramatically draped and hooded styles worthy of a high priestess were present across major runways from Schiaparelli to Iris van Herpen. But which look will Zendaya choose for her press tour? It remains to be seen.
Modern Bride
Between beachy destination weddings and courthouse ceremonies, modern brides are looking for a dress that doesn't just fit the standard princess silhouette. For fall/winter 2023, Chanel, Rahul Mishra, and Thom Browne are just several designers catering to this group. They think outside of the box and offer their customers something that is unexpected, and hyper-specific to whatever type of wedding they're choosing to have.
Caped Crusaders
No matter how up-to-date (or not) you are with the Marvel cinematic universe, the profound resurgence of superheroes means that spandex catsuits and capes have also made their way back into the larger fashion lexicon. But this is couture so the pieces are not stretchy squares of fabric, they're elegantly draped creations, adding volume and a dramatic flair to even the simplest runway ensemble.