Your Look At The Best Fall 2021 Fashion Campaigns
All the outfit inspo you'll need.
Courtesy of Jimmy Choo/Pierre-Ange Carlotti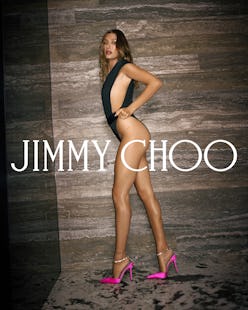 Fashion brands move at a lightening speed in terms of debuting seasonal collections and dictating the trends. One day skinny jeans are in, and the next they're replaced with low-rise cutout styles. The fast-paced trend cycle keeps fashion girls on their toes, though it also means you can sometimes miss a piece of information or two — are bralettes still trendy?? Luckily, if you can't recall what went down the recent runway and need a quick refresh on what's coming up for the season, the Fall/Winter 2021 fashion campaigns will keep you updated. Labels like Prada, Fendi, and Coach have released their seasonal ads, which often recaps what the next It products are.
Aside from the strategic product placements within the campaigns, the ads often feature notable celebrities and models beloved by the fashion house. Naomi Campbell starred in Michael Kors' Fall/Winter 2021 imagery while Jennifer Lopez reprised her role as one of the muses for Coach. The ads provide a way for you to catch up on anything you might have missed the first time around, whether it's the latest runway look or must-have product. Of course, the photos also serve to entice you to make a wish list of new fall/winter items you need. (Everyone's going to want those zipper pouch Prada gloves.)
Scroll ahead to see the best fall fashion campaigns because you don't want to be too far behind on knowing what will be "cool." This post will be continuously updated with more news from brands as they're released.
Net-a-Porter
Net-a-Porter's fall campaign zooms in on the joy and happiness of self-expression and individuality as expressed through fashion. In particular, this season its customers are gravitating towards "Power Designers." Think the likes of Loewe, Valentino, or Saint Laurent. You'll notice Net-a-Porter is leaning into cheerful hues from Bottega Veneta with sprinkles of neutral-toned dresses from Chloé to balance out the group. "As our customers return to normality, be it the office or social events, our aim at Net-a-Porter is to ensure that we're delivering the ultimate curation of must-have pieces and cult items for their wardrobes," said Lea Cranfield, Chief Buying & Merchandising Officer, in a statement.
Chanel
The Chanel Fall/Winter 2021 campaign celebrates the joy of winter sports. Photographer duo Inez & Vinoodh shot models lounging on banquettes with a view of the peaks and posing in the snow — all are wearing the latest It items from Chanel. Keep your eyes on the must-have pieces for the season like shearling two-tone coats, layer-able sweaters, and black quilted dungarees printed with the letters of Chanel. The collection will be available in boutiques starting September 2021.
Jimmy Choo
Hailey Bieber stars in Jimmy Choo's Fall 2021 campaign titled "Time To Dare." The photos were shot in Los Angeles by photographer Pierre-Ange Carlotti and explore exaggerated panoramas and intimate close-ups of the model. "Hailey is the embodiment of the Jimmy Choo spirit today — glamourous, sexy, alluring, daring, and confident. She perfectly encapsulates the DNA that is the core of our brand," said Sandra Choi, Jimmy Choo's creative director, in a statement. "I love her energy, style, and her innate confidence that comes through in each of the images."
Burberry
Burberry's Chief Creative Officer Riccardo Tisci wanted the Fall 2021 campaign to highlight the importance of creativity. "I collaborated with the incredible Katy England on the styling for the campaign to create a beautiful and powerful fluidity across both juxtaposing images, and I am so excited to have also worked with Mert and Marcus and Chris Rhodes to bring them to life through each of their unique lenses," said Tisci in a press release. Above, classic studio stills are juxtaposed with bold, candid shots captured backstage to show different points of view.
Tommy Hilfiger
Tommy Hilfiger's Fall 2021 campaign, entitled "Pass the Mic," stars Yara Shahidi, Anthony Ramos, Jack Harlow, Wizkid, Kim Soo-Hyun, and DJ Cassidy. The idea behind the campaign is that everyone has the power to affect and change the world, because voices speak volumes. Focusing on a specific topic, each star inspires fans by asking: What inspires you to make a difference? What would you say if the world was listening? What drives you towards the future? What do you have to say? In a press release, Shahidi talked about confidence and said, "I am the 'I' in light. I am the reason the future is so bright."
Saint Laurent
Saint Laurent's Fall 2021 campaign features a host of models shot in black and white by David Sims. Instead of creating an elaborate or exaggerated theme for the campaign, Creative Director Anthony Vaccarello kept it minimalist and classic, choosing muses like Béatrice Dalle to feature. (Dalle is a French actor who starred in Jean-Jacques Beineix's Oscar-nominated drama Betty Blue.)
Kith For Calvin Klein
For Fall 2021, Kith and Calvin Klein join forces once again to debut new iterations of co-branded underwear as well as new loungewear silhouettes in elevated fabrics and textures. The New York-based labels tapped supermodel Naomi Campbell to model the pieces and the images were shot by photographer Campbell Addy at the historic Villa Necchi Campiglio in Milan. If you're in need of a comfy new bralette or an everyday tee, shop the brand new products now on kith.com.
Raf Simons
When designer Raf Simons presented his Fall 2021 runway collection earlier this year, he told Vogue his mission for the looks. "The collection is about things I love — things I have always loved, that are always there in every collection, in the processes behind it, and the clothes," he said. Key pieces from the runway collection are highlighted in the campaign ads, namely Simons' iconic quilted A-line coats and cozy headgear that will protect your ears against the wind once winter rolls around.
Vince Camuto
Vince Camuto launched a new brand vision for this season. The campaign focuses on embracing life, feeling inspired, and celebrating the here, the now, and what's to come. There's a fresh sense of optimism, a rekindled desire for self-expression, and a renewed joy in getting dressed again. Of course, for the label, this meant leaning into key fall trends like streamlined minimalist and '70s vibes. If you can't already tell from the photo above, you'll need a new pair of goes-with-everything boots from Vince Camuto asap.
UGG
For UGG's Fall 2021 campaign, the lifestyle brand highlighted two talents: Susanne Bartsch — an artist, activist, and fashion muse — and NBA's all-time leading scorer Kareem Abdul-Jabbar. "[Bartsch] really is unique. Not only has she been an unwavering champion for the LGBTQIA+ communities since the 80s but she also wears Lycra and latex better than anyone I have ever seen," said Andrea O'Donnell, President, UGG and Koolaburra by UGG at Deckers Brands, in a statement. Like Bartsch, Abdul-Jabbar has engaged in activism for underrepresented communities for years. They both model classic footwear styles from UGG.
Farfetch
Titled "The Art of Choice," the campaign introduces the idea that you can imagine newness by taking inspiration from past images to discover the unparalleled choice of fashion available only on Farfetch. The photography retrospective is curated by music artist FKA Twigs, photographer Tyler Mitchell, and architect/musician Carl Gerges with support by writer and curator Antwaun Sargent. Each modern auteurs selected a series of images from Magnum Photos' iconic 20th century archive as an ode to the people, places, style, and cities they love: London, New York, and Dubai respectively.
David Yurman
Yurman's campaign, titled "The Power of Cable" hones in on the jewelry brand's iconic cable bracelet, which was first designed in the 1980s and is now celebrating its 40th anniversary. "Cable is the river that runs through everything we do," Yurman said via a press release. "We never worry about it going out of fashion. It would be like saying, 'the circle is out of style.'" Shot in New York City, the latest imagery is part of the year-long "My New York" campaign, which celebrates the founder's home city. Highlighted throughout is a mix of classic pieces including styles from David Yurman's Lexington, Elements, and Pyramid collections.
adidas by Stella McCartney
Ella Emhoff appears in her first official campaign for adidas by Stella McCartney's Earth Explorer collection. The lineup features pieces made from recycled material (in part with Parley Ocean Plastic) and are all versatile enough to wear for your outdoor adventures. (Some hero items include the Sleeping Bag Puffer Jacket, Winter COLD.RDY Boots, and an All-in-One Shiny Bodysuit that promises to keep you warm and cozy come winter.) As the face of the campaign, Emhoff said in a press statement: "I feel a very strong connection to the environment in the sense that to continue on as a world, we need to protect it." You can shop all the pieces from the new drop on the Adidas website.
Roger Vivier
Gossip Girl fans will instantly recognize who Roger Vivier's fall campaign stars are. Savannah Lee Smith (her Gossip Girl character is Monet de Haan) and Tavi Gevinson (she plays Constance Billard's teacher Kate Keller) reunited for a photoshoot that highlighted the French luxury accessories label's iconic shoes. This included the Belle Vivier and Viv' Rangers booties, which were styled in a few different ways. The campaign, shot by New York-based photographer Heather Hazzan, captured Smith and Gevinson channeling their inner supermodels — Twiggy and Donyale Luna vibes, to be exact — in retro '60s fashion. The shoot was styled by Eric Daman, who also styles the cast of Gossip Girl.
Kate Spade New York
For the Fall 2021 campaign, Kate Spade New York highlights the magic and resilience of NYC, especially during pandemic times. In the ads, shot by photographer Gus Powell, New York-based dancers move throughout the streets of the Big Apple to a modern rendition of the classic tune "Downtown" while rocking colorful pieces from the Fall 2021 collection. (The movements were choreographed by Dylan Pearce.) Along with the campaign, Kate Spade New York will also donate $75,000 to The National Council for Mental Wellbeing in its efforts to support mental health initiatives.
Givenchy
Givenchy's Creative Director Matthew M. Williams tapped photographer Thibaut Grevet to shoot the Fall 2021 campaign. Shot in a cinematic, chiaroscuro mood, key looks, leather accessories, and jewelry appear laced in mystery. The imagery comes in a moody black shade with statement-making hardware bags shining through in the ads. The 4G handbag, in particular, this season fuses Givenchy's signature polish with a contemporary, urban attitude.
7 For All Mankind
7 For All Mankind's Fall 2021 campaign features a bright cast of artists, musicians, and creatives to represent the newest collection. (Talent includes the likes of Jordan Daniels, Lua Beaulieu, Aheem Sosa, Lucas Bin, Lexie Smith, Laurel Taylor, and Jacob Bixenman.) "With everything happening in the world, it is important to us that we celebrate mankind and the inclusivity and originality that goes with it," said Francesca Toninato, CEO of 7 For All Mankind, in a press release. The fall drop includes new denim fits like The Jo (a wide-leg jean) and cool-girl Straight styles.
J.Crew
Powerhouse Tracee Ellis Ross stars in J.Crew's Fall 2021 campaign in a series of stunning images. The new women's collection, led by J.Crew's Executive VP of Women's Design, Olympia Gayot, will focus on bringing creative and unexpected collabs back, along with the joy of self-expression and optimism through fashion. Fans of the label can expect to see sustainable cashmere offerings and new denim pieces this season.
Theory
Theory's Fall 2021 campaign, titled "In Pursuit of Tomorrow," features stars like ballerina and philanthropist Misty Copeland, actor and humanitarian Amanda Seyfried, and Jeremy Pope. They model the label's signature tailored pieces and its signature fabrics like the consciously crafted Good Wool and Good Cotton. The ads highlight individuals and communities with the energy, vision, and commitment to create a new tomorrow.
Balmain
For a completely out-of-the-box fall campaign, the Balmain team decided to produce a five-episode mini series. (You can watch the trailer here.) "After all of our endless nights of endless streaming during lockdown, everyone on the Balmain team was already well aware of the addictive power of a drama series. And I love how this choice of medium allows us to blend storytelling, music, and fashion in such a seamless manner," said Creative Director Olivier Rousteing in a statement. The plot line, if you were wondering, centers on songwriter Mya (played by Jesse Jo Stark) as she works through creative and familial issues with the help of her sibling Ari (played by Tommy Dorfman), her friend Edie (played by Ajani Russell) and the poet Noa (played by Charles Melton). The setting takes place in the outskirts of Los Angeles, at Le Rêve, a run-down motel. Who is ready for some fashion and drama?
Ulla Johnson
If you're ready for an autumnal color palette in your wardrobe (think warm marigolds and creamy whites), you'll love Ulla Johnson's Fall 2021 campaign. Models wore various pieces from the label's fall runway show, highlighting the brand's vast offerings, from puff-sleeve dresses to two-tone purses. The campaign was shot in Lisbon at the Pedreira D'el Rei Quarry, which provided a beautiful rock formation and turquoise-colored water backdrop.
MCM
MCM tapped musician A$AP Nast to star in part one of its 45th anniversary campaign. Shot in Berlin, the campaign celebrates MCM's brand ethos, which is rooted in music, travel, and mobility. The German luxury fashion house's history can be traced back to Munich in 1976, during a time of innovation in both art and music. A$AP Nast and the crew model multipurpose hybrids of the brand's signature silhouettes that enable hands-free mobility (think a cool belt bag) and futuristic, modular accessories that are suited to wear for almost any occasion. Best of all, you can start shopping the fall collection right now via MCM's website.
AMIRI
Back in April 2021, designer Mike Amiri presented his Fall/Winter 2021 collection through a cinematic film directed by Cara Stricker. For its seasonal campaign, the label will follow up with a backstage documentary on Amiri's life along with accompanying images shot by Hart Lëshkina. The documentary will follow Amiri's artistic process as he and his team work to create the fall collection. It will also discusses his personal relationship with Downtown Los Angeles, where his first studio was located in 2009. "If you're going to make a movie, what better place to do it than Los Angeles?" said Amiri in a press release.
Prada
Everyone has a different experience and relationship with their favorite Prada pieces. Its Fall/Winter 2021 campaign hones in on these feelings and encourages fans to express their emotions and sense of style how they see fit. Thus, the different imagery presented in the ads will draw out various responses from individuals depending on your personality. In addition, the must-have items highlighted within each frame — the images were shot by photographer David Sims — will give you a glimpse into Prada's fall lineup. A word to the wise: add those gloves with zip pockets into your checkout cart asap.
Fendi
For those who tuned into Fendi's Fall/Winter 2021 runway show, you'll recall designer Kim Jones focused on a tonal color palette — think caramels, flushed pinks, creams, and black — and on creating a buildable wardrobe for shoppers. (The collection was his first Fall/Winter for the fashion house.) All these themes popped up again in the fashion house's campaign imagery — models are clad in monochromatic beige outfits and each ready-to-wear piece offers versatility in one's closet. Photographer Craig McDean shot the models against the backdrop of Fendi's headquarters at Palazzo della Civiltà Italiana in Rome. If you like what you see, you can shop the winter collection right now on Fendi's website.
Coach
Jennifer Lopez and Michael B. Jordan return to star in Coach's Fall/Winter 2021 campaign, which was lensed by photographer Renell Medrano. The theme of the ads center around friendship and community, hence the stars being surrounded by a crowd of people in their photos. "When you're with friends, possibilities are endless," said Lopez in a statement. "When I'm with my friends, we don't always know what will happen next. We're just hanging out and taking it as it comes." With the campaign comes several product highlights. The brand's new Tate and Soft Tabby bags, Hitch Backpack, and the reintroduction of its iconic Rogue bag take center stage. Fans of Coach will also recognize its usual plush shearling coats and leather jacket offerings (made in collaboration with the heritage American outerwear brand Schott). If the ads don't officially signal the return of autumn to you, then perhaps the thick outerwear selections will.
Michael Kors Collection
Designer Michael Kors paid tribute to NYC's Broadway culture in his 40th anniversary collection. The Fall/Winter 2021 campaign continues this celebration. Photographers Inez van Lamsweerde and Vinoodh Matadin captured models like Naomi Campbell in some of Kors' favorite Broadway spots, from the Shubert Theatre and the Booth Theatre to a theater-lined stretch of 45th street. "When I look back over 40 years, I think about all the amazing memories, energy, and fabulous people that New York City has brought to my life and my career," said Michael Kors in a statement. "This collection, and this campaign, is a celebration of the rebirth of city life — of stepping out, finding the joy in getting dressed and making the streets your runway. It's my fantasy night out in the Theater District."
Neiman Marcus
The retailer's campaign theme is Re-Introduce Yourself, a fashion narrative that encourages customers to embrace how they, the world, and Neiman Marcus have changed and evolved over the past year. You can choose to "reintroduce" yourself through your style, love of art, and other passions. The ads, featuring your favorite luxury brands like Chloé and Carolina Herrera, were shot in Art Omi's sculpture and architecture park in upstate New York, on the Million Air runway in Dallas, and in-studio. "Like our customers, Neiman Marcus experienced a transformation of our own," said Daz McColl, chief marketing officer at Neiman Marcus, in a statement. "Re-Introduce Yourself is an opportunity for us to convey how we've evolved and share our reimagined fashion perspective and hopefulness for the future that lies ahead while inspiring our customers to stylishly and confidently follow suit."
Proenza Schouler
Courtesy of Proenza Schouler
Courtesy of Proenza Schouler
Courtesy of Proenza Schouler
Designers Jack McCollough and Lazaro Hernandez's Fall/Winter 2021 collection for Proenza Schouler touched on the label's signatures: an earthy color palette, strong confident pantsuits, and fluid, everyday dresses. Each piece feels unique, wearable, and speaks to the "cool" dresser — the brand did have It-Girl Ella Emhoff walk in its runway presentation earlier this year. For this season, there's a strong emphasis on two accessories in the collection: the Pipe Bag (a handheld tote crafted in lux bonded calfskin) and the Shearling Rondo (a puffy shearling bag that draws its influence from the brand's Rondo shoe). They will drop later this season, so be on the lookout for the purses and perhaps, start making that wish list of all the fall pieces you'll want.
Jil Sander
Jil Sander's co–creative directors Luke and Lucie Meier grew up exploring the Swiss Alps, so they brought that winter element into the brand's Fall/Winter 2021 campaign. Models, geared up in the label's latest cozy sweaters and scarves, pose on mountain tops and against snow-covered backdrops. The new ads were taken by British photographer Nikki McClarron. The focus here is on functional yet stylish fashion and accessories made for life in nature. Winter style never looked so inviting.
Salvatore Ferragamo
Photographer Vito Fernicola shot Salvatore Ferragamo's Fall/Winter 2021 imagery as an accompaniment to the brand's short film titled A Future Together. (The two minute, 33-second video was directed by legendary filmmaker and three-time Academy Award nominated Wim Wenders.) Models debut the the latest pieces from Ferragamo's seasonal lineup, which include clog-like footwear and sleek shoulder bags for everyday wear. If you're getting futuristic vibes from the imagery that's because the theme for the campaign centers on a postmodern, multi-dimensional universe as discussed in the film. The press release states: This is a campaign and collection that looks to the future in order to appeal to those who are determined to shape their own destinies in a positive fashion.
Bally
The outdoors merge with the indoors for Bally's Fall/Winter 2021 campaign, which prove the brand has ready-to-wear pieces and footwear available for any setting. Models pose against architectural and scenic locations around Switzerland while wearing Bally's new polished puffer coats, refined leather jackets, and logo accessories. (Fans of the brand will be greeted with the Bally's new B-Monogram, created by the Swiss graphics studio Offshore.) Whether you have a ski trip planned abroad or remain stateside, you'll find the multifunctional pieces you'll need from the fall collection right now on its website.
This article was originally published on