Dior's Cruise 2024 Collection Spotlights Frida Kahlo's Artistic Legacy
Here's how Maria Grazia Chiuri honored her.
Giovanni Giannoni/WWD via Getty Images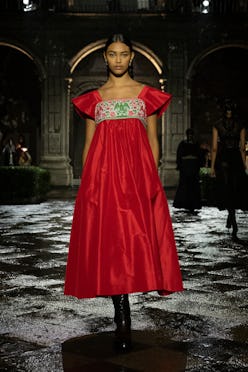 If there's one important piece of information to know about Maria Grazia Chiuri's work for Dior, it is that her collections often pay homage to historical, revolutionary female figures. In the past, she's honored Carmen Amaya, Édith Piaf, and Catherine de Medici to name a few. For Dior's Cruise 2024 show, Chiuri again used this opportunity to highlight another special woman in time: Frida Kahlo, a Mexican painter known for her self-portraits that explored themes such as identity, the human body, and death. The presentation, set in the courtyard of Colegio de San Ildefonso in Mexico City, served as the first referential clue for guests at the show, which included Alicia Keys, Naomi Watts, and Riley Keough.
Colegio de San Ildefons, now a museum and cultural center, was the spot where then high schooler Kahlo first met her husband Diego Rivera, another renowned painter of the 20th century. (The two artists' tumultuous love story spanning over two decades is well documented.) As models descended down the courtyard stairs in the pouring rain, guests were treated to looks that contained a mix of overt and subtle references to Kahlo and Mexican culture. Perhaps the most easily identifiable nods were the floral-stitched Puebla dresses, the huipil — a loose-fitting tunic worn by indigenous women from central Mexico to Central America — and the strong line of suiting, which harkened back to the styles worn by Kahlo. As you peruse through the collection, you may also notice the many butterfly motifs popping up on the dresses, belts, necklaces, and even on Dior's iconic Book Tote. The insect, which is a symbol of regeneration and rebirth, is often featured in Kahlo's work.
Giovanni Giannoni/WWD via Getty Images
For those wondering why Chiuri chose to honor Kahlo's artistic legacy in Dior's cruise collection, her answer is a personal one. In an interview with WWD, the designer said: "[Frida Kahlo] was the first exhibition I saw in Italy of a woman artist. It was really something that affected me … because she used clothes to define herself .… She mixed Mexican and European, but at the same time she maintained her personality. She was a genius."
As she's done in the past, Chiuri collaborated with local artisans on a number of the pieces for her new lineup. According to WWD, she worked with Yolcentle Textile Workshop's cofounder Hilan Cruz and his team to produce the embroidered poncho and Puebla dresses, inspired by local flora and fauna, you see in the collection. Cruz, further elaborating on this partnership, said to the press outlet: "As we've seen in different moments, there are huge brands who have copied Mexican textiles without knowing the origins, how it's done, the context. This has been a great collaboration, hand by hand, really transparent."
Additionally, Remigio Mestas, a second generation textile researcher who has worked with numerous communities in Oaxaca, oversaw the production of the four huipils featured in the show while Nancy Areli Morales, who founded fashion label Rocinante in Oaxaca, helped with the embroidery for the Dior Bar jacket and skirt.
Giovanni Giannoni/WWD via Getty Images
RODRIGO OROPEZA/AFP via Getty Images
For the grand finale, Chiuri continued her conversation of women supporting women by shining a spotlight on femicide — many of the artisan work in Mexico is done by women, so the designer wanted to acknowledge the social issue within the context of a fashion show in Mexico City. (This dialogue is timely given that just a few months ago, thousands of women in CDMX protested on this very topic.) To showcase this message in the clothes, Mexican feminist artist Elina Chauvet used red embroidery to form words and symbols that convey the idea of loss on 1950s archival cotton muslin dresses. At the end of the show, Chiuri took her bow amongst the stark white looks, serving as a reminder to everyone who she, and the house of Dior, stands behind.