How Dorsey Founder Meg Strachan Built A Million-Dollar Jewelry Brand On Her Own
If you don't know the label yet, you will soon.
Dorsey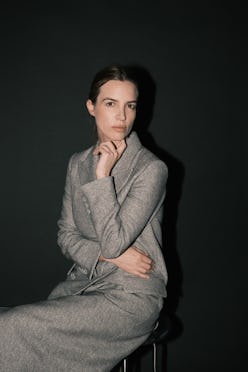 The tennis necklace, long considered a country club status symbol, is in the midst of a cool girl rebrand. This is thanks in no small part to Meg Strachan and Dorsey, the lab-grown jewelry brand that she first launched in 2019. "We want to democratize beautiful jewelry," she says. "We've been humbled by the response." Dorsey first popped up on my radar in early 2021 after a handful of fashion editor friends gleefully name-dropped the brand. A glittery tennis necklace or bracelet would catch my eye, and every compliment I laid received the same response: "Thanks, it's from Dorsey."
Strachan isn't interested in bringing reticent attitude or hush-hush gatekeeping to Dorsey. Instead, her company is filling what she saw as a vacancy between luxury conglomerates and mall chains by offering pieces that look expensive but cost less than four figures. "[I asked myself], 'Why hasn't somebody created a collection of jewelry at a price point that is affordable, that I want to wear, and that's produced in the same factories as fine jewelry?'" she says, explaining that she decided to take matters into her own hands by pairing the best-quality settings with lab-grown stones. She named her burgeoning label Dorsey for her grandmother, who was a jewelry connoisseur in her own right.
The Early Days
Decades working on the marketing side of the fashion industry primed Strachan for carving a niche for the brand. She spent her 20s and 30s working her way up at rapidly expanding millennial-loved companies like Anine Bing, Goop, and Girlfriend Collective. But somewhere in the middle of her 30s, as she worked as the right-hand woman to CEO after CEO, she finally began to wonder why she was building other people's companies instead of her own.
"I probably was always destined to start my own company," Strachan muses, adding that coming from an entrepreneurial family made the option to go out on her own feel like a possibility. But having a good idea is no guarantee for success, especially in an industry controlled by a few major players. The first roadblock arrived quickly: She couldn't secure any investors. Women-led companies are largely underrepresented in the venture capital space, and according to Harvard Business Review, they receive only 3% of investments. But, having worked at a number of startups — "I have been at companies that had kombucha on tap, and companies that didn't know if they can make payroll" — the founder decided to bootstrap the company sans outside help.
"I grew the business to a million dollars in sales without a single employee. Packing, shipping, every email, all of it. And it was the hardest thing I have ever done," she says. "It took me to the end of myself. A lot of founders don't talk about that, but I feel pretty open about what it really is like on a day-to-day basis."
Deeming a company an "instant success" in many ways downplays the hundreds of hours of behind-the-scenes work that goes into launching something new. But, amidst the pandemic and despite the lack of initial funding, Strachan's idea quickly caught on with customers, much to even her own surprise. Moda Operandi founder Lauren Santo Domingo was an early customer, and purchased pieces before Strachan had any PR or employees. "I was almost confused by the orders that would come in," she says, recalling Dorsey's early popularity. While she was mailing orders during her lunch hour or shooting campaigns from the back of her Jeep, celebrities and stylists would be purchasing her jewelry from her website.
But surprisingly, out of all of the celebrities who have worn Dorsey jewelry — Bella Hadid and Taylor Swift included — Justin Bieber is the one who has moved the needle most for the brand. Bieber's stylist, Karla Welch, was an early supporter of the brand and dressed him in Dorsey's Riviere necklace during his 2022 tour. His wife, Hailey Bieber, who is also styled by Welch, has worn the brand's necklaces as well.
The Era Of Lab-Grown Diamonds
The popularity of (and knowledge around) lab-grown diamonds has grown over the last few years, but there still remains a debate from within the industry over which option is better, both from an ethical perspective and when it comes to price. "It used to be that you would wear a beautiful piece of jewelry and someone would say to you 'Is that real or fake?' It's invasive," Strachan notes, likening the question to the modern comparison between mined and lab-grown. "I have an aunt who said 'What's the right answer for you?' to whoever she's speaking to because there is a right answer. It's a judgmental question."
The market for lab-grown diamonds is on track to double between 2021 and 2031, according to Allied Market Research. As lab-grown diamonds continue to expand market share, there is some competition, as those that produce jewelry with mined diamonds seek to secure the value. Though physically and chemically identical, lab-grown diamonds cost around half the price of mined stones, with some variability based on the carat size and clarity. Using lab-grown stones also allows the brand to explore colors and stone sizes, not just of diamonds, but also rubies, emeralds, and sapphires, without having to consider rarity in their mined forms.
To Strachan, these differences are advantages if anything. "I don't see how the mined diamond industry will win when a consumer wants a brighter stone with better clarity that's larger for a more affordable price," she explains. "Now you can design anything. Lab-grown stones are not just diamonds; they're rare colors, they're rare sizes."
While differences in sustainability, ethicality, and retained value are often brought up as additional arguments for one side or the other, Strachan chooses to use lab-grown because of price and traceability, the ability to know where every diamond is made. Lab-grown diamonds do not have the same human impact from a labor perspective but still require vast amounts of energy to be produced, even if they do not require physical mining practices. They're not inherently sustainable (though they're often marketed as such), but still may be a better option from an ethical perspective if labor practices in labs are actively monitored. And while mined diamonds traditionally retain a higher resale value, the long-term lab-grown market has not yet been tested, and not everyone shops with the intention of ever selling their stone. Ultimately, "it's impossible to make blanket statements about any part of any industry, but in some cases, lab-grown is a much more transparent process," Strachan says.
Forever Classic
Changes are not just afoot within the jewelry industry; shifts in consumer preferences have also ultimately helped bolster the success of Dorsey. "The marketing story that we've been told is that you're going to meet somebody and they're going to buy jewelry — it's usually a man gifting a woman," says Strachan. "There's no way I'm telling my daughter this story. This is not the story." Instead, Dorsey's customers are namely women shopping for themselves — whether that means buying their very first piece of jewelry or building on an extensive collection.
Ultimately, Dorsey has created a new price bracket for timeless diamond pieces, produced in factories alongside household names in luxury jewelry, but with lab-grown gems. Its top-selling styles are, unsurprisingly, timeless high-karat designs that are now attainable for a wider swath of shoppers. The four-prong Riviere necklace, a re-appropriated country-club staple, is ultimately its bestseller. But Strachan acknowledges the modern woman is multifaceted and needs more than one option in her collection. Some days are for the classics, others are for layering creatively.
Though her background isn't in design, ultimately, Strachan understands her customer and in addition to offering vintage-inspired timeless styles, knows when to take a risk on something outside of the box. A diamond septum ring released over the holidays sold out in just 24 hours. "It's all men in the jewelry industry [who don't understand]," she says, recalling the moment she was sitting at a conference table at her factory making her case for this one particular style. "I was trying to explain to them 'This is going to hit; this going to be a big thing.'"
So far, the brand has chosen to stay away from what might be the most popular diamond purchase: the engagement ring. And while Strachan doesn't rule out one day exploring the category, for now, her focus is on bringing diamonds to everyday occasions.
"What has emerged [from the pandemic] is a complete return to heritage and classics," she says. "That's how I love to get dressed. I wear a single Riviere necklace; I wear a great button-up; I have three handbags that I interchange. The excess has gone away."