These 5 Denim Looks Will Dominate 2024
Don't worry, skinny jeans aren't coming back (yet).
Claudio Lavenia/Getty Images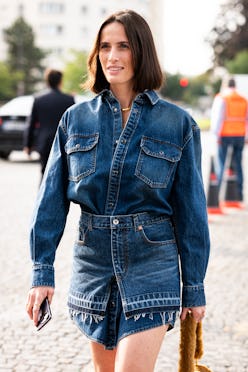 We may receive a portion of sales if you purchase a product through a link in this article.
Every year that's passed since the mid-2010s, I've been dreading the season that skinny jeans make their way into the mainstream again. While the style set has recently co-signed baggy fits and oversized denim duds, we could soon be pressured to squeeze back into the tightest stovepipe cuts you've ever seen. It's nearly inevitable that they'll make a comeback eventually — according to researchers, trend cycles are shortening and condensing, largely due to the rise of social media and influence of nostalgia. And since denim is something that most people wear on a regular basis, it's hardly immune to fashion's fickle tastes.
But thankfully, I've dispelled this fear (for now!) after speaking with five fashion insiders, including creative directors, stylists, retail executives, and influencers, from all corners of the industry about what they're seeing in the denim market. Though each person has a unique perspective, there were common threads throughout my conversations; most notably regarding the rise of mid-tone and darker washes and stronghold of wide-leg silhouettes, though next year's looks will reflect more tailored styles like barrel-leg shapes.
Another shared sentiment? Denim is incredibly personal. While different styles and structures may ebb and flow, the textile still has a timelessness about it, and the way that people wear it can be a reflection of their priorities and culture. It can be a blank canvas, or the main event.
Read on for the five top denim trends of 2024, straight from the sources themselves, and shop each one for yourself.
Bermuda Shorts
Baum und Pferdgarten Spring/Summer 2024Matt Jelonek/Getty Images
Saks Potts Spring/Summer 2024Matt Jelonek/Getty Images
According to Marissa Galante, fashion director of beauty and accessories at Bloomingdales, the Bermuda short is set to take the stage in 2024. Several luxury brands including Baum und Pferdgarten and Saks Potts debuted these denim culottes on the runway for their Spring/Summer 2024 collections. Unlike the ones we all wore in the early aughts, though, the updated version maintains a looser, wider leg opening. The style is a refreshing alternative to the classic jean, adds Galante, and while they may have started as a micro trend, she sees them flourishing in the year ahead.
Deeper Washes
Ganni Spring/Summer 2024Alena Zakirova/WireImage/Getty Images
3.1 Philip Lim Spring/Summer 2024Victor VIRGILE/Gamma-Rapho/Getty Images
Citizens of Humanity creative director Marianne McDonald is looking forward to seeing crisper dark denim washes in 2024. While the hue may not be new to the denim world, the clean indigo colorway feels fresh after several seasons of lighter, faded treatments. "By exploring true mid-tone and dark washes," McDonald tells TZR, "these darker hues... really let the beauty of the fabrics shine."
Acid Wash
Y/Project Spring/Summer 2024Victor VIRGILE/Gamma-Rapho/Getty Images
AKNVAS Spring/Summer 2024George Chinsee/WWD/Getty Images
"Acid washes still reign supreme," stylist and creator Pierrah Hilarie assures TZR. She has noticed the edgy treatment subtly weaving its way into high fashion collections and influencer wardrobes alike — and it's not just limited to womenswear. "Creators like Wisdm [show] how stylish [acid wash] can be within menswear," she adds. While brands like Y/Project and AKNVAS have debuted largely blue-toned acid wash garments for the upcoming season, ready-to-wear options are available online come in every hue imaginable.
Cargo Jeans
LaQuan Smith Spring/Summer 2024Victor VIRGILE/Gamma-Rapho/Getty Images
Ralph Lauren Spring/Summer 2024WWD/WWD/Getty Images
The popularity of denim cargo pants isn't slowing down anytime soon, says Dayna Ziegler, SVP, GMM Women's Contemporary and Modern Ready-to-Wear at Saks. "The new styles for 2024 are more approachable, offering a clean, refined silhouette," she tells TZR. And while the utilitarian cut may not be everyone's style, brands like LaQuan Smith and Ralph Lauren showed how sophisticated jeans with big pockets can be in their Spring/Summer 2024 collections. Plus, they're surprisingly versatile for everyday wear — who needs a purse when you have multiple pockets to carry everything you need?
Canadian Tux
Sami Miro Vintage Spring/Summer 2024George Chinsee/WWD/Getty Images
Palomo Spain Spring/Summer 2024WWD/Getty Images
Avid denim wearer and all-around Cool Girl, influencer Tanya Ravichandran loves nothing more than donning the "slightly controversial" Canadian tuxedo. And high fashion labels seem to agree: Labels like Retrofête, Staud, and Ulla Johnson all debuted denim-on-denim outfits for the upcoming season. Whether styled with one (or more) of her treasured vintage Helmut Lang jean jackets or a fun pair of flares, head-to-toe denim is a fail-safe way to dress for the times. Her top styling tip? As long as the tones of the washes go together (warm with warm and cool with cool), the sky's the limit.