I Am Embracing The Barrel-Leg Pants Trend For Fall
Anti-skinny jeans people, this style is for you.
@jadeswildparty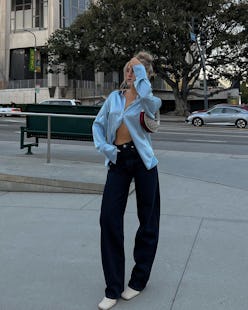 We may receive a portion of sales if you purchase a product through a link in this article.
When it comes to elevating your fall wardrobe, chic boots and timeless trenches likely come to mind as essentials. But if you ask me, another absolutely vital item that deserves its moment in the spotlight is a good pair of pants. Autumn offers the ideal weather for showcasing your favorite bottoms, as they provide ample coverage from brisk temps, but won't cause you to overheat should it shoot up to 70-degrees midday. While I typically rely on straight-leg denim or baggy trousers to serve as the foundation for a foolproof outfit during the season, this year I'm excited to try another style that's recently become popular: the barrel-leg pant.
Also known as the horseshoe or balloon pant, this is the latest anti-skinny jean to captivate the fashion set — I've seen the look on influencers and celebrities like Camila Morrone, as well as in the new arrivals section at my local retailers. The structured design creates that distinctive barrel-like shape by flaring out around the mid-leg, resulting in a surprisingly flattering and undeniably intriguing silhouette. Plus, the barrel-leg offers a chic alternative to the baggy pants, which, while unquestionably cool, may not suit everyone's fashion preferences. I particularly love the silhouette's more tailored fit around the waist and ankles, adding a touch of polish that slouchy options might lack, while still retaining a comfortable, roomy feel.
Although the trend's exaggerated shape may initially appear intimidating to some, there's a lineup of options that range from ultra-voluminous to just barely barrel-shaped that make dipping your toes into the look easier than you'd expect. Ahead, see the eight pairs I'm eyeing for fall because they may just all become the hero pieces in my wardrobe (if my bank account has no objections).